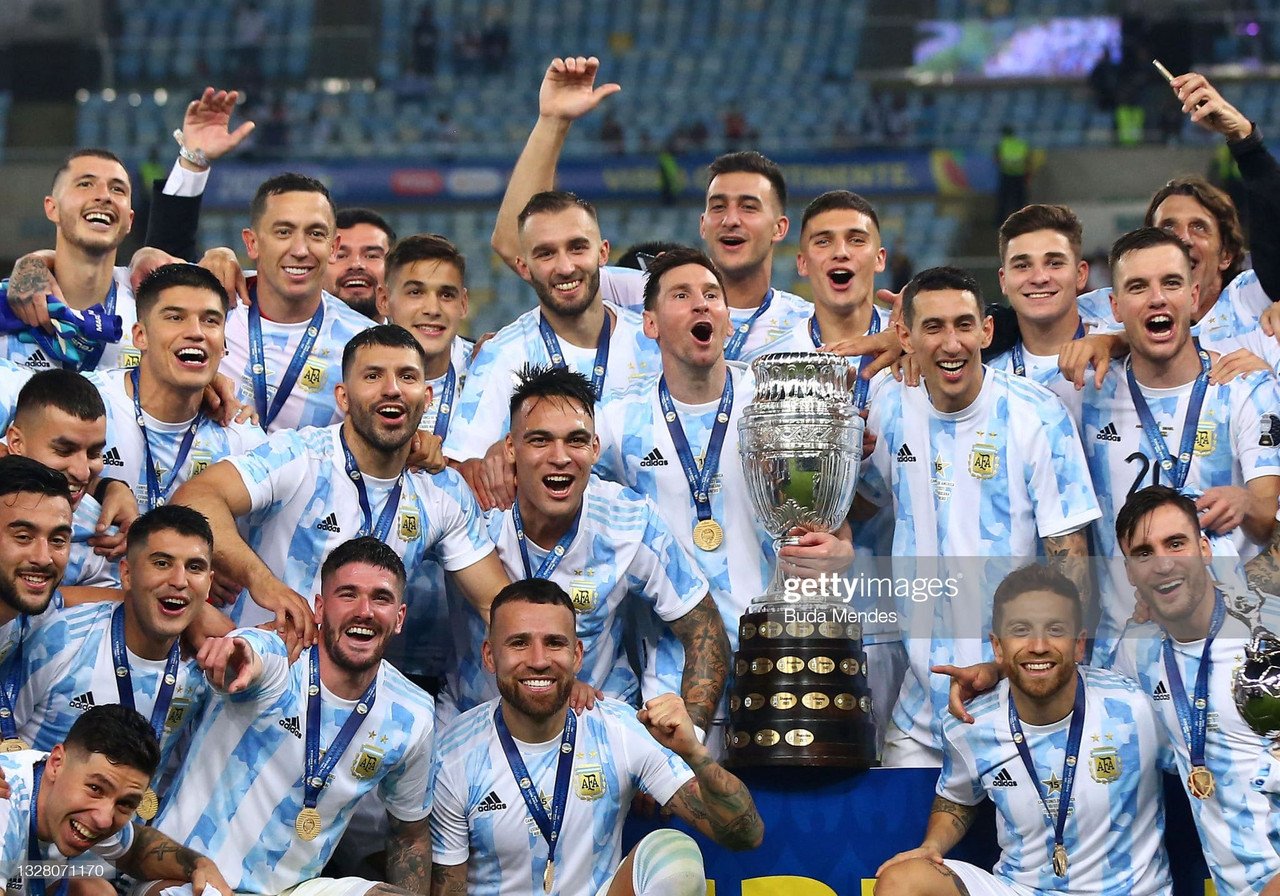 Lionel Messi lifted his first-ever international trophy as Argentina finally ended their long 28-year run to win the Copa America at the Maracana.
A first-half goal from Angel Di Maria would be enough for Argentina to beat Brazil in a tightly fierced encounter at the Maracana.
Brazil came into the Copa final having been unbeaten on home turf - winning their last five out of six games. An unfortunate evening for Neymar and Tite's side saw them miss out on a 10th Copa America triumph after a highly frustrating evening.
Lionel Scaloni's Argentina glory now sees them having won a total of 15th titles to draw level with record winners Uruguay. Revenge for the La Albiceleste sees them finally avenge themselves after losing 2-0 to Brazil in the 2019 Copa America Semi-Final.
A hostile and highly physical start to the final saw Brazil's Fred commit a late challenge into Gonzalo Montiel to be shown the game's first yellow card, just three minutes in. Protesting claims from the Argentina players were however swiftly waved away by referee Andres Cunha.
Neymar's first piece of action in the final arrived on the quarter of an hour mark. The 29-year old broke into the box to volley at goal but his strike was smartly blocked by the Argentina backline.
Brazil's flurry of chances on the 20th-minute mark saw them fail to test Argentina's Emiliano Martinez with an impactful shot on target.
Argentina would open the scoring a minute later. A sensational long-range pass from Rodrigo de Paul would find Di Maria and the 33-year would lob Ederson to break the deadlock.
A highly impressive first half from the Argentinian midfield trio of Leandro Paredes, Giovani Lo Celso and De Paul would see them head into the second interval with their lead intact.
An attacking change from Tite would see Fred taken off in replace of Roberto Firmino to prove the attacking spark amongst the Brazil midfield three.
The opening ten minutes of the second half would see both sides go for the games second goal. Brazil's counter-attack would end with Neymar being cynically brought down by Lo Celso.
The hosts would score their first goal of the night through Richarlison but VAR would disallow the 22-year-old neat finish for a correctly called offside decision. An onside Richarlison minutes later this time very nearly scored again as his pinpoint strike was parried away by Martinez.
High drama and flared tempers between the arch-rivals would continue to dominate the Marcana as a fair share of fiery and forceful challenges were continuously exchanged in the late parts of the second half.
Messi would stumble in his attempts to score and seal the win in the 92nd minute. However, the La Albiceleste would hold on to win and edge the tournament hosts in the nerve pulsating final.
Angel Di Maria put on an excellent display on Brazil soil as his goal was the all-important one to seal his nation's first Copa America for 28 years.
De Paul's exquisite long pass to find Di Maria was followed by the 33-year old's trademark chip to delicately lob over the helpless Ederson.
Argentina's last final triumph dating back to the 2008 Olympic Games saw Di Maria coincidentally also score in the final, lobbing Nigeria's Ambruse Venezekin to win 1-0 and collect a gold medal.