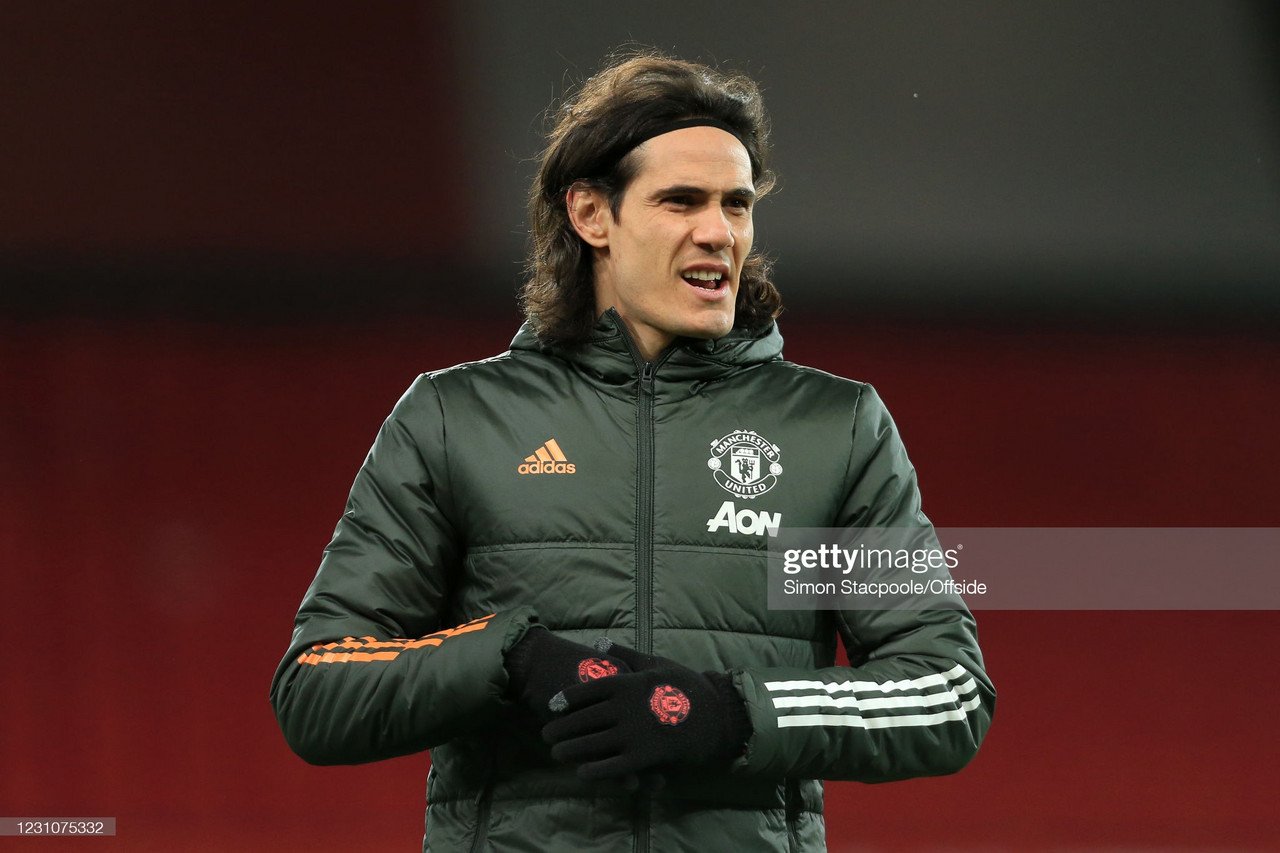 It's not just his goals and ability in front of goal that's helped Manchester United this season. Edinson Cavani has brought along his experience and leadership.
The forward has guided and helped advise those around him, helping them to raise their game. And although he denies the idea that he likes to give out advice, he has admitted that he wants to help those around him as much as possible.
What Cavani's said on his role and how he wants to help United
Before joining United, Cavani had previously won the Golden Boot in both Ligue 1 and Serie A, he'd also scored 341 goals at club level since moving to Europe in 2007, including 35 in the UEFA Champions League. He has since added to his goal-scoring tally since being with The Reds. The forward won six league titles with Paris Saint-Germain and, with 200 goals, is their all-time leading scorer. Internationally, Cavani won the Copa America in 2011 and has found the net 50 times in 116 appearances for Uruguay. The prolific goalscorer when speaking to Manchester United's Official Website said: "Honestly speaking, I don't really like to just give out advice.
"I prefer to support and be there to help.
"I like to give my best.
"If someone would like to take something on board as an example, something that I've done, then yes, by all means.
"I don't like it when people try to impose things on me or tell me what I have to do.
"That's just how I am in everyday life too."
The 34-year-old would rather lead by example and show good character rather than directing instructions.
He added: "I'm here to do my absolute best and to accompany and support this team.
"I'm here to leave everything I have out on the field - not just in a game, but in training too.
"Then, if a young player comes up and asks me something, or a youngster sees things during a training session that they'd like to incorporate into their game, I'm always here to help.
"I believe that you can always learn stuff, and from a variety of footballers.
"It doesn't just have to be from another striker.
"You can learn about the mindset of players in different positions too.
"It could be from a goalkeeper or a coach.
"You can always take the best bits from someone and see if they really work for you.
"I'll never impose advice on people and tell them: 'You've got to be doing this, and you should be doing that…' Of course not.
"I'll be there to offer support and I'll do my best with it.
"If they want to take it on board and take it as an example, I'd be happy."
Cavani is United's oldest outfield player and surrounding him in attack is Anthony Martial, Marcus Rashford and Mason Greenwood, to just name a few, all which are 25, 23 and 19-years-old. The Uruguayan knows that he will play a small part in shaping his team mates playing styles.
He said: "I know that I'm one of the older players and some of these guys are much nearer the start of their careers, and I'd be happy to leave them with something where one day they might say 'Edi was like that, and he did this, and I liked it and I tried to copy one or two things.'
"That would be great. Leaving something positive behind is always important."
Will he still be here next season? Has he broke the 'number seven curse'?
The answer is unclear. However, what we do know is that when he signed for the club last October, Cavani's deal included an option to extend his contract for a further year.
It's no lie that Ole Gunnar Solskjær likes the forward and has appreciated the work that he has done since joining the club earlier on in this season. However, it is said that talks will be held between The Reds and Cavani about what's best for him and the club.
There was worries at the start of the forwards time at United that he wouldn't live up to the prestigious number seven shirt after being given it when he joined. United's last three players to wear the legendary shirt number underperformed and disappointed many United fans and managers, with all three of the players no longer at the club.
Memphis Depay, was a player that United fans were excited by when he first joined, but failed to live up to the 'hype'. However, the now 27-year-old is thriving in Ligue 1 at Olympique Lyonnais, some fans want the forward back at Old Trafford. This is a possibility for the club as when they sold him to Lyon, a buy-back clause was included in the deal. Maybe the move to United was too early for him and too soon, which is something that United manager at the time, Louis van Gaal said. Something else that has been questioned since is that maybe van Gaal wasn't the right coach for Depay.
Alexis Sanchez showed that he had what it takes to be a Premier League footballer during his time with Arsenal. He scored 60 goals in 122 games for The Gunners. The Chilean also wasn't shy to the number seven shirt with him wearing it during his time with Udinese Calcio and Arsenal. However, whilst at United Sanchez only scored three times in 32 appearances. He's now at Inter Milan with a group of former Red Devil's players (Ashley Young, Romelu Lukaku and Matteo Darmian) and is playing quite well.
Then there's Angel Di Maria, United signed the winger for £59.7 million, which at the time was the most expensive fee ever paid for a player by a British club. His first month or so at the club looked to be a really promising one. He won United's Player of the Month award for September. However, after position changes as well as a variety of things, by the end of the 2014/15 Premier League season The Daily Telegraph judged Di Maria to be the worst signing of the season. He scored just three times in 27 games and it seems like there is some bad blood between him and the club.
Luckily for United fans and Cavani, it seems like the 'number seven curse' has gone.
Stats - His United career so far and his personal stats against AC Milan
For the Red Devils Cavani has played 25 times and has scored seven goals whilst assisting two. His most notable performance came in United's 3-2 away win against Southampton in the Premier League in November.
Cavani started that game on the bench. After watching United go into half-time 2-0 down, Solskjær brought on the forward hoping that he could salvage a result.
And that's exactly what he did, Cavani set up Bruno Fernandes to ignite United's comeback. Then the forward got his first after 72 minutes played, giving United just over 18 minutes plus added time to get a winner.
It wouldn't be the perfect United comeback without a 'Fergie Time' winner. Cavani guided the ball into the back of the net and guided United to an important three points.
In recent times, the centre-forward has been recovering from a knock, and was initially included in the squad travelling away to AC Milan in the second leg of the Europa League. However Cavani has suffered a 'reaction' in the final training session before boarding the flight at Manchester Airport, according to Manchester United's Official Website.
The first leg didn't include Cavani and all was going to plan with youngster Amad Diallo scoring his first United goal. However, AC Milan would ruin United's night by scoring a 92nd minute equaliser (1-1) meaning that United have to score at least one to not get knocked out of the Europa League. If they fail to do so and the game ends scoreless then AC Milan will progress through on the away goals rule.
United need a goal, and who would have been better to get that than the man who's played against them 12 times during his time with S.S.C. Napoli, according to Manchester United's Official Website.
🇮🇹 @ECavaniOfficial is familiar with scoring at the San Siro...🏟#MUFC

— Manchester United (@ManUtd) March 17, 2021
The striker netted four times against the Rossoneri. Those four goals included a hat-trick against Milan, who at the time had Thiago Silva and Alessandro Nesta in defence.
Overall, from his 12 games against Milan, Cavani won five, drew three and lost four.
On Thursday night, it's the clash of the titans once again. Two of Europe's finest teams and serial winners of European titles.
It's AC Milan versus Manchester United and it would have been Zlatan Ibrahimovic versus Edinson Cavani, The former Paris Saint-Germain team mates against each other.