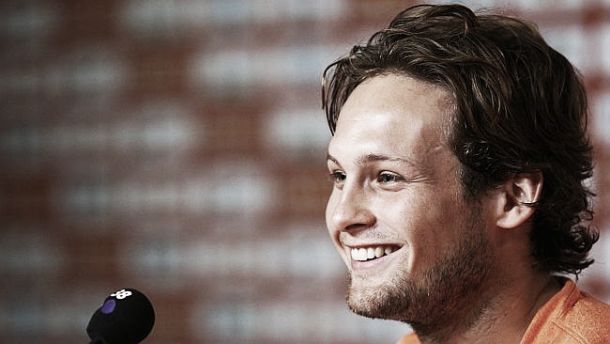 This is the question at the front of everyone's minds when the Eredivisie Player of the Year is mentioned in the same sentence as the 20-time champions of England. With the imminent acquisition of Real Madrid star Angel Di Maria, and the confirmation of signings such as Ander Herrera and Marcos Rojo, Manchester United seem to have massively strengthened their squad. However, there's still something missing; the question is this: can Daley Blind provide exactly what United are looking for?
So far, the biggest downfall for Manchester United is their injury list. Having nine first team players injured for any club is the stuff of nightmares, and this has definitely reflected on the pitch. Using a Cleverley-Fletcher pivot doesn't pay off for the Reds, and this maximises their desperation to sign a new midfielder. Van Gaal reviewed his teams' performance against Sunderland on Sunday and stated, "Our passing was too slow, or too fast or too hasty". Many fans will agree that the constant sideward passing isn't effective, and they're desperate for someone to play a killer through ball (or a forward pass at least). Blind, whose main position is defensive midfield, has flaunted his excellent distribution skills many times before in the Eredivisie. His spectacular lobbed assist to Robin van Persie in the World Cup - Spain, was overshadowed by the striker's superb diving header. Taking all this into consideration, Blind's passing is definitely what Manchester United need, as it will get the ball to the feet of their deadly front four (van Persie, Rooney, Mata and soon to be Angel Di Maria).
Blind has shown many traits that attract Manchester United, but whether he'll adapt to the notoriously physical nature of the Barclays Premier League is a different matter. Due to Blind only reaching a height of 5 ft 11 in, United may be forced to give him some assistance in the heart of the midfield. Players such as Yaya Toure may leave him for dead due to Blind's lack of strength, and this is something that Van Gaal will definitely have to consider. Despite this, LVG seemed to manage Blind exceptionally well throughout the World Cup and this could easily be reflected in Manchester.
Let's go back to the injury list. Recently, United have been known to have several players injured at a time, and Blind's versatility may be the answer to a couple of their problems. His main position is CDM and it's safe to say he excels the most there, but he can also play LB and can cover as a makeshift CB. United lack this type of player and many have been known to play awfully when chosen to play in an unfamiliar position. Daley Blind may never have to play out of CDM in a red shirt, but the safety of his versatility is always something that Van Gaal can fall back on.
From midfield, Blind can perform exquisite, inch-perfect passing and can also provide necessary cover for United's shaky defence. The addition of Blind will not only prevent Manchester United from conceding lots of goals, he will also force the ball forwards to United's adept front four. So the big question is, is he worth the reported £17million that Ajax are demanding for him? In my opinion, he's worth every penny to an increasingly desperate Manchester United side.