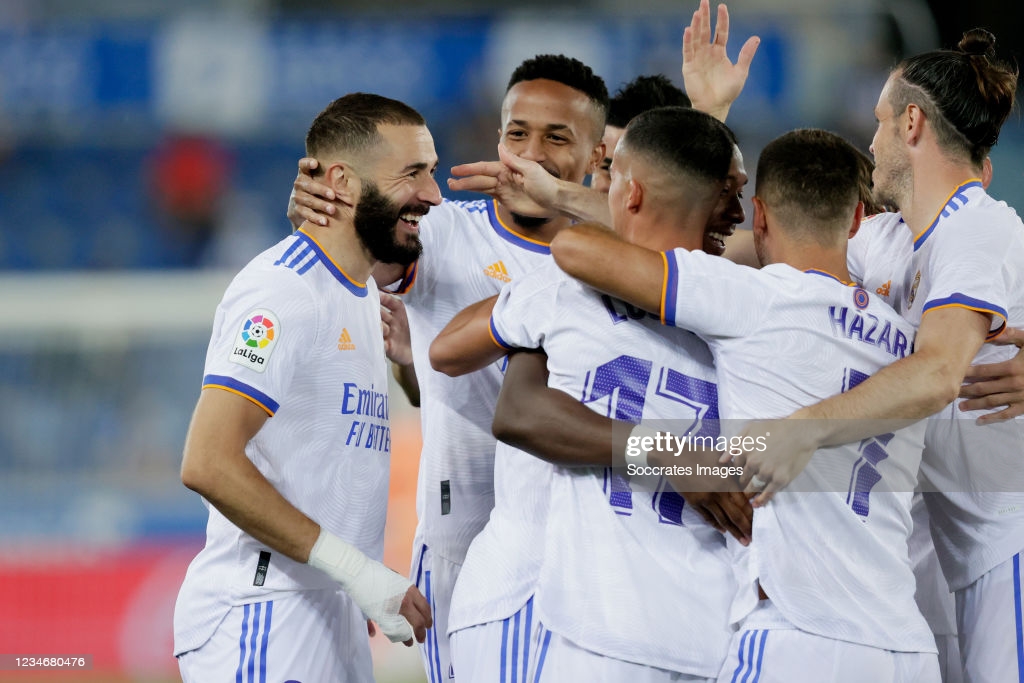 You'd be forgiven for thinking the year is 2015, Carlo Ancelotti on the bench at Real Madrid are playing free-flowing attacking football, with 3 of the biggest names in world football up top.
However, 2021 is perhaps a year like no other. Real Madrid can no longer sign the Galácticos they could in the past, due to financial struggles. Nevertheless, they still managed to bring in David Alaba, on a free transfer, from Bayern Munich. Instead, Real Madrid is calling upon Gareth Bale, Karim Benzema and their most expensive player ever, Eden Hazard, to challenge their city neighbours for the title.
Real Madrid kicked off the Carlo Ancelotti sequel with a resounding 4-1 away against Deportivo Alavés at the Mendizorrotza, Vitoria-Gasteiz. The victory comes 2227 days after his last 3 points on the road, at Real Madrid. Coincidentally, the score was also 4-1 against Real Espanyol.
Ancelotti will be hoping to replicate his last spell in charge, he won La Décima and sparking a period of total European domination for Los Blancos. Back then, he heavily relied on Benzema and Bale; it seems not much will change.
Due to the current heatwave in Spain, the game kicked off at 22:00 local time. So at halftime, with the match goalless, maybe a few fans decided for an early night. The sluggish start could be due to; the heat or the return to fans for the first time since March 2020.
Fortunately, for the lucky ones who got to glimpse their heroes, the game leapt into life just after the halfway point. The attacking trio was heavily involved. Gareth Bale switched the play to Lucas Vázquez, who pulled the ball back, resulting in a clever flick from Eden Hazard, setting up his captain. Benzema produced an excellent swivel volley to make it 1-0. Again, coincidentally, some eight years after he opened the first Ancelotti era.
Los Blancos struck again eight minutes later. Luka Modrić's excellent cross found Nacho Fernández. The Spanish defender got in front of his man and poked the ball into the Alavés net. A strikers finish from a man more known for his defending.
The game was seemingly put beyond doubt by Benzema in the 62nd minute. Fede Valverde produced a powerful run, cutting the ball back into a dangerous area for the Frenchman to attack. An attempted clearance from Martín Aguirregabiria ricocheted off Benzema, and towards the Alavés goal. Fernando Pacheco produced an excellent first save but was helpless to prevent Benzema from scoring the follow-up.
Disappointingly, there was no clean sheet for Thibaut Courtois, who gave away a penalty. However, Courtois was sold short by his teammate Eder Militão, who under-hit a backpass. John Guidetti rounded Courtois, only for Courtois to trip the Swede over, leaving the referee no choice. Joselu, former Newcastle United and Stoke City striker, stepped up and made no mistake, sending Courtois the wrong way. Joselu is currently involved in a transfer saga wanting to move to Seville.
However, there was no heroic comeback for the Basque side. Again Alavés struggled to defend a ball into the box. Alaba crossed the ball to Vinícius Júnior, who headed home, giving the Austrian his first Real Madrid assist.
Reaction
Ancelotti was pleased with the team's second-half performance, and rightly so. After a slow start, Real Madrid came out flying with more intensity and purpose.
It was striking how fluid and interchangeable the front three were. The forwards often swapped positioned, and all played close together between the width of the penalty box. Bale and Hazard cutting inside allowed wing-backs Alaba and Lucas Vázquez to push on. The tactic resulted in the first and last goals.
This time last year, it seems unbelievable that Bale would ever play for Los Merengues again. But at the weekend, Bale managed to play 68 minutes, which will be pleasing for his manager, as part of the problems he has suffered in Madrid is game time due to constant injuries. Bale did not hide or shy away; he attempted numerous efforts, from long-range, despite failing to test Pacheco.
Bale provides something different, he is always willing to shoot, and goals are something Real Madrid has struggled with since the departure of Cristiano Ronaldo. Ancelotti will be hoping Bale can rediscover his form to help Los Merengues push for a trophy.
Although Bale didn't win over all the doubters, popular Spanish broadcasters Carrusel Deportivo rated the Welshman a 5/10. Ancelotti agreed; Bale was not at his scintillating best but said Bale will get even better because he isn't yet in optimal condition, like with all players.
On the contrary, Eden Hazard was excellent. Hazard has had a difficult time thus far in Spain. Perhaps a make or break season for the Belgium international, he proved his quality. An excellent assist pleased his manager who said Hazard had a complete game.
As in Ancelotti's first rein, there is one player head and shoulders above the rest. Going from sidekick to superhero Karim Benzema played un partidazo (an excellent game). Ancelotti has described the Frenchmen as a much more complete and has much more personality last time he coached him. Benzema is now the star; he is ruthless in front of a goal, and the Trofeo Pichichi will be well within his sights.
Overall, Madridistas will be satisfied with the opening day performance. After the disappointment of not winning a trophy last season, the expectation this year will be even greater for silverware. There is a long way to go to replicate the glory of Ancelotti's first era but it was an impressive start in the Basque Country. Real Madrid's next fixture is Sunday, at 21:00 GMT, against Levante in Valencia. Deportivo Alavés face newly promoted Real Mallorca at home on Saturday at 16:00 GMT.