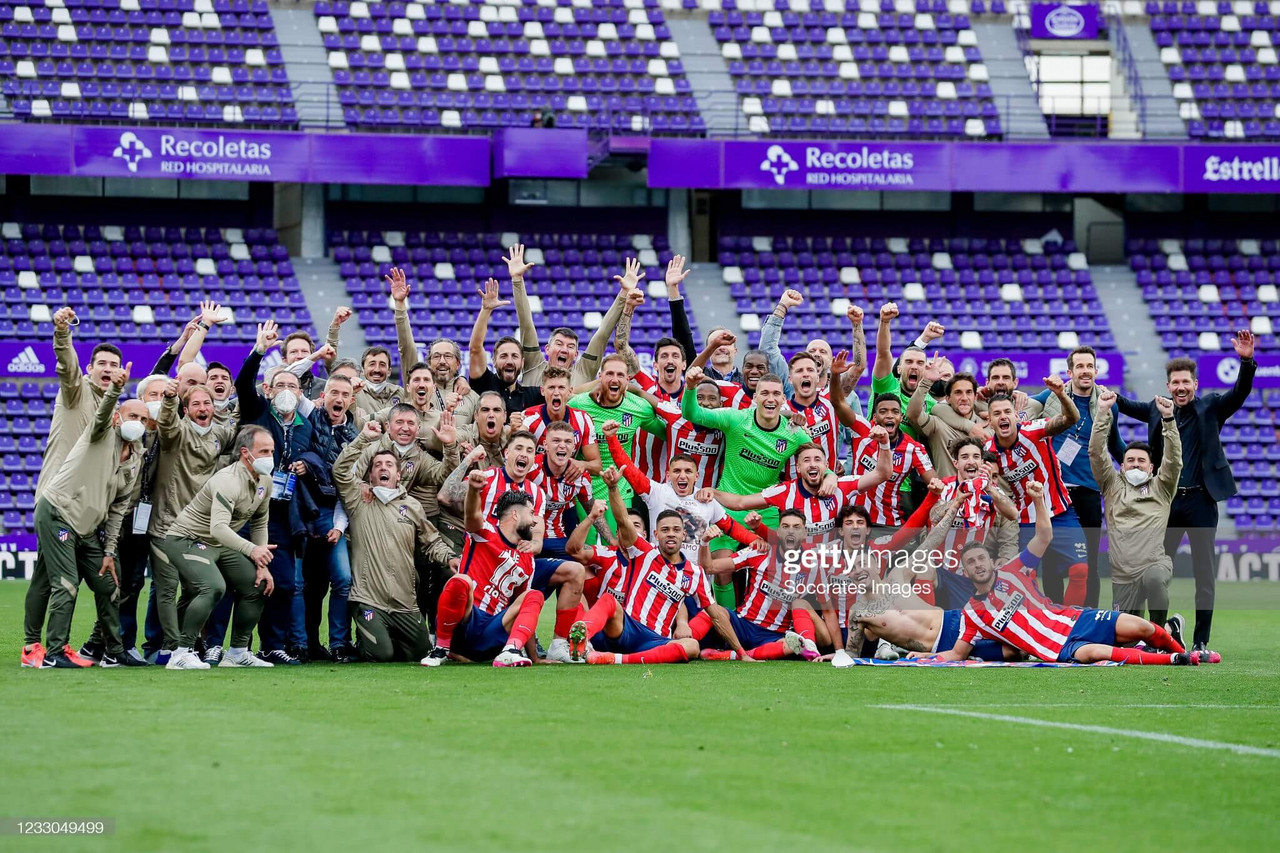 Could Atletico Madrid really have done it any other way? Could they have not endured nerves and a bout of las pulpas? In a season in which they had been in top spot for the final 14 gameweeks, it would have been Atletico personified had they ended the season watching Real Madrid lift the title.
There was always going to be final day tensions, twists and turns as Diego Simeone's side only had a two point buffer from second-placed Real Madrid, but despite going behind to Valladolid they managed to comeback. A goal from Angel Correa and a winner from Luis Suarez saw them through. For the first time in seven seasons, Atletico are Spanish champions.
Quite appropriately it wasn't until the referee blew the final whistle and ended Atletico's season were they allowed to truly celebrate a title that has been months in the making but years in the craving. Five thousand fans had travelled and gathered in the car park outside the stadium, joyous and relieved in equal measure.
On the pitch emotions took over too. Simeone was thrown into the air by his players. Later Marcos Llorente was casually walking around with a bottle of champaign. Jan Oblak spoke of his own personal desperation to claim a first league title and lamented previous disappointments. The only disappointment this time being that there were no friends and family to join in the immediate celebrations
Suarez, meanwhile, sat on the turf, on a call with loved ones, sobbing. For him it must have felt all the sweeter. He had been forced out of Barcelona last summer, no longer wanted by a club for which he had given his all. Now he was above them and a title winner with his new club.
Tears of joy for @LuisSuarez9! 🥲

His 21 goals helped earn the #LaLigaSantander title for @atletienglish... ❤️🏆🤍 pic.twitter.com/X2WVDvlQqz

— LaLiga English (@LaLigaEN) May 22, 2021
"The situation I experienced last summer was difficult," the Uruguayan admitted, "the way I was underestimated. Atletico Madrid opened up their doors to me to keep on showing the player I am. We've had an incredible season despite all the difficulties we've had. We've been the most consistent team and we are champions."
He is right, Atletico have been the most consistent, they have capitalised on both Barcelona and Real being underwhelming teams in need of transitions - and possibly new managers. Simeone himself responded when asked a few weeks about who would win this title race, the tightest and most compelling in years, by saying that it would be the team that had the "best mentality".
Well the ferociousness that his side showed was clear. The gap of 10 points that they created in February between themselves and the rest before letting it slip in recent weeks, but still managing to hold on highlighted the character that this title success was built on.
"We're knackered," admitted Llorente, who has been instrumental and involved in 23 of the team's goal this season. "It's been a really tight season with a lot of games. It's been tough physically, but in the end we've got this crucial win and we've managed to win the title. The togetherness we have has been crucial to achieving this."
Questions have been asked of Simeone and Atletico since their previous La Liga success in 2014. The squad has changed dramatically since then with only Koke being the ever present. So has the style with this season seeing a higher defensive line deployed and more goals scored.
They have netted 67 in this league campaign compared to 51 last, but have still maintained a robust defence, conceding only 25 goals, two fewer than last term. But still there were lamentable exits in both the Copa del Rey and Champions League.
This triumph may not stop Simeone leaving, his contract is up and there are some who say the club need a refresh, this title win simply being a case of exploiting a poor season from the other two big La Liga clubs and little more than a par season on Atletico's part rather than anything momentous.
Nevertheless, this is Simeone's eighth trophy since becoming manager of the club that he played for and won a league and cup double with. He is the most successful of any Atleti manager. Yet this was the first title for many of the current players with Atletico.
The decisive game, in which they simply had to match Real's result, didn't start well. It was in the 18th minute that Oscar Plano scored for Valladolid on the break. The home side needed to win themselves and hope that results would go their way elsewhere if they were to remain in the top flight.
Atletico's setback was matched by events at Valdebebas with Real also going a goal behind when Yeremy Pino scored for Villarreal at more or less the same time. For over half an hour the situation remained as it was with neither title hopeful able to score a crucial goal - the title in limbo.
VAR drama arrived when Karim Benzema headed in a swinging cross from the right only for it to be ruled out for offside after a long delay. That would have truly set Atletico down the avenue of nervous disposition. Instead it was Atletico who equalised first. Correa toe-poking an effort past Jordi Masip to make it 1-1. 'Angelito' cried the radio commentator, 'Little Angel'.
A massive step towards the title was taken when Valladolid's Sergi Guardiola made an awful mistake to set Suarez through alone. Time seemed to stand still as he ran on goal and bent a lovely left-foot shot low into the net at the near post for his 21st goal of the season. "He's Suárez: his surname speaks for itself," Simeone joked afterward about his prolific striker.
Two late Real goals from Luka Modric and Benzema to clinch their own win couldn't rain on Atletico's parade. They had done enough, finishing the season two points above their city rivals, and crucially on top of the pile.