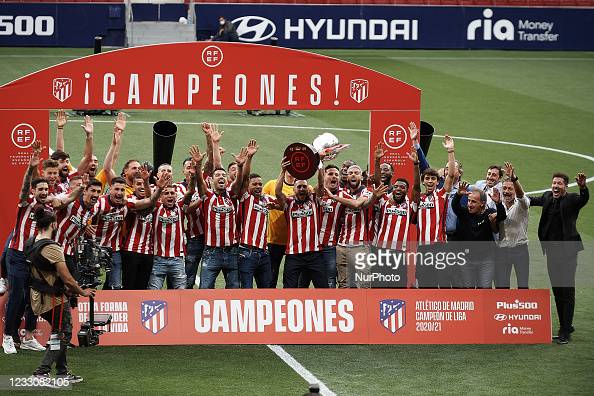 Last time out, Atlético de Madrid sprang out the blocks. At the halfway point of the season, they had amassed an impressive fifty points. However, COVID, injuries, and suspension took their toll. Eventually, they ran out as La Liga winners after a four-way title race that ended on the last day of the season, when they beat Real Valladolid 2-1. This season marks the 10th anniversary since Diego Pablo Simeone became manager. He will be hoping it ends in celebration and not divorce.
Unlike the two giants of Spanish football, Atléti is yet to lose any key players. Saul Ñíguez is reportedly leaving, but his destination remains unclear. Liverpool, Manchester United and FC Barcelona are, reportedly, in the mix for the academy graduate. There was speculation that los Culés wanted to swap former Atleti star Antoine Griezman for Saul. But, due to the terrible financial problems at FC Barcelona, this deal is probably now unlikely to happen.
One signing that is confirmed is 2021 Copa América winning midfielder, Rodrigo de Paul. Since leaving Valencia for Serie A outfit Udinese, he has grown as a player and attracted attention from the likes of Marcelo Bielsa. It's clear to see why; his attacking numbers and passing range have certainly caught the eye, but, perhaps more importantly, to play under Simeone, he's an excellent team player. In an interview with the Guardian, he recently described himself as a 'spare tyre', a player willing to do any role to help the team win in attack and defence. El Cholo will be licking his lips as he also said that he is more interested in his ball recovery stats than his goals.
Furthermore, Atlético de Madrid beat Inter Milan and signed the highly-rated Brazilian Marcos Paolo from Fluminense on a free transfer. At 20 years old, he is one to watch for the future. Initially, there was speculation that Atélti would loan him out to gain experience in Europe. But, it is now thought he is closer to the first team than first thought.
Ironically, Atléti's stars last season were poached from their closest rivals, Barcelona and Real Madrid. The man who scores the goals always gets the headlines. Luis Suárez, bizarrely cast away by Barcelona, scored 21 goals helping Atléti to the title. It was not so much the goals he scored, but the timing of them. He netted the winning goal in the penultimate two matches handing the league to Atléti. Throughout the season, he won Atléti an extra 21 points. Due to Suárez mania unfolding, maybe the man who went under the radar was former Real Madrid player Marcos Llorente. Since winning at Anfield in 2020, Llorente has been a stand-out player for los rojiblancos. Llorente contributed a combined 23 goals and assists last season, and as a pair, they scored or assisted 70% of Atléti's goals.
The use of João Félix, or lack of, is something that needs to change. The record signing rarely starts in big games and is yet to prove good value for money. This season Simeone needs to get more attacking output from his young Portuguese star. Furthermore, this season, Simeone needs to rectify the dismal displays in the Copa del Rey. Last season Félix started in what was an embarrassing loss to Segunda B outfit Cornella. Also, on a European stage, Atléti hasn't looked like winning the major European honours since they won the Europa League back in 2018. There have been glimpses of the old Simeone magic that Colcheros saw at the mythical Estadio Vicente Calderón. This season the side will be looking to do much better in the UEFA Champions League.
Real Madrid has lost their centre-back pairing, Barcelona lost arguably the greatest player to have ever lived, whereas Atléti has only strengthened. The signing of Rodrigo De Paul, a player who appears to fit the Simeone style, is a big bonus. Especially after losing Rodri and Thomas Partay in successive seasons. Optimism is in the air in the Spanish capital, and rightly so. There's a sense of belief that the La Liga title will return to the Estadio Wanda Metropolitano. However, there is room for improvement in the cup competitions. El Cholo will be hoping to have more famous European nights this season. Additionally, he will be desperate to lift the La Liga trophy at Fuente Neptuno in May.