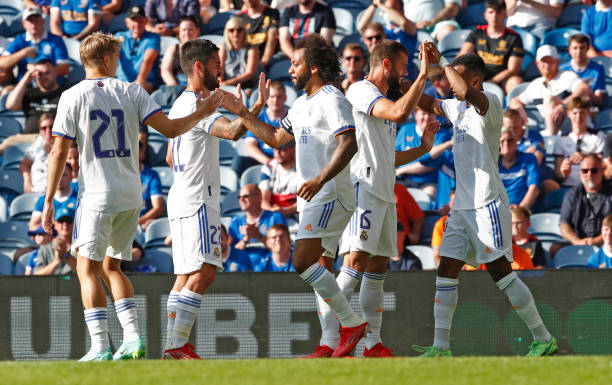 Real Madrid have had a dry run in the ongoing summer window, as their only signing came in the form of David Alaba from Bayern Munich. The 2019/20 La Liga winners had a tough run last term, finishing the season without any silverware.
However, the club is now hoping to change its fortunes for the upcoming year, with an eye on the league title and a potential Champions League run.
With Carlo Ancelotti taking over the reigns, fans will hope to see their team restore stability and control over the next 12 months. In the past few weeks, there has been some buzz regarding the future of the Los Blancos backline.
What is next for Real Madrid's backline?
Sergio Ramos and Raphaël Varane have both left, which has in return raised questions whether the team would sign any replacements for the former centre-back duo. As of now, Marca has reported saying that the Spanish side won't bring new names in this summer. Hence, it is believed that Real Madrid will have only four centre-backs at their disposal, with them being David Alaba, Éder Militão, Nacho Fernández, and Víctor Chust.
The plan to not sign a new central defender can certainly hurt the club before the start of the season, as the absence of a "big name" can disrupt the club's team balance in the long run.
Madrid's defensive horrors might return in the upcoming campaign given the fact that they will be without two superstar members in their backline. As a result, manager Carlo Ancelotti likely realizes that his second stint at the Santiago Bernabéu is bound to be a more difficult challenge than his first.
The La Liga heavyweights, however, still might bring in a defensive player during the following winter transfer window. Should Los Blancos opt to bring in a new centre-back, the chances are that they might sign someone like Pau Torres from Villarreal or even Jules Koundé from Sevilla.
Both defenders were heavily linked with a move to Madrid this summer, but they have not received any official interest from the Spanish outfit.
What this could mean
All in all, Real are expected to face hardships at the back this year, as it remains to be seen how well the club manages to adapt to life after the exits of Ramos and Varane. The 2021/22 campaign will bring in new storms, but Los Blancos are no pushovers, so expect them to fight until the last match of the season.