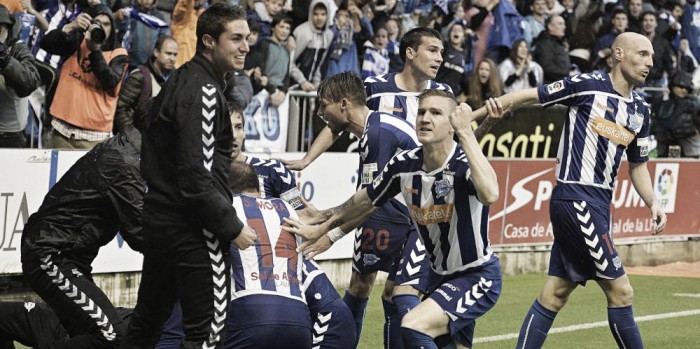 Upon hearing a Spaniard fervently rattle off the four syllable word "deportivo", many English speakers might be mystified. The sharper may even assume they are speaking of La Coruna, the Spanish champions of 1999/2000. Meanwhile, the most insightful would have to enquire to which Deportivo they are referring: La Coruna or Alaves?
On the 29th of May, the return of Deportivo Alaves to Spanish football's top division, the prestigious La Liga, was confirmed after a 10 year absence. This is made an even more dramatic recovery following their relegation to the third tier of Spanish football in 2009.
Fond Memories
Alaves may be remembered most vividly outside of Spain by Liverpool fans, whose club defeated Alaves in the 2001 UEFA Cup final. The Basque club were 2-0 down, before a spectacular comeback sent the game to golden goal. Liverpool were four minutes from being taken to penalties by the Spaniards, appearing in their first European final, before an agonising Delfi Geli own goal crowned Liverpool champions. Gary McAllister later labelled it, in an interview for FourFourTwo, one of the greatest ever UEFA Cup finals.
But what went wrong for Alaves? How did the UEFA Cup finalists plummet so dramatically into Spanish football obscurity?
That season they finished 10th in La Liga, despite being hammered 5-0 by Real Madrid just days after their loss at Dortmund's Westfalenstadion. Furthermore, they finished seventh in La Liga the following year, despite losing their top scorer of the previous season, Javi Moreno, to AC Milan.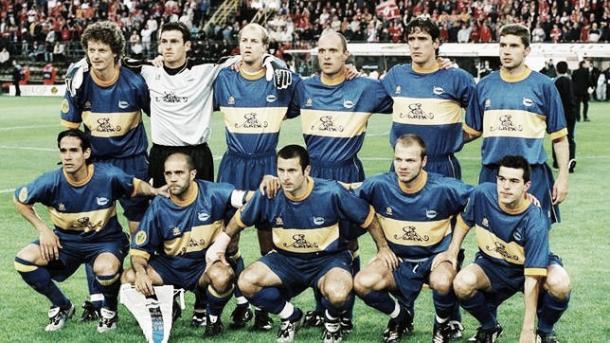 Rapid fall from grace
However, they were relegated to the Segunda Division in 2003, finishing 19th in La Liga having won only eight league games all season, with seven of the 11 starting finalists from 2001 having already left for pastures new. The free scoring Alaves were left floundering without fluency, following a massive overhaul.
The club briefly returned to La Liga in 2005, but pain followed the jubilation as they immediately, as with too many promoted sides, were afflicted with immediate relegation. Relegation from Segunda followed three years later.
Alaves found themselves playing in front of small crowds, miniscule in fact relative to their cult following in 2001. It took them four years to escape the regional third division, by which time many had abandoned Alaves, particularly given the relative successes of the other Basque clubs.
Segunda Champions
Three years after returning to Segunda however, they are back in La Liga and ready to return to facing the likes of Spanish giants Barcelona and Real Madrid. Last Saturday, following their 1-1 draw with Gimnastic, they secured the Segunda title having battled with Leganes for the top spot since the season's halfway point.
Their success was largely hinged on miserly defensive performances, with only Girona and Leganes conceding fewer than Alaves. Indeed, seven other clubs scored more goals than El Glorioso, and amongst Alaves there are murmurs of scepticism as to how their club will be able to readapt to La Liga without a prolific goalscorer like Javi Moreno, who scored 22 league goals for the Basque club in the 2000/2001 campaign.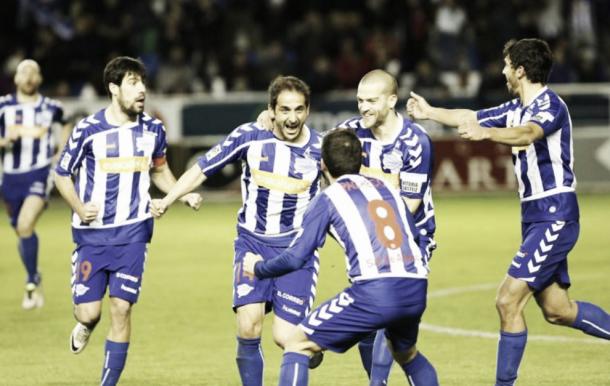 Basque rivalries to be reignited
Their return brings with it an interesting sub-plot as there will be four teams from the Basque country competing in La Liga, hence further elevating the already rising stock of Basque football. This follows the rise to prominence of Athletic Bilbao and Real Sociedad, who finished fifth and ninth respectively this season, and the success of Eibar who, having risen to La Liga for the first time in 2014, will compete in their third season in the first division in 2016/17.
Down in the regional divisions of Spanish football, those most ardent Deportivo Alaves fans will have feared for the future of their club. This following a period of unprecedented success and prosperity in their club's history will have been an even more upsetting prospect. While their return to Spain's top division will be one joyously celebrated by those who follow them, the scepticism as to whether the club can forge a sustainable future among Spain's best teams is bound to persist.
I spoke to Jon Aroca, writer for VAVEL Spain, to hear his thoughts on Alaves' promotion.
Q&A with Jon Aroca
How much of a surprise is Alaves' return to La Liga?
Obviously, it's a surprise as there were better teams fighting for promotion, including richer teams with better players. But I wouldn't say it's a huge surprise, as Alavés players are good, and they have big support by the fans and the owner. Pre-season expectations were that they would be fighting to reach the play-offs.
How bitter are the rivalries between El Glorioso and its Basque counterparts?
The rivalries between Alavés and the rest aren't usually bitter, except with Athletic.
Alavés and Eibar (who have never met in first division) have a good relationship, as they have met plenty of times in Segunda and Segunda B. There is not a bitter rivalry with Real Sociedad, probably because both consider Athletic their biggest "enemy".
The relationship between Alavés an Athletic is quite complex. In fact, Alavés and Athletic fans have a good relationship, the rivalry just stays on the pitch. But the problem is between Alavés owner (Josean Querejeta, who also owns Baskonia basketball team) and Athletic owner (Josu Urrutia, former Athletic player). In the last few years they have accused each others of not having a collaborative attitude. It is reflected in their transfer relationship, as Athletic prefer to transfer or loan players to other teams, and Alavés usually don't like selling players to their biggest rivals. But, in general, the relationship between fans is good, and it's just a rivalry on the pitch.
How will they fare next year?
Their performance next year is still unknown. The number of players under contract is still low, and the club hasn't told which players will extend their contract. With the new TV contract the club will earn €40 million, so they'll probably have money to make good signings.
But to avoid relegation their stadium, Mendizorrotza, will be crucial. Their performances playing at home have been good, and if that form remains solid next season, they will have big chances to maintain their level.
Which players should opposition teams watch out for?
Fernando Pacheco, the goalkeeper, has been an important part of the team this season. He has made plenty of good saves this season, and will be hard to score against next year.
Raul García, left back, has been one of the best defenders of Segunda División. His defensive skills are good, but he's an attacking defender. He's influential going forward, as he's fast and skilful. He's also good with free-kicks and corners. Doubts remain as to whether he'll extend his contract or not.
The other player to watch out is Gaizka Toquero, well known by Spanish football fans. He's not a big scorer, but his strength and fight in the team's attacking game has been a crucial asset for Alaves. He also is really important when he has to defend.
Other players like Victor Laguardia, Manu García or Juli will be important.
Will they ever repeat their exploits of 2001 and reach another European final?
Reaching the final in Dortmund was something unique (I was too young, so I don't remember it well). What that group of players achieved will be remembered not only by Alavés fans, but also by all football fans. The teams that reached the final has some similarities with this one. They had recently got promoted, and they didn't have big stars.
I think that, even if it's unlikely, they could reach another final again. The team's owner, Querejeta, has invested much money in the team, and he will invest more. The club hasn't got debts, so it's attractive for players who want to play in the top tier. If they consolidate the team in Primera División, they could manage to qualify for European competitions again. Speaking about finals may be too much, but it is not something crazy.