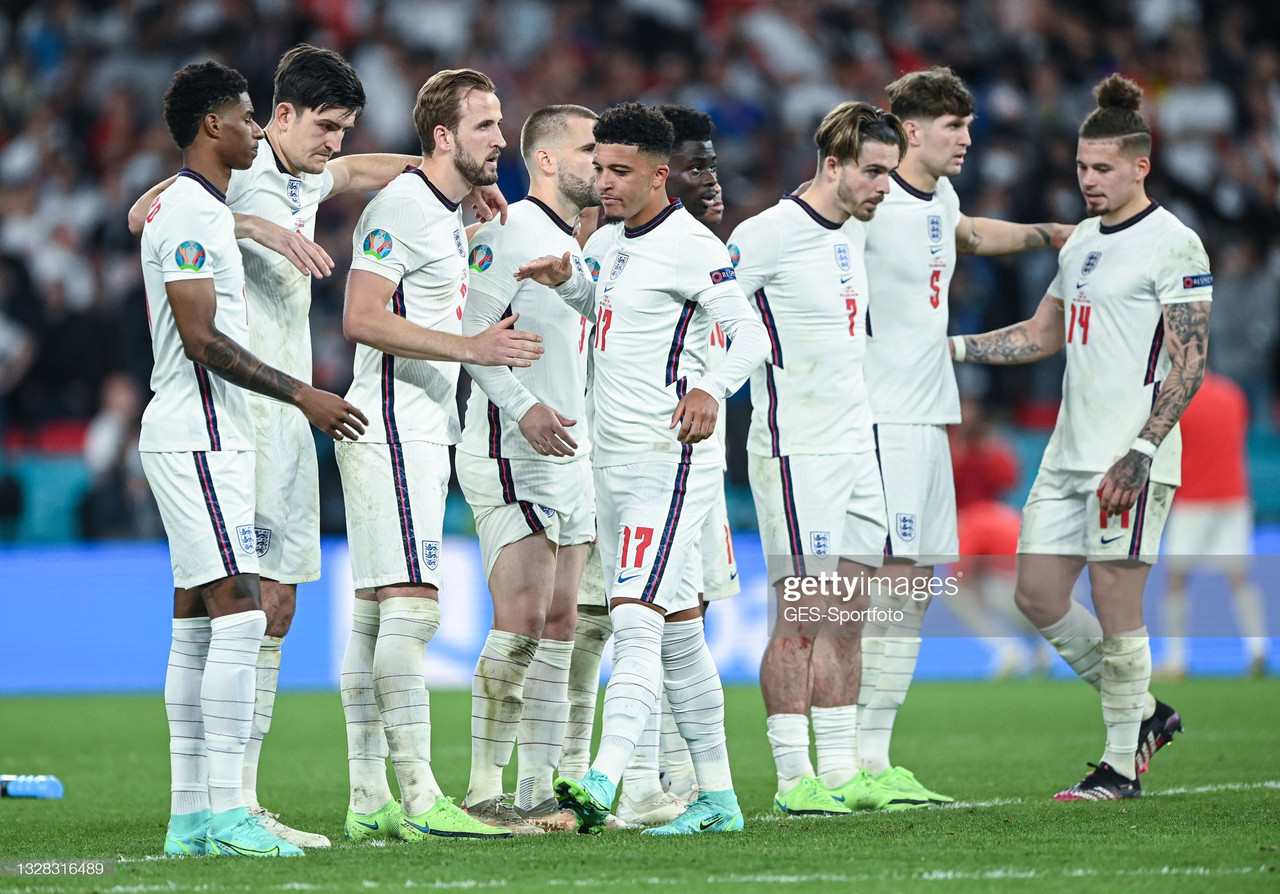 It is with a heavy sense of regret and a question of what might have been that England supporters look ahead at the next week of their lives. As we collectively, and painfully, fill in the last scores on our Euro 2020 wallcharts, there will be many who also will look at this tournament with a sense of pride.
Two tournaments in a row have seen a youthful, determined England side come within inches of glory, from a position of relative uncertainty. Few predicted the Three Lions to make it to the final of this competition due to the strength expected en-route to the tournament's crescendo. It is only when you come this far that ruefulness sets in: what could we have done differently? Did we do this or that wrong? And, as we often ask ourselves in Great Britain: who is to blame?
While it is human nature to want to relieve ourself of blame and shift it to somebody else, the less-known phenomenon is that feeling is shared by all. Nobody in Britain will envy the position that Bukayo Saka will face in the next few months of his life, and it will take an extremely resilient character to progress from such a crushing moment.
But this England squad has proven, over the last four weeks, that resilience is a core attribute to their psyche. Young, hungry and fearless has been the mantra echoing around this England squad, a side stacked with talent and determination to succeed, with players that have roots from all four corners of the globe as well as pathways that have led from Washington to Southampton.
Recognising what this squad have achieved
These twenty-six men, as well as the coaching staff that have accompanied the journey with careful advisement and pragmatic approaches, have restored a collective pride in the national football team. It was only five years ago that criticism swathed the squad for embarrassing against Iceland under Roy Hodgson. But with expectations eased, this England side has begun to thrive under pressured circumstances.
England have, for the first time in a knockout round since 1966, beaten Germany. They progressed to the final of a major international competition for the first time since 1966. Regardless of how we felt pain last night, every single person following Gareth Southgate's side not only will have accepted a place in the final, but rejoiced in the 'progress' made by the England side. They exceeded Sir Bobby Robson in 1990. Exceeded Terry Venables in 1996. They put to shame the twenty-five years of agonising defeats that have followed.
But abuse and discrimination was still rife last night. It is a sorry state of affairs that the first thing on the minds of a large majority last night was the racist abuse that would inevitably follow the penalty misses of Marcus Rashford, Jadon Sancho and Saka. There were tweets sent out in their thousands with numbers for women to call if they suffered physical, emotional or verbal abuse as a consequence of the result. We continue to suggest that these people do not represent us as a society but continue to allow their presence on social media and in wider culture; with networking companies allowing a 'free platform' for these vile humans to spew hatred. There is clearly more to be done from the top – a point that Gary Neville vociferously made on the morning's news following the fixture.
"It starts at the very top."

Former footballer @GNev2 says has called on Boris Johnson to take a tougher stance on racism in football after some England players received abuse online following last night's clash with Italy.#Euro2020: https://t.co/KUBv2VLGWI pic.twitter.com/VoJPtslaaP

— Sky News (@SkyNews) July 12, 2021
This is not a time for society to spread hate and abuse; there should be a sense of pride and achievement at what this side managed to do. Perhaps it was unfair for Saka to take the decisive penalty, but Southgate claimed responsibility for his choices and it is now up to these players' respective clubs to emotionally help them after a distressing occasion. Sadly, this memory will always follow Saka, but it is important to note that he will have plenty of chances to redeem himself (not that this is an action that needs redeeming).
For the Arsenal attacker, he should look to the story of Ben Stokes. Excuse the cross-sport reference, but Stokes' story is one to take note of. The 2016 T20 World Cup final saw England take on the West Indies, with Stokes bowling England's final over in an attempt to win the match. The balls he bowled were easily hittable and Carlos Brathwaite was able to smash four sixes in the final over to win the World Cup for his side.
Three years later, Stokes was Man of the Match in the Cricket World Cup final after a phenomenal afternoon at Lord's Cricket Ground. He went on to become a cultural phenomenon and one of England's most indispensable players across all three formats of the game.
The point is, Saka's career is in its infancy. We are all well aware of his talent, his potential, and the environment around him is there ready to plough. Careers in sport, not just football, have their peaks and troughs; it is a unique shame that one of Saka's lowest moments comes after only a season-and-a-half of professional football.
But one penalty miss should not define the youngster; it is more than acceptable to state that England would not be in the final if it were not for his ability in matches against the Czech Republic and Germany. His quality on the ball and the chances he was able to create turned a once-pedestrian England outfit into one of the most exciting at the tournament. It's an experience that separates the men from the boys, to borrow a cliché, and Saka has proven himself capable.
Marcus Rashford ❤️
Jadon Sancho ❤️
Bukayo Saka ❤️

Diverse. United. Proud. This is England.#EURO2020 #ENG pic.twitter.com/jccDewCIpV

— Goal (@goal) July 12, 2021
If you're good enough, you're old enough.
The abuse that is being sent towards England's talent is despicable, especially given the squad that was taken to the European Championship was diverse and representative of how England is in society. Les Reed, the former technical director of the Football Association, believes around 80% of the England academy pathway is of dual-nationality – it isn't going to change anytime soon, and why should it?
England's squad, in its current form, are more successful than any previous iteration of the side in the modern era. When Viv Anderson made his England debut in 1978 and became the first black player to play for England, the back-pass rule was still around, James Callaghan was the Prime Minister and the highest transfer fee in Britain was Gordon McQueen's £500,000 move from Leeds United to Manchester United.
The squad will continue to develop
Once again, the point being made is that Britain is culturally different than it was forty-three years ago and that is a good thing. England's squad is highly-capable and is almost collapsing with the weight of the talent that it holds now and is likely to hold in the future. This squad is still to welcome back Mason Greenwood and Trent Alexander-Arnold and is still to introduce the likes of Emile Smith Rowe.
There is plenty of room to be optimistic about this squad and the future it clearly holds. This is a side that has now experienced a semi-final defeat at a World Cup and a final defeat in a European Championship; maturity will continue to be earned as will experience at the highest stage. The beauty of international football is that chances are always two years away, and this group of highly talented footballers have already earned their next chance, eighteen months from now.
We, as a country, owe a lot to the young men of today who will become the men of tomorrow – the collective agony we felt as the final penalty was missed will pave the way for the joy we will experience following our international side with a renewed optimism in years to come.
We still believe.