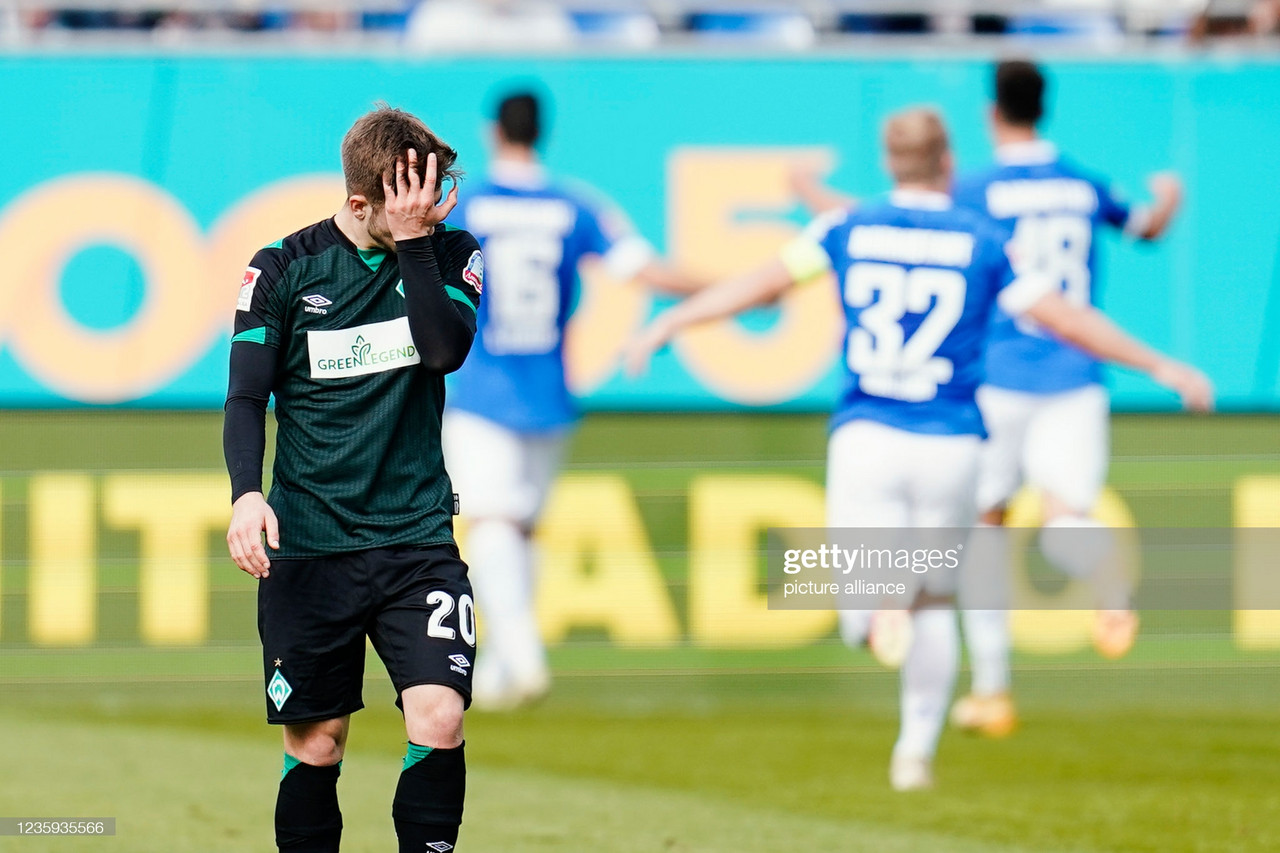 Werder Bremen were beaten badly once again on Sunday afternoon as they lost 3-0 to SV Darmstadt at the Merck-Stadion am Böllenfalltor.
An admittedly ugly encounter early on, Darmstadt took the lead thanks to a screamer from Fabian Holland right before the break. Bremen tried to respond, but a Luca Pfeiffer brace sealed the result for the home side, who ended the day with a clean sheet and three big points in their push for promotion.
Story of the match
Darmstadt did have a decent chance to jump in front midway through the first half when a corner picked out a relatively unmarked Phillip Tietz. He couldn't make the most of it, though, heading the ball right to Michael Zetterer.
Just as it seemed like an incredibly boring half was going to come to an uneventful close, the hosts opened the scoring in spectacular fashion. A poor clearance fell to Fabian Holland on the left-hand side, and he settled the ball before going for goal. His strike was a perfect one, as the ball flew into the top corner past a helpless goalkeeper.
Bremen were on the front foot following the break, and they came close to tying things up at the hour mark. Some clever passing play in a crowded penalty area set up Romano Schmid, but his powerful shot was tipped over the crossbar by Marcel Schuhen.
Even though it looked like they were the ones with all the momentum, it would be Darmstadt who scored next. The goal was an absolute gift, to be fair, as a ridiculous backpass from Nicolai Rapp went right to forward Luca Pfeiffer, who turned before slotting home with ease.
The game was then all but over with 20 minutes to go as the home side made it 3-0. A free-kick whipped into the area flew all the way to the backpost, and that's where Pfeiffer was waiting to volley the ball into the roof of the net.
Bremen tried to make a contest of it, but to no avail. Felix Agu's cross found Marvin Ducksch in the box, and he made solid contact on his headed attempt, but he was ultimately denied by the goalkeeper.
Both sides had a few half-chances before the match came to a close, but Darmstadt were still able to hold on to the result quite comfortably when it was all said and done.
Takeaways
Bremen were beyond poor in the first half. They just couldn't keep the ball, and it seemed like every time they got it, they lost it almost immediately. There was no pattern to their passing, and they constantly settled for aimless long balls that went nowhere. Manager Markus Anfang deserves most of the blame for that, to be fair, as he got his starting lineup wrong.
He arguably got his substitutions wrong, too. Bringing on Romano Schmid was a good call, but bringing on Felix Agu was not. That's not the fault of the player, though, as he came on to play on the right wing, which isn't his best position. He's not an attacking talent, and he hurt the team going forward as a result. Where was Roger Assalé or Abdenego Nankishi?
Marvin Ducksch has been elite this season, but he tried to do too much today. He kept dropping deep or floating out wide in order to receive the ball, which made it tough for him to be at the right place at the right time when it mattered most. Since he was practically everywhere else except the penalty area, Die Werderaner didn't really have a focal point.
Darmstadt did do enough to win, even if they arguably weren't the better side on the afternoon. They took their chances and capitalized on the opposition's mistakes going forward, and then they were solid enough defensively to keep a clean sheet, even if they were bailed out by their goalkeeper on a few occasions. If they can keep getting results like this, then they might be dark horse contenders for promotion.
Man of the match - Luca Pfeiffer
Oddly enough, Luca Pfeiffer was seemingly absent for most of the contest.
He just didn't do much of anything in the final third. The forward didn't help his team when it came to their build-up play, and he didn't really create any chances for himself or his teammates. However, he was still able to score twice to lead Darmstadt to victory.
His opening goal was very fortunate, as Pfeiffer was played through by a Bremen player, but he still did well to finish the opportunity that came his way. His second was quite nice, to be fair, as he timed a volley to perfection, hitting the ball into the back of the net from close range.
It was a clinical showing from the German, and if he can keep converting at this rate, then he might carry Die Lilien into a legitimate push for promotion.