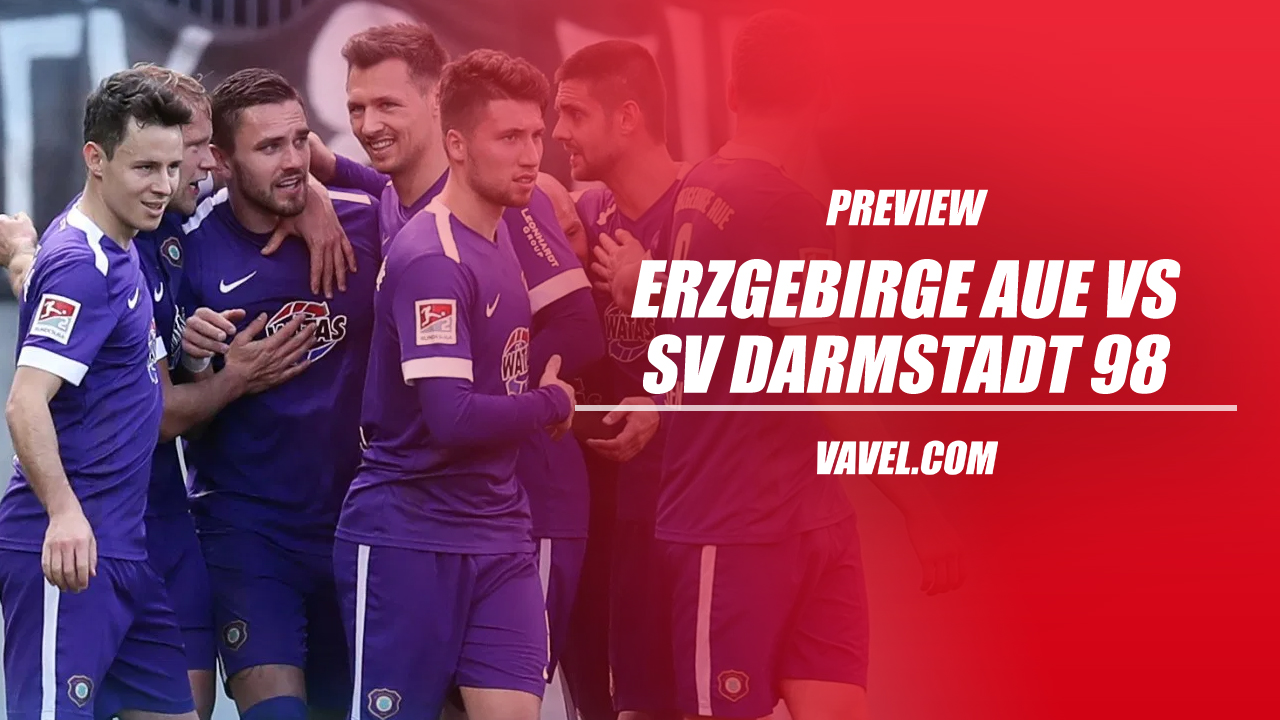 The 2. Bundesliga's first 'Englische Woche' since the league's break due to the COVID-19 pandemic gets underway on Tuesday, with Erzgebirge Aue hosting SV Darmstadt 98 at home in a 17:30 BST kickoff.
With a 3-1 win in the first weekend after the league's return, Aue drew 1-1 with 1. FC Nürnberg on Friday evening, Soren Gonther's own goal meaning that they only picked up a single point.
Darmstadt, however, had a much better time at the weekend. Playing at home against St. Pauli on Saturday, the Hessisch side were 4-0 victors. The floodgates opened as the game neared the finish, with three goals scored between the 74th and 89th minute. The Lillies were also able to keep a clean sheet as Dimitris Diamantakos missed a penalty for the visitors in the last minute.
The weekend's results mean that Darmstadt have leapfrogged Aue in the table, in fifth place with a single-point advantage, currently on 39. Neither side is threatened by the prospect of relegation any more, but with VfB Stuttgart facing HSV Hamburg on Wednesday, it could be an opportunity for them to close the gap to the Swabians who currently hold the promotion-playoff place with 45 points
Team news
Erik Majetschak, Fabian Kalig and Steve Breitkreuz will all be absent for the home side through injuries.
Immanuel Höhn and Mathias Wittek are out injured for the visitors while Matthias Bader may return from a muscle injury.
Form guide
Aue: DWLWWDL
Darmstadt: WLDWWW
Predicted lineups
Erzgebirge Aue: Manuel; Ramussen, Samson, Gonther; Strauss, Fandrich, Reise, Kempe; Nazarov; Kruger, Hochscheidt
SV Darmstadt 1898: Schuhen; Herrmann, Dumic, Rapp, Holland; Honsak, Heller, Palsson, Schnellhardt, Skarke; Platte
Ones to watch
Dimitriv Nazarov is Aue's main offensive threat alongside Jan Hochscheidt. Nazarov has scored eleven this season, the highest of any player at Aue. He netted against Nürnberg and Sandhausen in the club's previous two games and may do so again on Tuesday evening.
If he starts, then Darmstadt's Serdar Dursun will be their main man to watch in Tuesday's game. He has been their most influential player this season, netting eleven in the 2. Bundesliga so far compared to the club's overall tally of 35 - giving him a total contribution for the team of 31%, one of the leagues' highest. He was subbed on in the 61st minute against St. Pauli and picked up an assist late on.
Previous meetings
Darmstadt 1-0 Aue
Darmstadt 1-0 Aue
Aue 2-2 Darmstadt
Darmstadt 1-0 Aue
Aue 1-0 Darmstadt
Match prediction
Erzgebirge Aue 1-2 SV Darmstadt 98
In what could prove to be an extremely close game, Darmstadt's positive form carrying on from last week could help them to Victory against Aue.
The home side have not been victorious against their Hessisch opposition since 2017 and that may likely continue following on from their weak performance away to Nürnberg last week.
In the previous five games, those which have been won by either side have been done so by a single-goal margin and the overall form across the season from both teams shows that it is likely to be a close game.