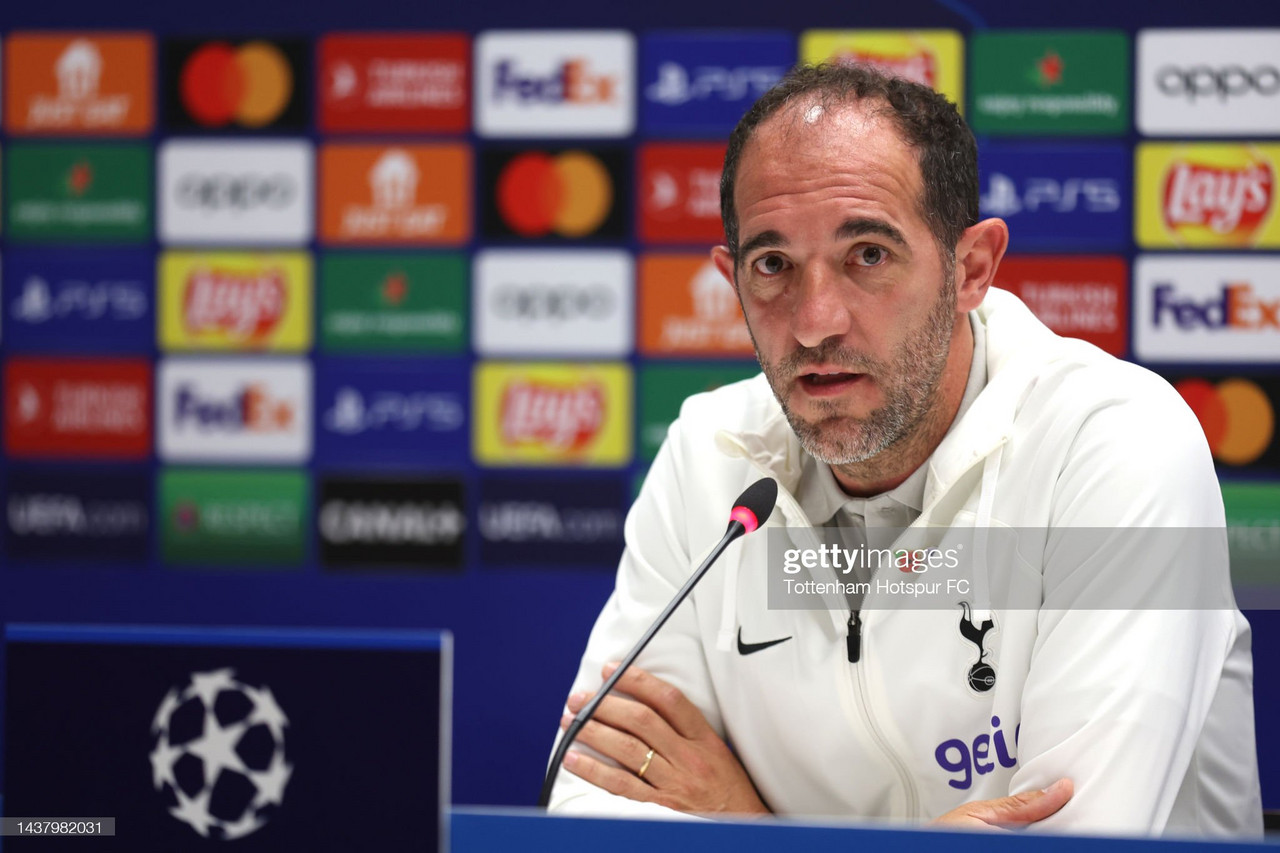 Pierre-Emile Hojbjerg and Cristian Stellini believe that Tottenham Hotspur will try their very best against Marseille, "although it's not possible to fill that gap" left by Antonio Conte.
The visitors know that a point against the French side would see them qualify for the Champions League knockout stages, but a defeat could see them knocked out.
The assistant confirmed that Cristian Romero, Richarlison and Dejan Kulusevski are all unavailable against Marseille, but everyone else is fit.
Stellini took Antonio Conte's place at the press conference. The Italian was scheduled to take part, however, due to his touchline ban for Tuesday, he decided to let his assistant manager take the reigns. The coach was joined by midfielder Pierre-Emile Hojbjerg in Marseille.
It will be an unusual setting for Stellini on Tuesday night. The coach has worked with Conte since 2019, but he will have to work without him on Tuesday night.
Stellini said that they have created a strategy for the match, and they will do their best to follow it without Conte on the touchline.
He said: "He will sit next to Gianluca for sure. I don't know where. He will be here at the stadium. He will work with us until we arrive here and then we have to stop the communication and then he will stay close to Gianluca. We have prepared all the strategies and our strategies are clear. We have to play our match at the best and we all have to do something more to fill the gap."
"We are not allowed to speak with Antonio in half-time. He will stay on the coach with the players [before arriving at the stadium], normally we use a different coach and then we will divide our way. We will go in the dressing room and Antonio will go in another seat. Then 15 minutes after the game we are able to speak again."
"It changes a lot, the presence of a coach like Conte is indispensable, especially in a tough match like this. We have to prepare ourselves. Normally in the days before a game he does his preparation alone. Now we have to do it together so it's very different. I'm not alone though. I've got the whole staff with people like Ryan Mason."
Hojbjerg has had a sensational season for Tottenham so far. The Dane has been a regular in midfield, and has thrived under Conte's leadership. The midfielder believes "it is not possible to fill that gap" left by the Italian.
He said: "First of all of course your head coach is a massive part of the team. Luckily he has a very good staff and players who are very well aware of what he expects from them and we'll try the best to fill his role although it's not possible to fill that gap. Whether he'll hide in a laundry basket, I don't know. I'd say no."
"He's a person who lives every game with great passion, with his heart. We need to make sure we're well prepared which we are. We have to deal with the fact that he's not on the sideline. For me it's not a difficult situation, it's more a different situation. We know what we have to do and realise the ambition. The focus is on the pitch and what we have to do."
This season Hojbjerg has become a star within an inconsistent Spurs side. In previous years, he could be trusted to intercept play and make tackles. However, this season, the Dane has provided a goal threat from deep. He has 3 goals and 2 assists this season (transfermarkt), proving his worth.
Hojbjerg believes he now has confidence to shoot, but is not sure if the coaches have told him to do that.
He said: "My feeling is that we are working intensely in the same way that everyone is well aware what to do with specific roles but we are always looking for improvement and new situations."
"When you get that confidence or understanding into the bone of the system you start to be able to come up with your own touch which I think everyone is trying to do. I am not sure that the coaches are telling me specifically to do that but it is not a bad thing."