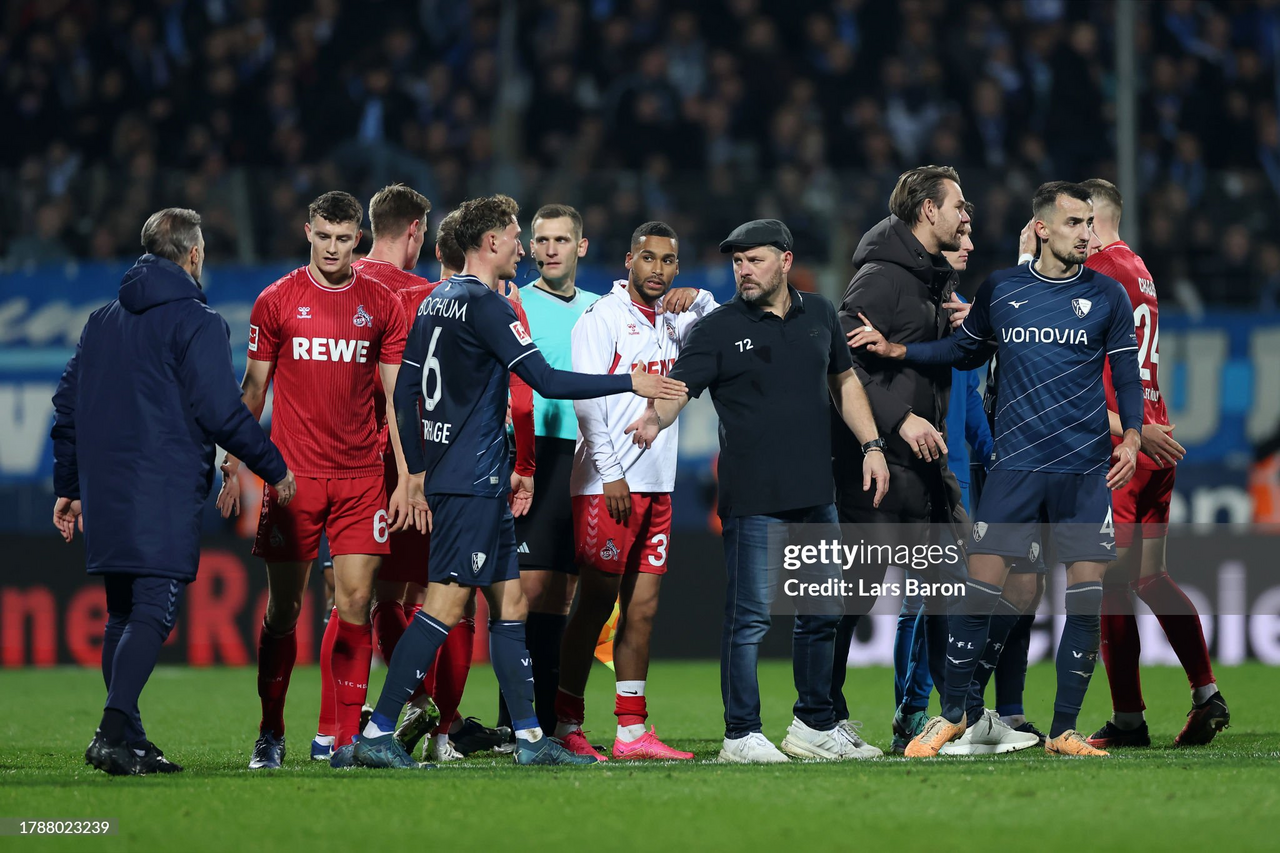 In a game in which VfL Bochum and 1. FC Cologne would have loved 3 points, the two bottom-half teams ended up splitting points in a late-night Saturday matchup.

The game began with an early barrage from the Billy Goats, with all 3 of their first-half shots coming within the first 15 minutes, and it seemed that Cologne was set to take an early lead.

However, they lost momentum swiftly as Bochum took advantage of terrible defending in the 26th minute. Lukas Daschner was able to go position himself perfectly and buried a rebound off the keeper for his first Bundesliga goal in his first-ever league start.

Bochum spent the rest of the first half and the beginning of the second half pressuring Cologne on the attack. However, a quick counter started by Florian Kainz ended with a Davie Selke finish to bring the game even in the 54th minute.

The game from then featured back and forth attacking, which forced both Marvin Schwäbe and Manuel Riemann to make some incredible saves and created some desperation defending moments from the defenders.
In the end, the two teams left with a crucial point, though were frustrated they weren't able to grab 3. Bochum was able to keep pace with both Mainz and Darmstadt and stayed in 14th place, while Cologne continued to stay in 18th.
Cologne: Dire Attacking Continues
Davie Selke's goal did little to mask that Cologne's continued attacking issues. They have a league-low 9 goals currently, with 3 of those being penalties.

Though they are missing two key players who helped their attack in years past with Jonas Hector and Ellyes Skhiri, they still do not have someone who can step up and consistently help the attack build and finish.

While the lack of attack from the starting XI is hurting the team, they are harmed even further by the lack of attacking impact from their substitutes. They still do not have a goal by a substitute in a league game yet.

It is unclear how Steffan Baumgart will be able to change this current form, especially in a crucial stretch of games where they play 4 bottom half teams in their next 6 games. They go into the upcoming international break with more problems that need answering
Bochum: Unbeaten Streak But Still Room for Improvement
Despite their placing on the table, Bochum has a 3-game-unbeaten run with 5 points in that streak against teams around them in the table.

Although they look like they are better than their bottom table counterparts on the scoresheet, they have a few issues that are still keeping them in danger.

This game against Cologne added to their winless record at home this season, with a staggering 4 draws and 1 loss playing in front of their home fans.

They also now have a 4th game in a row where they scored first and conceded after. Even in their win against Darmstadt, they gave up a goal after scoring the first goal of the game.
Bochum will certainly take the points where they can, but need to tighten up a few parts of their game to ensure they are stay up past just these 3 games.
Cologne: Marvin Schwäbe Sticks Out

While Baumgart still needs to find more consistent performances from his back line, he does at least have a very reliable man in goal with Marvin Schwäbe.

Like a lot of Cologne's opponents this year, Bochum attacked the goal with 25 total shots, and Schwäbe was able to make 9 saves, including a few incredible diving saves to keep his team in the game.

This season could be going worse for Cologne, but with consistent performances from Schwabe who has minimal goalkeeping errors in his time with the club, they at least have someone to rely on.
Bochum: Kevin Stöger Needs His Praise
It is easy to find a shining performer for Bochum with their attacking midfielder Kevin Stöger.
Once more, Stöger was able to open up his teammate who created the shot that led to the rebound for the first goal, and had a team-high 5 shots for the game.
Stöger is an attacking force for Bochum in general as well. He is the teams corner taker, free kick taker, and penalty taker, and can score from open play when he has the chance.
He needs some of his other teammates to step up to take advantage of what he brings to the team, but Bochum is at least able to know that they will always have some sort of help up top.
Looking ahead
With both teams desperate to climb away from the bottom of the table, they need to approach the remainder of this season carefully.
It is still early in the season, Cologne's attacking issues are dragging them down in a part of their schedule where they mostly play other bottom-table teams. Baumgart needs to find some way to get his team's attack going and get out of the hole they have put themselves in.
Bochum on the other hand seems to be improving as the season progresses and has the right idea on how to get results out of their games. Not being able to guard a lead will continue to make their season difficult if they don't fix it though.
Cologne comes back from the upcoming international break against Bayern Munich in a Friday night matchup while Bochum returns to a road match against Heidenheim.