Bayern Munich are in a good position heading into the second leg, following a resolute draw to Juventus in Turin, despite the home side's second-half resurgence.
Following the goalless draw away to Bologna, which ended Juventus' 15-match Serie A win streak, Massimiliano Allegri brought in Sami Khedira, Juan Cuadrado, Mario Mandzukic and Paulo Dybala for Stefano Sturaro, Roberto Pereya, Simone Zaza and Alvaro Morata.
Pep Guardiola also made numerous changes to his Bayern side that came from behind to defeat a valiant Darmstadt outfit in the Bundesliga. Rafinha, Serdar Tasci and Juventus-loanee Kingsley Coman made way for Philipp Lahm, Juan Bernat and Thiago. Defensive problems continued to trouble Bayern and once again Joshua Kimmich played at centre-back.
Bayern in control
Straight from the off, it didn't take long for Bayern to display their possession quality, easily dominating the field with their intricate passes, with Juventus chasing the ball.
Upon ex-teammate Arturo Vidal giving the ball away, Dybala managed to spring down the wing and, exploiting the Bayern defence's low height, put in a great cross which Mandzukic fired over, in very poor fashion.
Not long after, Bayern came as close as one can to not scoring when Kimmich put in a great cross which Robert Lewandowski laid off for Thomas Müller who, in turn, lost his footing and Leonardo Bonucci was on hand to clear it off the line.
Bayern continued to create chances from an unpressurised backline against a heavily entrenched Juventus side with a Juan Bernat shot causing Gianluigi Buffon problems and a terrific Thiago free-kick being poorly converted.
Not long before the break, however, Bayern reaped the rewards with their relentless attacks. Arjen Robben dinked the ball to the back-post, Douglas Costa expertly pulled it back and Thomas Müller fired it home to redeem his early miss, in a well-organised move that was appropriate of the lopsided half.
Calm before the storm
Juventus looked to have started the second half well, or at least better than the first, not that it was very difficult to improve upon that awful display. Bayern's defence started to withdraw from midfield.
After some to-ing and fro-ing from the either side, Bayern led a surging counterattack with Lewandowski finding Robben, rather poorly, on the right wing, but the Dutchman characteristically cut in and found the left side of the net in style to momentarily double Bayern's lead.
Old Lady Luck
Instead of knocking the wind out of the Old Lady's sails, the home side powered forward in search of redemption and they soon found it. Cuadrado's forward pass from the wing was mistakenly read by young Kimmich and Mandzukic threaded through a pass for Paulo Dybala to score his first Champions League goal coolly past the advancing Manuel Neuer
Juventus sensed blood from within their opposition's defence. Mandzukic surged forward and passed it to an open Cuadrado who ought to have done better as his shot was easily saved by Neuer.
Bayern's defence was being pushed back more and more and it would yet again crack. Juve equalised; a looping pass from Mandzukic saw Morata head the ball into the relatively empty box and Sturaro just managed to poke home the equaliser, much to the jubilation of the home crowd.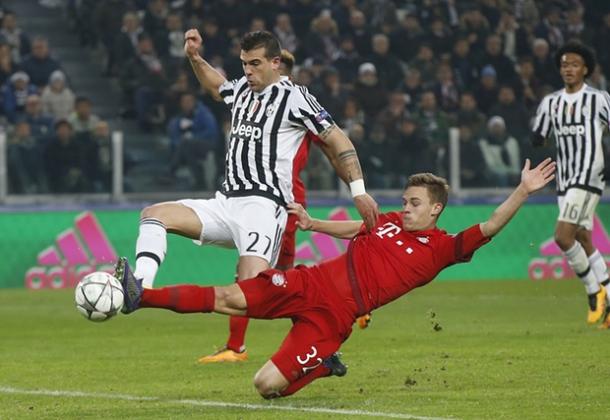 The remainder of the game saw both sides create a few more chances. Most notably, substitute Franck Ribery producing an exquisitely cutting cross which no one could get on the end of.
And that was all she wrote. Bayern's first-half masterclass of keeping possession eventually petered out and Juve fought back to earn a hard-fought draw. Despite throwing away a two-goal lead, a draw in the Juventus Stadium is a great result and die Rot-Weiss are the favourites to go through.