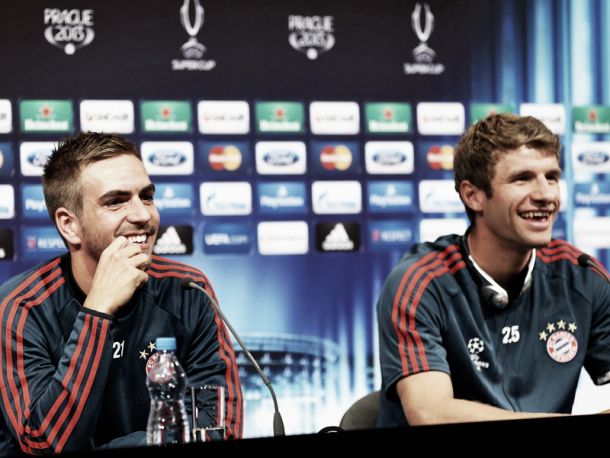 German powerhouse Thomas Müller and his counterpart Philipp Lahm have extended their contracts at Bayern Munich, it has been revealed.
Müller, 24, has been at the club since 2000. He was an integral part of the side that won the treble last season under Jupp Heynckes and rounded off this years DFB Pokal triumph with a 120th minute goal. His new contract will last until 2019, and puts to bed speculation that Manchester United were weighing up a bid for the midfielder.
Müller spoke about his extension to BILD, "I'm delighted to have extended my contract until 2019 so close to the start of the World Cup," he commented. "The club convinced me that I'm in the right place and I have the feeling that I'm an important component in the club's plans. Bayern have been my club since 2000 and they will remain so for years to come."
Philipp Lahm has been a mainstay figure in the Bavarian team since 2006, and captain since 2011 – his new contract runs out in 2018 when he will turn 35. The full-back has occupied a midfield role this season and has excelled, passing 250 Bundesliga appearance mark for Pep Guardiola's team.
Lahm also commented on the contract extension to the German paper, "It was the right time to discuss an extension. This is definitely my last contract and I will end my career at Bayern Munich. That was always my wish and I'm delighted it has happened."
Bayern chief executive Karl-Heinz Rummenigge was understandably pleased with the news, stating "Both have remained faithful right from the very start and are going to play an important role in the future."
The pair will play an important part in Germany's World Cup campaign, and will be hoping to add national success to their honours list for the season.