After many months of speculation, Borussia Dortmund confirmed this morning the re-signing of former midfielder, Mario Götze for a fee of around £22m.
The 24-year-old attacker has opted to re-build the bridge with his former club, as he departed Dortmund in 2013, making the common move from Dortmund to Munich.
A difficult time at Bayern Munich
After three years away from BVB, the club have seemed to be unable to fully replace the youthful magic that Götze once brought. However, on the flip side in Bavaria, Götze has been unable to regain his peak form after a spell of injuries and a lack of consistent game time.
As stated, Götze followed his former BVB teammate Robert Lewandowski to join Bayern Munich in 2013 for a fee of around £30m. Yet, unlike his teammate, Götze struggled to thrive during his time at Bayern Munich, as his game time decreased and injuries increased.
Last season was evidently the end of the road for Götze at Bayern, as he started just 14 Bundesliga games. The German was out of all competitions for a total of 16 weeks following a hamstring injury sustained in October. He struggled to return to full fitness, and as a result, was forced to sit on the sidelines for the majority of the remainder of the season.
Out of favour in Bavaria
During his time away, Munich found their balance in the attack, forcing Götze out of the equation especially in his favoured central midfield position. While every position was occupied by thriving players, transfer links between Götze and other European clubs began to heat up, as he was linked with a move away firstly in June.
There were confirmed efforts from Liverpool to attempt to lure the player back to his former coach Jürgen Klopp, however, these talks were abolished as both Götze and Karl-Heinz Rummenigge ruled out a move away from the Bundesliga holders.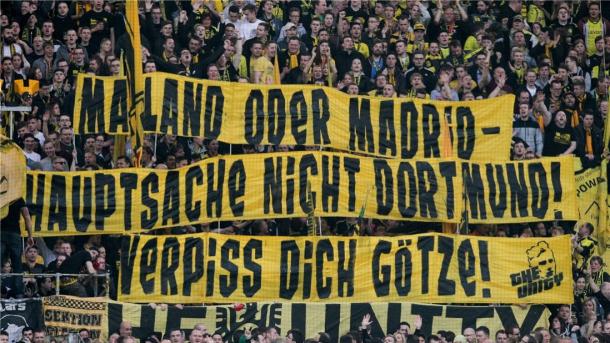 Götze returns to his playground
Talk came back around as the window opened, and the club that essentially made his name, came knocking. Borussia Dortmund are notorious for losing players to 'bigger' clubs, despite their dominance at the peak of the table year after year.
Having already lost start players such as Henrikh Mkhitaryan, Ilkay Gündogan and former captain, Mats Hummels, the club knew all too well the procedure they had to take as they aimed to re-build the gaps in their team.
Despite their efforts to re-strengthen the team once more, it will be unknown just how Dortmund fans will be feeling about the transfer. As shown above in the image, the famous Südtribüne made their feelings towards the potential transfer clear back in April when he was first linked with a return to his former club.
There are no doubts that Gotze is a classy figure that the majority of teams would be happy to have in their arsenal, however, returning to the hostility of the Westfalenstadion will either be a feeling of elation and relief, or anxiousness and regret for abandoning the club three years ago.
We wish Gotze a successful and injury free second spell at BVB.