 Charlotte Dujardin scored a sensational mark of 93.857% in the final Individual Dressage event, to win Gold and defend her Olympic title at Deodoro Equestrian Centre on Day 10 of Rio 2016.
The 31 year-old North-Londoner and her horse Valegro, wowed the watching crowd and judges in the freestyle finale showpiece.
The Briton finished over four percent ahead of Germany's Isabell Werth - just half a mark outside her own world record - to win her third Olympic Gold, after her double four years ago in London. Werth's team-mate Kristina Broring-Sprehe finished in third place.
Dujardin adds to her silver she won in the Team Dressage and becomes the first British female to defend an individual Olympic title, winning Team GB's 16th Rio gold so far, staying second in the medal table ahead of China.
Dujardin continues her dominace
Dujardin once again accompanied by Valegro, took to the arena at Deodoro as European champion from 2013, winner at the World Equestrian Games in Normandy two years ago, and defending Olympic champion from Greenwich Park at London 2012.
As Valegro pranced around the ring to a rousing samba beat, the Brit rode with her usually grace and poise and his trademark extended trot and grace. With temperatures in the mid-thirties, the pair performed for one more time after an almost inseparable four-year period. Indeed Valegro and Dujardin are now unbeaten since January 2012.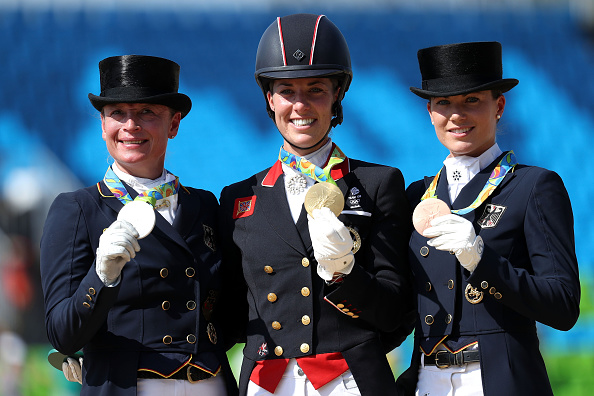 The Briton, as freestyle specialist and world champion in that event also, rode a near faultless display as the duo came together once more for Olympic glory.
Valegro makes the stage his own
The 14 year-old Dutch Warmblood nicknamed 'Blueberry' and trained by British team captain Carl Hester in his Gloucestershire stable, now goes down in the annuls of Equestrian history for Team GB, as a triple gold medal-winning horse.
Remarkably, such is the chemistry between horse and rider, Dujardin has never been unseated in all the years of riding him.