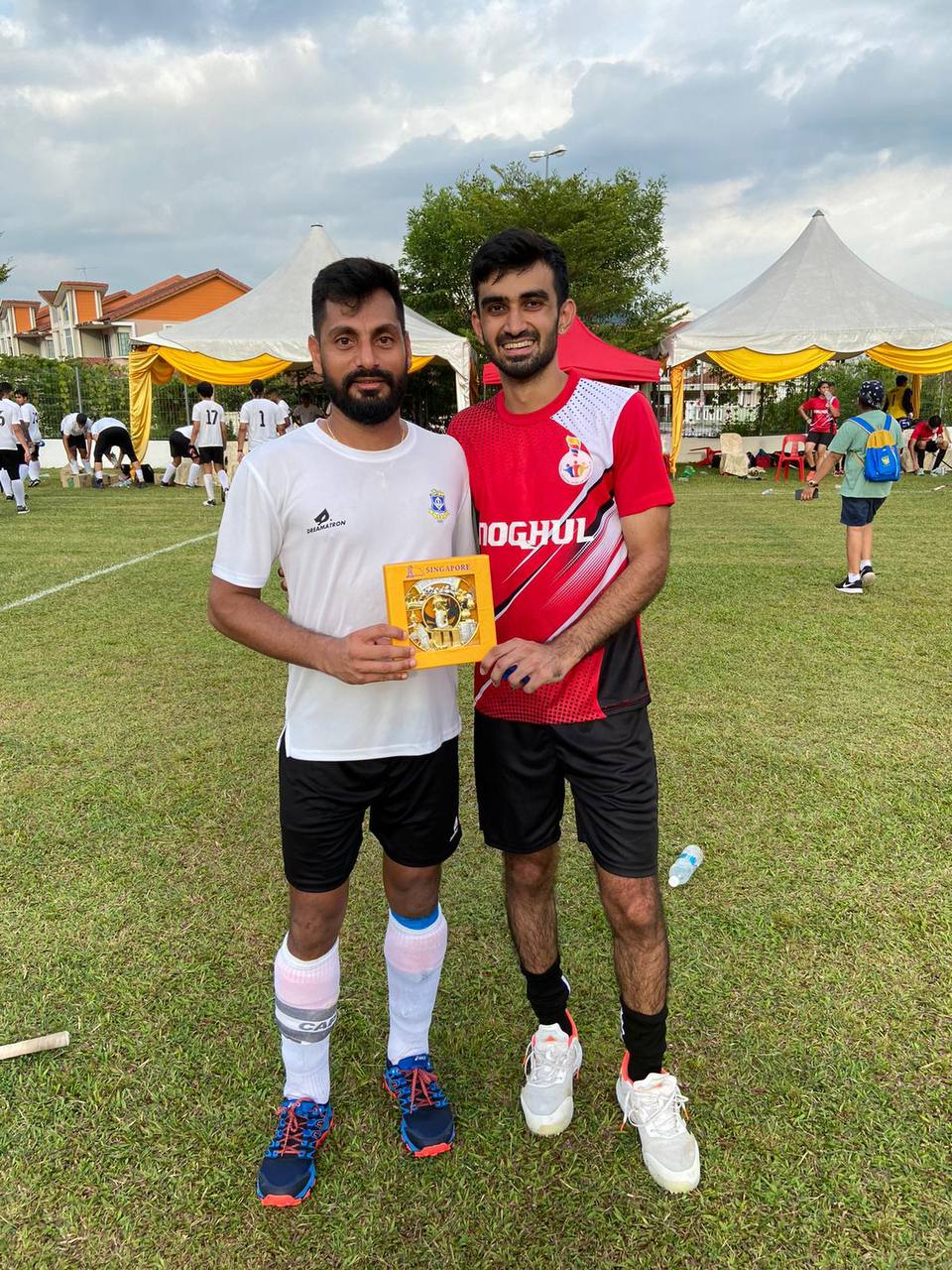 Unlike the group stages, international hockey rules were applied from the semi-finals onwards, where both teams played quarters of 15 minutes each, on grass. Singapore geared themselves up mentally and physically for the semi-finals, as they knew they were going to face one of the toughest opponents in the tournament as Kuala Lumpur consisted of players who have played in the Junior World Cup as well as the Razak Cup.
Luck was unfortunate for the Singapore side as their first-choice goalkeeper, Sukhbir Singh Khaira, suffered a hamstring injury during his warm-up in which he was replaced by 17-year-old Dilraj Singh for the semi-finals. It was a big responsibility for the A division bronze medalist, defending both posts in one of the biggest moments for the team's Gurdwara Cup Campaign.
The game started off with Kuala Lumpur dominating possession most of the time, however to their surprise, it was tougher for them to break down the Singapore's defence as the Lions stood valiant and disciplined in what was practiced during their training sessions and pre-match talks by head coach Bakri.
As tougher as the opposition got, as tougher Singapore got as well. It was not an all-defence game for Singapore, as they managed to counter some attacks as well due to their fast transitional plays but was luckless enough to make the most out of their chances. The hooter was then sounded for half-time, where both teams hurried for their team talks at the break. The result at half-time stood at 0-0.
The third quarter started and both teams started going in search of their first goal in the game, and this came right after Kuala Lumpur was awarded a penalty-corner. As experienced as these opposition players are on grass, it was difficult for Singapore runners read their next move in that specific penalty corner, which led to an open shot in which Dilraj could not keep out. 1-0 to Kuala Lumpur.
Despite being 1-0 down, the Lions stood up to the challenge with grit and tenacity, still giving the experienced side a tough time. Their efforts were finally paid off when Kuala Lumpur conceded a penalty corner. Jaspreet Singh's control of the ball was smooth and silky as he effortlessly dribbles past the 3 runners, saw Singaporean forward Hashpal Singh unmarked before injecting the ball to him.
Hashpal stopped the ball with complete confidence as his back was facing the goal, not giving any chance for the keeper to expect where he was going to place his shot, and finally twists his body and gave a powerful strike past the oppositions' sentinel in goal. Everyone became highly motivated when they heard the goal board sounded from his powerful strike.
The game ended with a score of 1-1, and it proceeded to shootouts. It was almost as if Singapore was ill-fated during the shootouts, as they failed to convert all of their three chances, losing out on the shootout to Kuala Lumpur 3-0.
The team that held one of the most experienced state teams in hockey took them all the way to shootouts, was one no one expected this young Singapore side to do. It was a commendable display for them so far in this tournament, even achieving their primary target, and that is to reach the Semi-finals.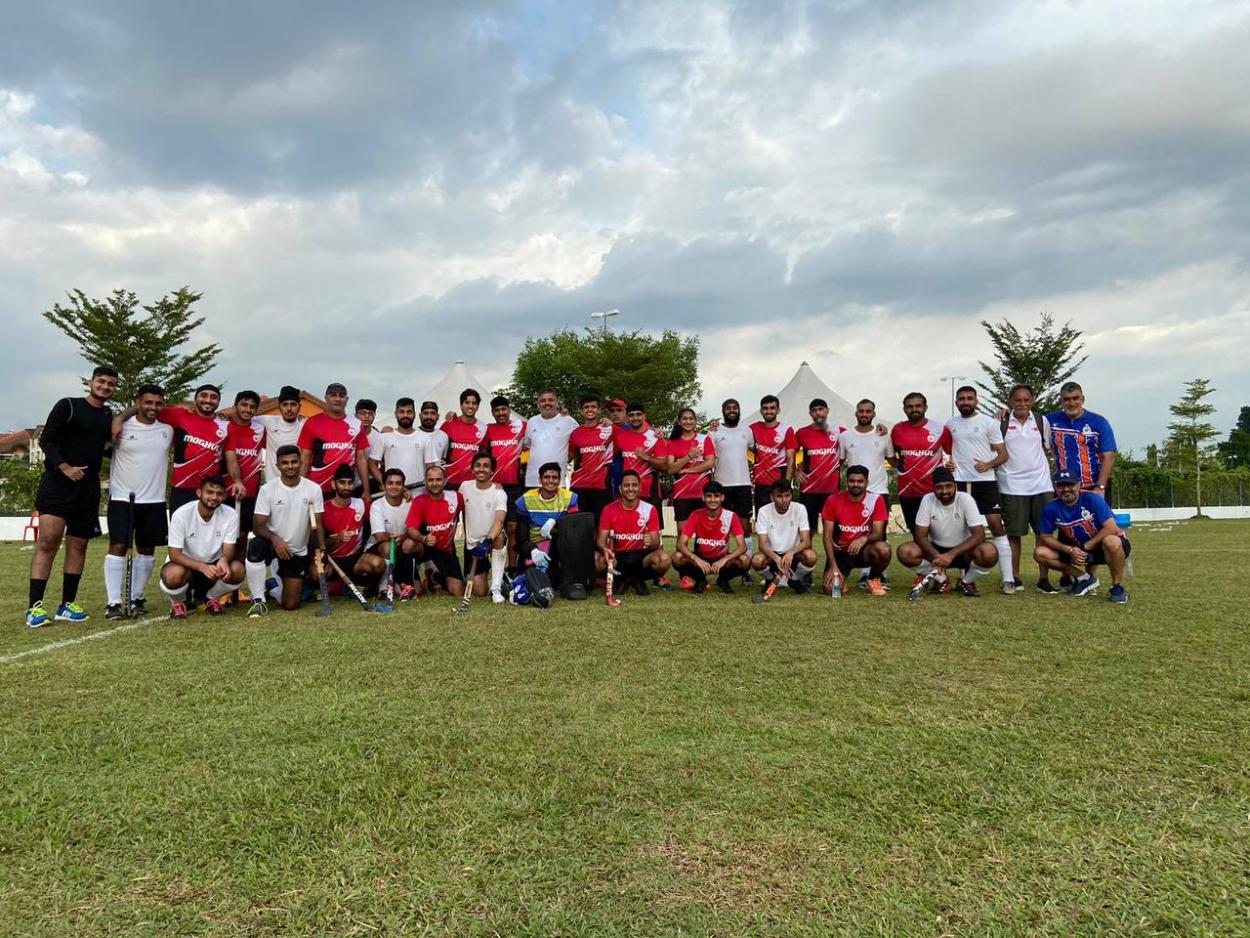 "I felt the team did really well, being disciplined in this game. Despite going 1-0 down, we stuck to the game plan and persisted. We didn't lose hope until the end, and it paid off with an equaliser. A lot of people did not believe we had a chance against Kuala Lumpur, but we proved them wrong," mentioned 19-year-old Karandeep Singh.
The 19-year-old praised his teammates as well, on how they have been guiding him on his first ever semi-finals, "I was nervous, playing semi-finals for the first time but the support and guidance of the senior players and the coach definitely helped calm me down".
"We have a very good set of management from our manager Mr Sukvinder Singh, Coach Bakri, Captain Prem and my Co-Vice Captain Gurvinder. They are great motivators, and we have great respect for them. They encourage and trust each and everyone of us and preparing for them, game was made easy. As Captain Prem has shared on our team talks before our games, the motto is to play for our country, Singapore, first. Secondly, play for the team and thirdly, for yourself," mentioned a positive and motivated vice-captain Shivraj Singh.
Not only praising his superiors, Shivraj also commended on goal scorer Hashpal Singh, and believed he was one of many who gave his heart out for his country, "Hashpal as a player has improved a lot. I have seen him grow as a player he is today. His goal gave us hope and it made us work together and believed we had a genuine chance. Yes, from the way I see he was one of many candidates for being man of the match. However, many players, if not the whole team stepped up and it is hard to just nominate one and I know Hashpal will agree with me".
"The team is already very motivated, looking to clinch the bronze medal after the unlucky semi-finals. Although we didn't get into the final, we are aware that the tournament is not over and no doubt, we will still give our 100 percent. All I can say to them is to continue remaining disciplined and follow the game plan and I have confidence we will do well," mentioned Karan as he urges his team to look on the positives ahead of the bronze medal match.