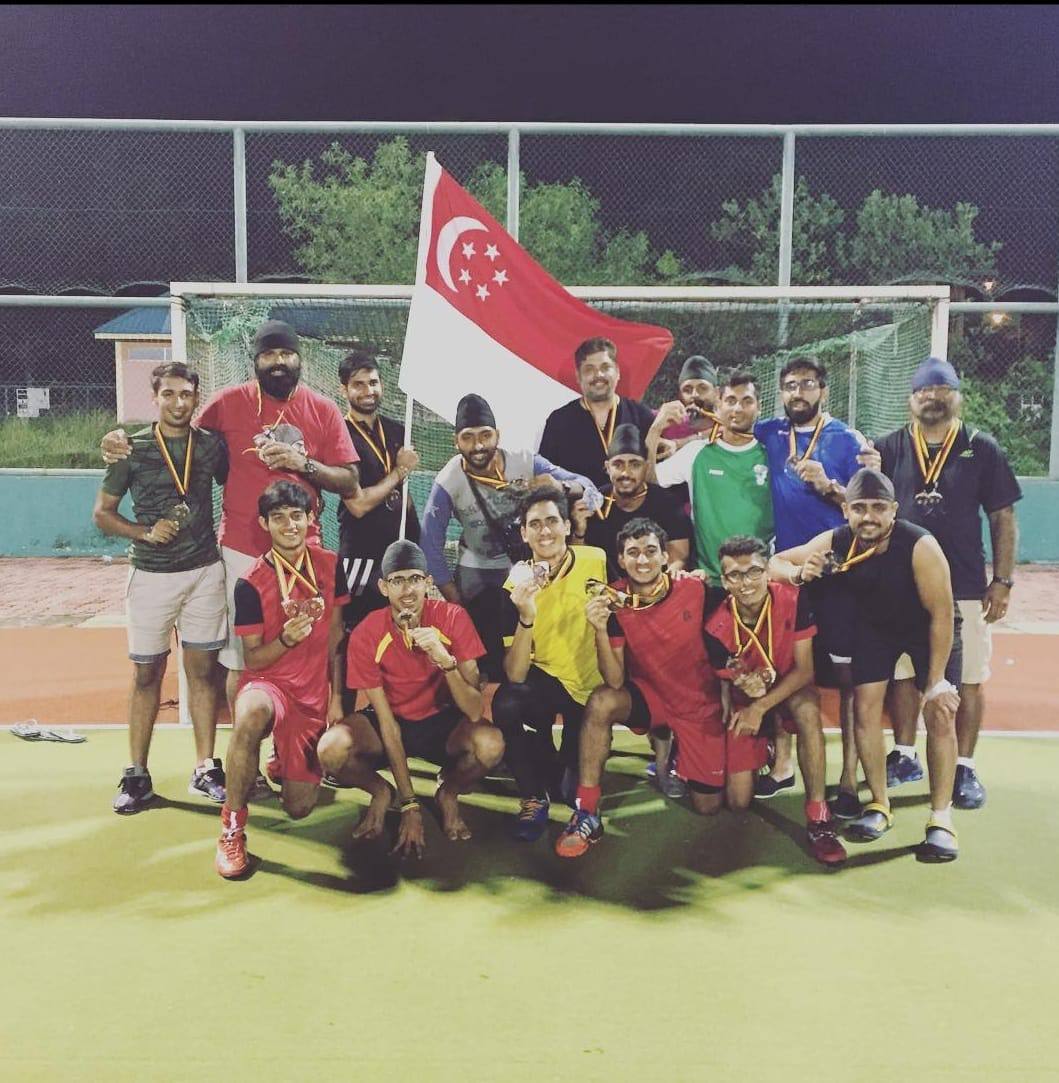 History of the Gurdwara Cup
The Ipoh Police Gurdwara (Sikh Temple) was in possession of the silver trophy during the late 1940s. However in 1952, the historic silver trophy was then consigned over to the Malaysian Sikhs Sports Council (MSSC). Hockey, being one of the most cultural sports among the Sikhs, was decided by the MSSC that the silver trophy will henceforth be named Gurdwara Cup and will be challenged for it between the Sikhs from the Malaysian States as well as Singapore.
The MSSSC was then formed in 1968, and since then they have been in charge of organising the Gurdwara Cup events between the Sikhs in Malaysia and in Singapore.
Getting to know the team better
It is that time of the year again, where our Singaporean Sikh compatriots take the field once again after a long holdback from the pandemic. The last time they took part in the Gurdwara Cup back in 2018, the team emerged fourth in the tournament after losing out to Kuala Lumpur in the semi-finals, and eventually losing out to Johor in the third and fourth placing.
This year, the team comprises a majority of younger and less experienced players and only a handful of senior and experienced players. This will enable the less-experienced players to make good use of this opportunity to learn and attain better exposure to higher intensity games as well as guidance from the senior players.
Majority of the Singapore squad are made up of players from Singapore Khalsa Association whereas the others came through the ranks of other established hockey clubs in Singapore as well.
Head coach Bakri confirms he wants 18-year-old Dilraj Singh in the squad for the Gurdwara Cup this year. Lately, the young prodigy impressed a couple of eyes in the A division tournament that was held in Sengkang hockey stadium, and due to some heroic saves, there was no doubt his team came in top 3.
Dilraj Singh shares with Vavel Singapore how he has been keeping up mentally in prior to the Gurdwara Cup, "I have been preparing for this competition since the beginning of this year by attending the training sessions, playing in the friendly games and working on my skills during my free time. Since I am schooling as well, I learnt the importance of balance as I had to balance both my academics and sports in order not to stress myself out and also to maximise my performance in both aspects. I am confident that the team is able to yield good results in the Gurdwara Cup and we have a clear goal in mind which is to attain victory".
"During the A division tournament, even though we were losing, I learnt how to persevere and push on until the final whistle is blown. I also learnt that it was important to work together as a team since team spirit allows us to achieve results of greater heights. I learnt how to accept feedback since there is always room for improvement. I plan to bring these ideas forward during the Gurdwara Cup so that I can confidently face challenges that were greater than before, during the tournament. Through this tournament, I also aim to maximise my experience so that I can be better" said the A division' bronze medallist.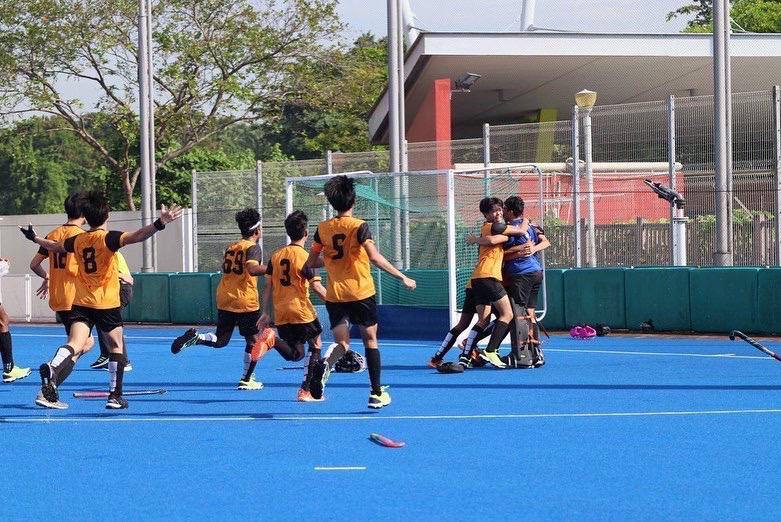 As Dilraj is the youngest player that is playing for the senior squad for the first time, the pressure kicks in for him, "I do feel pressured a bit because this is my first time playing for the senior team. Moreover I am expected to perform well but at the same time, I am eager to take on the challenges that are tougher. This will allow me to gain more experience and exposure to hockey at higher levels".
"I am really grateful for this opportunity as through this tournament, I am able to play a higher level of hockey which is something I have not experienced before. Additionally, I am able to acquire new skills and meet new people along the way. Overall, I feel privileged to be a part of this great team and I am very thankful for this opportunity" said an extremely grateful Dilraj as his spot in the team was deserved and well-earned.
There is no doubt that Prem Singh is the player to watch for Singapore. With his exceptional capabilities and experience in the sport, his teammates look to him as a prime example and role model. His guidance as the captain, alongside the rest of the other senior players, may be what the team needs to stand out in this tournament.
During an interview with Vavel Singapore, Prem shares how his experiences will aid him and his team for the upcoming Gurdwara Cup, "Good day to you Rohinthiran and a warm thank you to Vavel, for having me. Being a constant in the Gurdwara Cup team is an honour and pride and not a privilege based on consistent hardwork and dedication to the sport of field hockey. As one ages over the years, the amount of effort put in is double the effort of those younger teammates as I wish to maintain the high standards set and lead by example for my teammates and future generations' ".
"Being selected as captain again, I take that as a show of confidence by my coach Mr Bakri and manager, Mr Sukvinder Singh to lead and be responsible for the team. Being a captain from 2013 to 2019, the experiences and growth I have had, will lead to good stead to guiding this year's youthful looking team. In addition, I have also nominated to work with two vice captains, Mr Gurvinder Sidhu and Mr Shivraj Singh to help out in the respective ways which I will discuss with them individually for the betterment/success of the team. To me, every player is a leader in his own right in his position on the field and should always play to their strengths and ability. Hockey is a team sport and even the best player in the world will need his other 10 players to perform with him".
Prem also believes that even though the majority of the squad is young and less-experienced, anything can still be achieved in any tournament that they play. "The question asked is do we have it to make it to the semis, my answer to that is why aim for the semis when we should be aiming to win it? Go into every tournament/game with the mentality to win and compete to the best of your ability and with the right sportsmanship. A coach shared this phrase with me during my junior years: aim for the moon, if you miss, you may hit a star. The message is clear, have an ambitious goal and go for it. If you miss the goal, you'll still have achieved something."
Your Gurdwara Singapore Represents
Goalkeepers: Dilraj Singh Randhawa, Sukhbir Singh Khaira
Defenders: Shivraj Singh, Parveer Singh Aulakh, Gurditt Singh Aulakh, Thamir Singh S/O Sokdev Singh, Balvinder Singh S/O Surender S.
Midfielders: Jaspreet Singh, Belvinderjit Singh, Gurvinder Sidhu, Prem Singh.
Forwards: Hashpal Singh, Karandeep Singh Dhaliwal, Melvinder Singh S/O Jagjit Singh, Gurveer Kaven Singh Gill, Naamras Singh S/O Harbinder Singh.
Gurdwara Cup tournament groupings
Group A: Perak, Negeri Sembilan, Singapore, Penang.
Group B: Johor, Kuala Lumpur, Selangor, Pahang.
The Gurdwara Singapore squad will approach this tournament with grit and desire. As much as they might lose out to other experienced teams and players, it is a win-win situation for this team as they have everything to learn and need in order to climb up the ranks in the future. Gurvinder Singh, also known as Sunny among his teammates, the vice-captain of the team gave his words for the team to Vavel Singapore as well.
"Go out there and play the best game you've played. We do not need to be the best team in the tournament, we just need to focus on giving our best. Like a great man once said: we will have to change ourselves from being doubters to believers" mentioned a committed vice-captain ahead of their Gurdwara Cup campaign.
Beneath all of these factors is a level of determination and drive. Being a talented young squad is nothing without leadership and guidance on and off the pitch, as captain Prem has his words for his players, "it doesn't matter who you are, where you come from. The ability to triumph begins with you always. The journey to the tournament might not be easy but stick together and work for each teammate and it will be worth it at the end of it".
Prediction: Third