Team GB's James Guy narrowly missed out on a bronze medal in the men's 200m freestyle final, finishing fourth at Rio 2016.
The Briton was touched out at the wall by 0.26 by American Conor Dwyer. Sun Yang of China won gold in a time of 1.44.65, with Chad le Clos in the silver medal position.
Briton scraped into final
Guy came into the final with indifferent form, having scraped into it by just 0.01 ahead of Australia's Thomas Fraser-Holmes, having finished sixth in the 400m free on Day 1. The world champion over the distance in Kazan last August however, Guy was capable of putting together a medal-winning swim.
As was the case in Russia, the field was packed. Given the outside Lane 8 as the Briton was, could become a benefit in allowing Guy to swim his own race away from the pack.
Chad le Clos was in a similar positon, directly across from Guy in Lane 1, with fastest qualifier Sun Yang of China in Lane 4 and world record holder Paul Biedermann of Germany in Lane 6.
Guy effort in vain
Just as in the heats and semi-finals the South African shot off the blocks and raced away from the field. Guy sat back in the chasing pack and looked comfortable.
At the halfway turn, Le Clos led by a length, rising late from the pool to extend his lead. Yang, Dwyer and Biedermann all sat waiting to catch the lead man.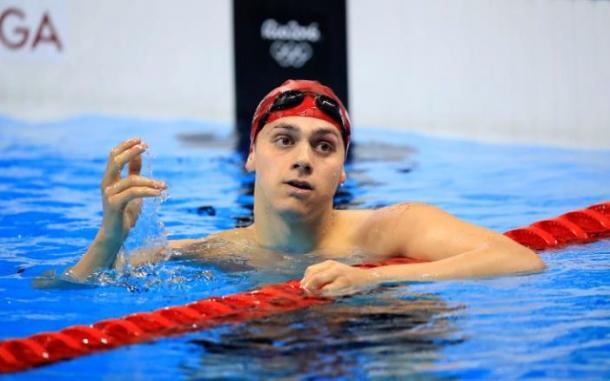 Guy also was in medal contention and at 150m, was firmly in the frame. In the outside lane, the 20 year-old battled valiantly but fatigue set in once more in the final 50m.
Yang then surged through the field - almost predictably to snatch the gold medal, to a mixed reception.
Guy will now focus on the relay at the end of the week.
Team GB enjoy day three success
Elsewhere for Team GB on the third day of action, British duo Tom Daley and Daniel Goodfellow won bronze in a tense finale of the men's 10m synchronised platform.
China's dominance of diving continued as the pair of Aisen Chen and Yue Lin finished almost 40 points ahead of the American duo Steele Johnson and David Boudia, taking gold.
There was also a bronze for Edward Ling won claimed third place in the men's single-trap shooting, defeating the Czech Republic's David Kostelecky 13-9 in the bronze-medal playoff.