Instead of being 13 points down on his team-mate, Lewis Hamilton is 26 going into the 19th round of the 2016 Formula One season.
Those 13 extra points would've come from his expected win in Malaysia, but as we know, a 'big-end bearing' had other ideas and left the Brit with the biggest challenge to claim a fourth world title.
Meanwhile, across the Mercedes garage, Nico Rosberg, using his "one race at a time mantra", has one hand on the World Championship trophy, which could be secured this weekend.
No driver has ever won nine races in a season, and four in a row and not gone on to claim the crown. It surely just a matter of time before a 33rd champion is crowned.
Hamilton's only hope is that the Red Bull, Ferrari and possibly Williams and Force India can get in on the action this weekend to cause a surprise and allow Hamilton to take a sizeable chunk out of Rosberg's lead.
Form Guide
As this race is the highest above sea-level on the calendar, the power units will get a tough workout all weekend, which will play on Hamilton's mind, after admitting he is still haunted by the sound he heard in Sepang.
The Mercedes powered cars should not be as affected as others, with Force India and Williams prehaps scrapping over a podium spot or better. Sergio Perez for the win anyone? Manor could fancy their chances of possibly scoring more points due to the nature of the climate, but those without Merc PU's could struggle.
Ferrari will be hoping that they can somehow claim the win that would mean their season hasn't been a complete waste of time, with Sebastian Vettel still hopeful that he or Kimi Raikkonen can take a chequered flag between now and Abu Dhabi.
Despite their strong showings in Austin, both McLaren and Toro Rosso could fall down the order around the Circuit Hermanos Rodgriguez, owing to their PU deficiencies.
Both Perez and Haas's Esteban Gutierrez will want to impress in front of their adoring home crowd, with another sell-out predicted after last year's return to the country, following a 23 year hiatus.
How can the championship be won this weekend?
If Rosberg wins and Hamilton P10 or lower, then the title will be secure for the German, 34 years after his father, Keke took his crown. As it so happens, the only current father-son pairing to win the title, Graham and Damon Hill also had a 34 year gap between winning the title, Graham in 1962, Damon in 1996.
Rosberg must be 50 or more points ahead, as after the race there'll be just 50 left on the board, and he would've won 10 races to Hamilton's maximum of nine for the season, if he wins in Brazil and Abu Dhabi.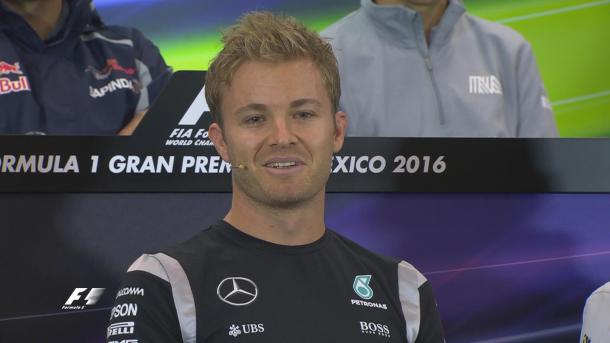 What happened last year?
Fireworks were expected in T1, between Rosberg and Hamilton, fresh from the saga of Austin the weekend before. However, it was Vettel who provided them, hitting Daniel Ricciardo and getting a puncture.
Rosberg comfortably won, ahead of Hamilton, who for a moment seemed like he was going to defy team orders to pit in for a second time and try to go until the end, arguing his tyres were still fresh enough.
Valtteri Bottas secured Wiliams a podium spot, after colliding with Raikkonen for the second time in three races, as Red Bull and Danill Kvyat were unlucky to be pipped to P3 by a Safety Car that bunched the field up.
Vettel was the cause of it, crashing at T7, after a poor, uncharacterisitc race filled with errors.
Where will there be some overtakes?
The prime spot is into T1, at the end of the long pit-straight, with the top speed last year measured at 226mph by Felipe Massa, provided of course you can slow it down when you get there. T4 at the end of the second DRS zone is a good spot into the first stadium section, as it T5/6 on the exit of it.
Passing in the twisty section is not going to happen, as cars head down toward the baseball stadium that sees the track cut through. Anywhere in the third sector is a viable overtaking opportunity.
Sadly, we will never see another move like ​Nigel Mansell around the outside of Peraltada on Gerhard Berger in 1990, as that particular corner, which made the circuit was ommited from the layout for safety cars. Although the stadium brings an unrivaled atmosphere, nothing can beat spectacular overtake.
What tyres are Pirelli bringing?
As in America last weekend, the SuperSoft is the softest tyre Pirelli have selected for the weekend, with the Soft and Medium's also on duty. As ever, the Intermediates and Wets will also be taken to Mexico.
The leading teams have generally opted for three sets of the mediums, only Rosberg (four) and Raikkonen (two) have not, four sets of the Softs, Hamilton (five), Raikkonen (five) and the Williams pair (three) the exceptions with Mercedes bringing only five sets each of the SuperSoft for both drivers.
Will it rain?
Temparatures will be a lot cooler than in Austin, with a mixed bag ahead for the teams. The Mercury on Friday will struggle to rise above 20C, with Saturday and Sunday not doing much better. There is a forecast for showers come Sunday afternoon.
When is it on?
It's a similiar schedule to last weekend, with First Practice underway at 16:00pm UK time on Friday, Qualifying is at 19:00pm on Saturday.
The clocks go back in the UK on Saturday night/Sunday morning with the result being that the race is underway at 19:00pm on Sunday evening.
As ever, Sky Sports F1 will show live coverage of the entire weekend. For freeview viewers, Channel 4 will also be showing live coverage the events as they unfold.
First Practice - Friday - 16:00pm - 17:30pm
Second Practice - Friday - 20:00pm - 21:30pm
Third Practice - Saturday - 16:00pm - 17:00pm
Qualifying - Saturday - 19:00pm - 20:00pm
Race - the 71 laps of the 2016 Mexican Grand Prix gets underway at 19:00pm on Sunday.
All times UK.