After 21 rounds, the 2016 Formula 1 World Drivers' Championship comes down to this. Will Nico Rosberg take his first world title, or will Lewis Hamilton complete an unlikely comeback? He'll need some luck to do so, but as VAVEL looks back at 10 of the best title deciding races ahead of this weekend's Abu Dhabi Grand Prix, anything is possible.
10. Vettel comes of age
II Etihad Airways Abu Dhabi Grand Prix, 14 November 2010
In the end, there were four. As the light faded in the Persian Gulf, 28 drivers had been whittled down to five main protagonists; and after Jenson Button's dream of retaining his championship had gone up in smoke, four drivers had a chance of claiming his crown. On paper, it looked to be the ultimate duel: Fernando Alonso v Mark Webber v Sebastian Vettel v Lewis Hamilton.

For some, the chances seemed slim, with Vettel and in particular Hamilton requiring a rather large slice of luck. The two of them got just that. Qualifying third, Alonso was a firm favourite to take his third world title; his first for Ferrari.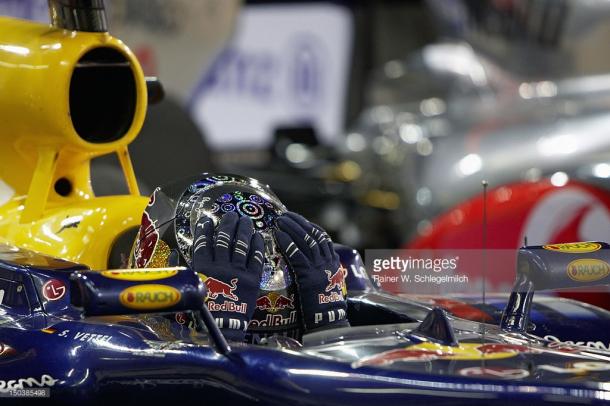 But, come Sunday, his plans were scuppered by a stoic Vitaly Petrov and a faltering Ferrari strategy. Webber also suffered after starting a disappointing fifth. He too fell behind Petrov and worse for him, Alonso. His task wasn't helped by a scrape with the barriers early on. Try as they might, there was no way past Petrov - whilst at the sharp end of the action, Vettel had cruised to victory ahead of Hamilton. With Alonso and teammate Webber's misfortunes, it gave the German his first of four successive world titles.
9. Raikkonen steals in
XXXVI Grande Prêmio do Brasil, 21 October 2007
Much like the previous, it was a case of several into one doesn't go - with the underdog prevailing. Once more, Alonso and fresh faced Hamilton were in the mix, but it was to be a resurgent Kimi Raikkonen who took the spoils.
In a year tarnished by the infamous "Spygate" controversy, that saw the late Nigel Stepney sacked by Ferrari and McLaren stripped of their World Constructors' Championship points, the drama in Interlagos was a pleasant distraction.
Having blown his chance of securing a rookie World Championship victory in China two weeks earlier, Hamilton was the man in control, holding a four point lead over Alonso and a further three to Raikkonen - who had picked up the pieces in China.

On Saturday, Hamilton held his nerve, second to home hero Felipe Massa. Raikkonen and Alonso were directly behind. The two Ferraris got off to lightning starts, swarming the McLarens and leading out of the Senna S curve. Then, disaster for Hamilton as his car jumped into neutral after Turn 4. The Briton crawled up the hill, frantically searching for an answer. His car lived to fight another day, but being a long way down the order consequently, his championship charge had all but perished, with Raikkonen leading and Alonso poised behind Massa in third.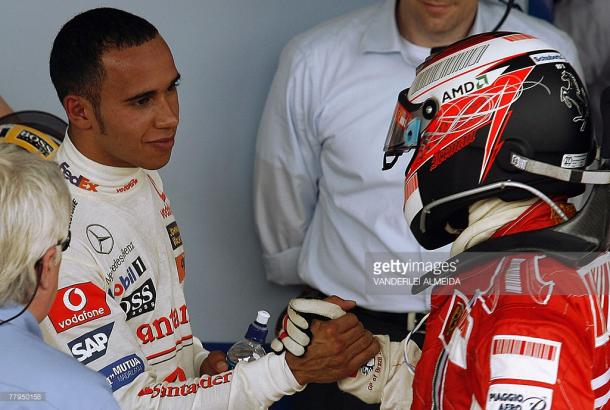 Raikkonen stormed to victory and Alonso took third. With Hamilton in a lowly seventh place, it meant that both McLarens were on 109 points - Hamilton ahead on count back. However, the "Flying Finn Mk.2" had snatched glory from underneath their noses. It remains his sole title.
8. Hakkinen first to Finnish
XXIV Fuji Television Japanese Grand Prix, 1 November 1998
It was one of the most intriguing and exciting battles of the late 20th century, two meticulous and tremendously quick drivers - two interesting characters to boot. Mika against Michael, McLaren against Ferrari, and a fitting venue for a last day showdown; Suzuka, Japan.
Upon joining the Scuderia in 1996, Schumacher was tasked with the challenge of securing Ferrari's first Drivers' Championship since 1979, and after a trying debut year and a controversial second season, this was the German's best chance at glory since leaving Benetton. His F300 may not have been perfect - the revolutionary MP4-12 had left the field in its wake early on in the season, even after its second brake pedal had been deemed a transgression of the rules - but this was Michael Schumacher.
Pole position went to Schumacher, with Hakkinen breathing down on his rear right tyre in second. But, that order didn't stay for long - Schumacher had been uncharacteristically overzealous on his formation lap, his Ferrari engine cooking itself into stalling when Jarno Trulli's stalled Prost had prompted a second formation lap.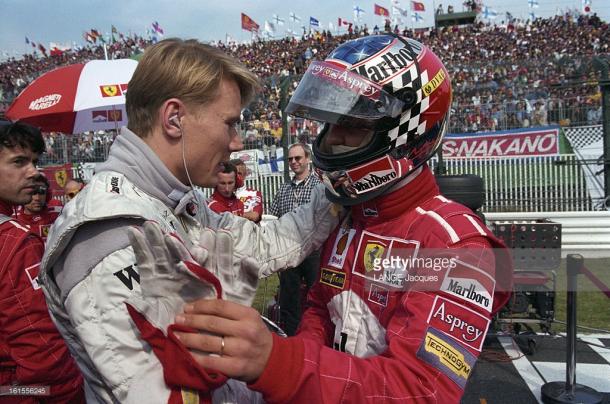 He took the start, albeit in last, even then he struggled to get away. Hakkinen led into Turn 1, with Schumacher's team mate Eddie Irvine crucially passing the sister McLaren of David Coulthard for second. Although the German carved his way through the back markers and midfield fodder, it was all in vain - his right rear tyre expiring and dissolving his right sidepod, the damage sustained after running over debris from Esteban Tuero's collision with Tora Takagi on lap 26; forcing him into retirement. Hakkinen took a commanding victory, and his first of two championships.
7. Mansell's tyre troubles
LI Foster's Australian Grand Prix, 26 October 1986
Following on from one spectacular blowout, Nigel Mansell saw his chances of the 1986 title end in similar fashion. Again, there were three protagonists; Nelson Piquet, Alain Prost and Mansell. "Our Nige" led by six points from Prost, with Piquet one point behind the Frenchman.
Mansell also took pole around the punishing Adelaide circuit, with Piquet second. Prost could only manage fourth, behind future sparring partner Ayrton Senna, 1.2 seconds shy of Mansell's time.

But, Mansell had a poor start, squandering the lead to Senna, and then falling behind Piquet and Keke Rosberg. Rosberg shifted past Senna and new leader Piquet, before storming away from the chasing pack. On lap 23, Piquet spun but continued with no damage; a few laps later Prost suffered a puncture of his own, but dusted himself down and recovered from fourth. Piquet had also been on a mission, and even nabbed second from Mansell.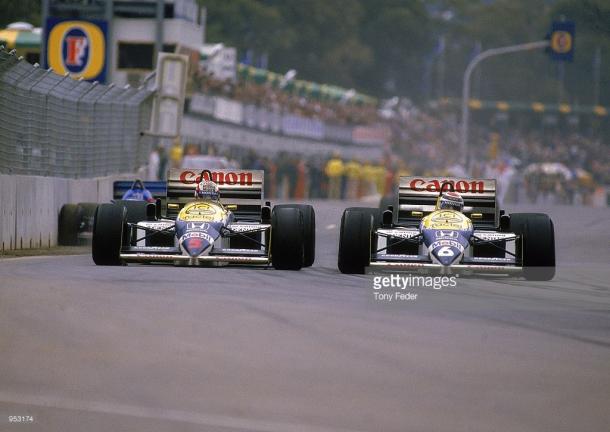 With 19 laps left, the runaway leader Rosberg - who admitted he'd've let Prost pass him if needs be - suffered a right rear puncture and duly retired from the race. It wasn't to be the last deflation of the afternoon, Mansell's left rear exploding whilst he lapped Philippe Alliot, damaging his suspension. Remarkably, he kept control of the car and limped back to the pits. He was to go no further.
In fear of lightning striking twice, Williams chose to box Piquet, handing the lead, the win and the title to Prost, by two points. Piquet took second, with Stefan Johansson's Ferrari in third.
6. Michael's darkest hour
XLII European Grand Prix, 26 October 1997
"You've hit the wrong part of him, my friend," remarked Martin Brundle, looking at live pictures of Michael Schumacher beached in a Spanish gravel trap, his 1997 championship bid and even worse, his reputation in ruins.
Jerez 1997, was a bizarre weekend. On Saturday, Jacques Villeneuve, Schumacher and Heinz-Harald Frentzen had set identical times in Qualifying. Everyone was aghast, we'd strayed completely into the unknown - Villeneuve on pole, only because he set the time first.
Moments before the start, Villeneuve's Williams let out a puff of blue smoke, however he was assured that this was nothing out of the ordinary and wouldn't affect his race. It may have affected his mental state at the start though, Schumacher leaping ahead of the Canadian into the sweeping Turn 1. Frentzen followed, but let Villeneuve back through on lap 8.
That order stayed for the duration of the first 40 laps. But after the second round of stops were completed eight laps later, Villeneuve had clawed back lost time on Schumacher - the gap now down to half a second. On lap 48, Villeneuve pounced, throwing his Williams down the inside at the Dry Sack corner. Schumacher had no answer, and resorted to try and damage Villeneuve's suspension. He got it all wrong, hitting the sidepod of the Rothmans liveried Williams. The title decided in a mistimed flick of the Ferrari's steering wheel.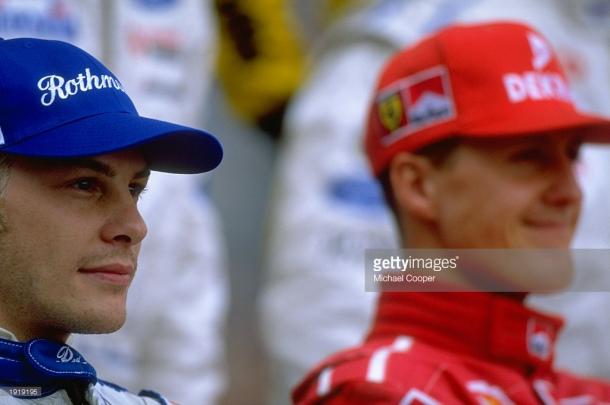 Villeneuve coasted to the finish, letting Mika Hakkinen and David Coulthard through for a McLaren 1-2; Hakkinen taking his first win in the series. But, the drama wasn't over - the FIA disqualifying Schumacher for his misdemeanour.
That concludes Part One of VAVEL's top 10 title deciders, keep an eye out for Part Two, where there's even more drama - as unthinkable as that may be...