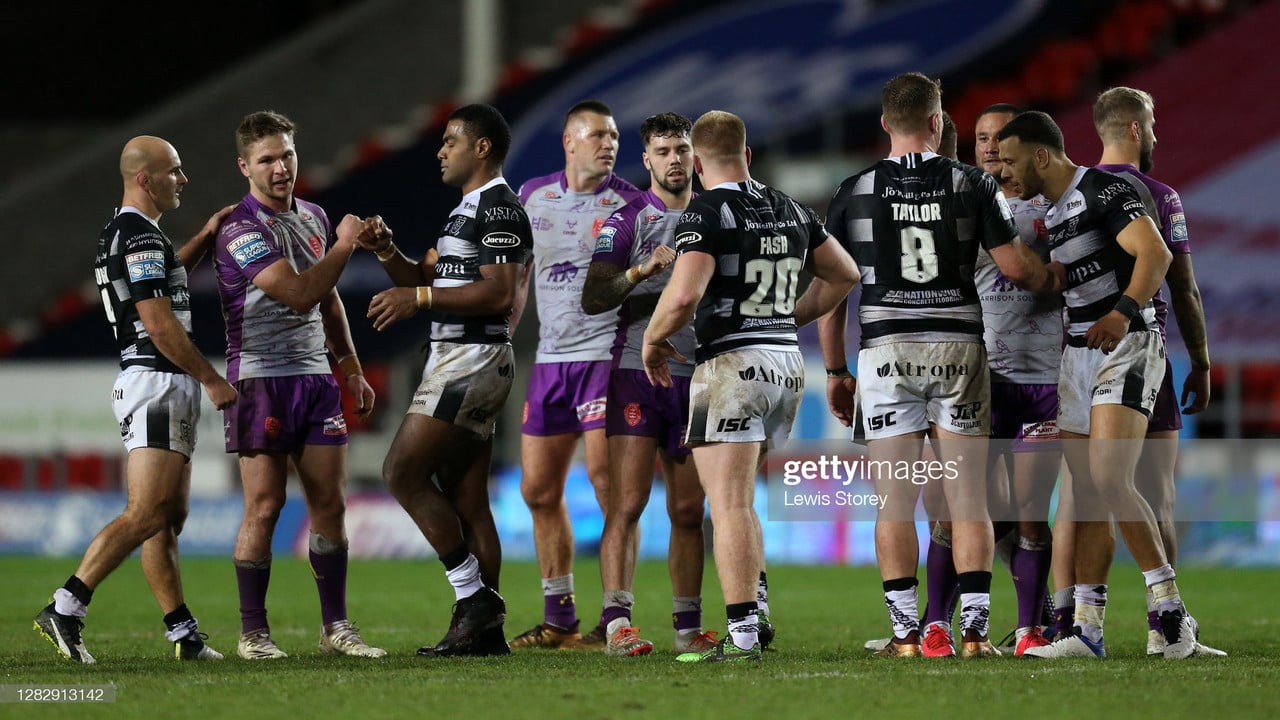 Hull Kingston Rovers have had a superb season in 2021 - arguably their best in Super League so far.
Despite injures and patchy form towards the back end of the season, the Robins are most definitely a club on the up. Their performance last week against Warrington Wolves was nothing short of heroic, defying all the odds to beat Wire 19-0 at the Halliwell Jones Stadium and set up a Semi-final against Minor Premiers Catalans Dragons.
Often seen by many as being "in the shadow" of cross City rivals Hull FC, the tide has turned spectacularly this season and it is now the red and whites who can claim the bragging rights this season, no matter if the Robins win or lose their semi-final.
They travel to the South of France knowing they are 80 minutes from a potential Grand Final appearance and considering the club finished bottom of Super League in 2020 after Toronto Wolfpack exited early, the achievement is magnified ten fold.
KR vs FC is the one true Derby in RL
The Hull KR vs Hull FC rivalry is the one true Derby in Rugby League - there is no doubt about it. Sky Sports may hype up Wigan Warriors vs St Helens, and in years gone by Leeds Rhinos vs Bradford Bulls was always a feisty fixture - but nothing beats KR vs FC for me.
The rivalry goes hand in hand with fans exchanging banter - its part and parcel of the game, and something that many fans relish when they win and regret when they lose the biggest game in Super League.
Unfortunately for the fans this year, COVID-19 impacted the derbies and we only got to see one - a 23-22 victory for Hull FC in August played at the MKM Stadium. The Hull KR home games were not able to be rescheduled with the Grand Final being played during the International break at Old Trafford, and so fans of both sides will no doubt be looking forward to next season when the rivals get to face off once again.
When do comments dressed up as "banter" become unacceptable?
Despite this, a Hull FC Fanzine and Podcast caused a stir over in East Yorkshire this week when on the latest episode, the presenters claimed that they had "…the hope that the Rovers team plane crashes on the way home".
Understandably, fans from Hull KR and Hull FC were quick to come out and highlight just how unacceptable these comments were. The hatred that each set of fans have for their cross City rivals on another level in East Yorkshire, and the fierceness of the divide is something that many wouldn't ever change.
However, these comments go too far.
Whether joking or not, and however far this pairs' tongues were in their cheeks, there is no room for comments like this in any sport.
Every fan is guilty of saying things in the heat of the moment - both sets of fans will recognise that - but to have recorded that, edited it and still publish it (before taking it down days later) is pre-meditated and suggests that these content creators fully intended to anger their rivals.
The podcast came out on Wednesday night with an apology statement. They stated;
"We would like to offer our sincere apologies to any offence caused by comments made on… the Up The Cream Podcast…
…Rich's comments, although made in jest, were neither appropriate or acceptable, and neither were Dan's reactions to them…
… there is a line, and it was crossed on this occasion. Once again, we as a duo can only offer our sincere apologies for any offence caused, and will ensure that it never happens again."
For many, this will be the end of the matter and everyone will move on. People need to start to realise, however, the power that words - either spoken or typed - can have over people's emotions, and one would hope that this is an incident that we never see again.