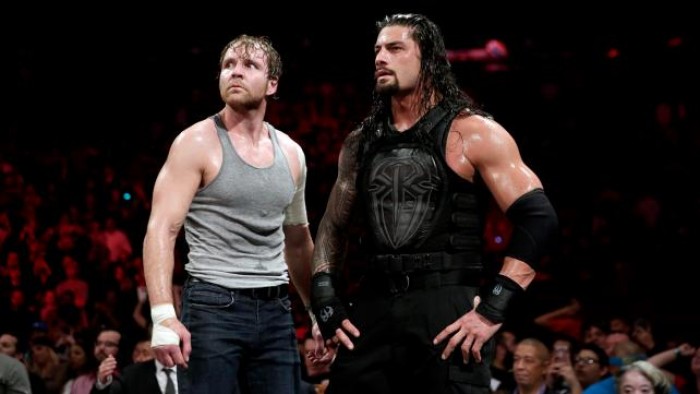 The Monday Night Raw following Royal Rumble broadcasted live from the American Airlines arena in Miami, Florida. The announcement of a major return to RAW on WWE's Twitter account this had the WWE universe in attendance buzzing in anticipation of just who was returning on RAW.
Opening
The Authority kicked off RAW in a celebratory mood after WWE COO Triple H won his 14th WWE World Heavyweight Championship at the Royal Rumble only 24 hours previous. The Game came out with a message for the entire WWE locker room that everybody has to respect the Game or else. Stephanie McMahon announced that Triple H would be defending his title at WrestleMania 32 but before that we have to find out who will be his opponent. It was then announced that all superstars would be evaluated to determine who would be involved in a #1 contendership match the next time WWE is on pay per view which is Fastlane on February 21st.
Owens - Ziggler
The first bout of the night saw the "Show-off" Dolph Ziggler take on a rather battered and bruised Kevin Owens. This match started with a blistering pace and Ziggler took control of the bout. However, you can never count out the "Prizefighter" Kevin Owens. Despite him starting off this match slowly Owens began to dominate the match after shoving Ziggler from the turnbuckle. This gave KO some breathing room and then came the match ending Pop-Up Powerbomb. What a match. That performance had to be a good way to get noticed by the Authority.
Dudley Boyz vs Bo Dallas and Curtis Axel
The Dudley Boyz took on Bo Dallas and Curtis Axel of the #SocialOutcasts. This match was very one sided but Bo and Curtis refused to go away. Once Heath Slater tried to get involved Florida's own Flo Rida leveled the playing field and this allowed the Dudleyz to hit the 3D to send the Social Outcasts (spinning right round all the way) to the back.
AJ Styles - Chris Jericho
After his momentous debut during the Royal Rumble, AJ Styles appeared for the very first time on Monday Night Raw. AJ's is first opponent on RAW was the "Ayatollah of Rock n Rolla" Chris Jericho. This match almost broke social media and you could see why as this was a truly an epic encounter. Chris Jericho was popping off dropkicks and leaps. AJ Styles gave as good as he was getting; he used the high impact offense that has made him well known around the world. Then after a bit of back and forth involving an attempted Walls of Jericho and a missed Styles Clash it was a roll up victory for AJ to give him a win on his RAW debut. AJ then offered to shake Jericho's hand. Jericho didn't seem convinced initially. The pair eventually shook hands but this was a very cold feeling handshake.
Banks - Lynch
By attacking Becky Lynch and locking in the Bank Statement on Charlotte, Sasha Banks staked her claim at being #1 contender to the Divas Championship at the Royal Rumble. Tonight Banks took on Becky Lynch. The match ended in a DQ finish after Charlotte interfered to make a statement of her own.
Wyatt - Kane
After taking out Brock Lesnar in the Royal Rumble, Bray Wyatt and his family turned their attention to Kane. In a rather short match Wyatt go the win with a little help from his family and the vaunted Sister Abigail. An impressive victory like that had to have made a rather emphatic statement Triple H and The Authority.
Mystery Solved
The mystery superstar returning to RAW was none other than the jabroni-beatin', pie-eatin', trailblazing', eyebrow-raisin' People's Champ The Rock. He began by laying a verbal Smackdown on Miz, Big Show & Lana before making his way to the ring to enjoy this moment with the Miami crowd. The New Day interrupted the Great One, who then challenged the tag team champions to get in the ring so he could stick Francesca II up all their candy… well you know. The New Day declined his offer. Enter The Usos who helped their cousin to send the New Day packing with a Rock Bottom to Big E. and People's Elbow to Xavier Woods.
Kalisto - Miz
The newly crowned U.S. Champion Kalisto took on a rather embarrassed Miz in a high-octane match. The Miz tried to take Kalisto to Mizney World but a missed Skull-Crushing Finale led to a rope assisted Salida del Sol to hand the U.S. Champion a win and some momentum.
Reigns and Ambrose - Sheamus and Rusev
This match was a hard-hitting affair. Of course with Del Rio and Wade Barrett at ringside interference was always a certainty but it was the Reigns and Ambrose that came out on top after a spear on Sheamus. Reigns and Ambrose then double powerbombed Rusev through the announce table. After the assault, Stephanie McMahon announced their prize for their impressive victory: a triple threat match at Fastlane between Roman Reigns, Dean Ambrose & Brock Lesnar to determine the #1 contender for Triple H's World Heavyweight Championship at WrestleMania.