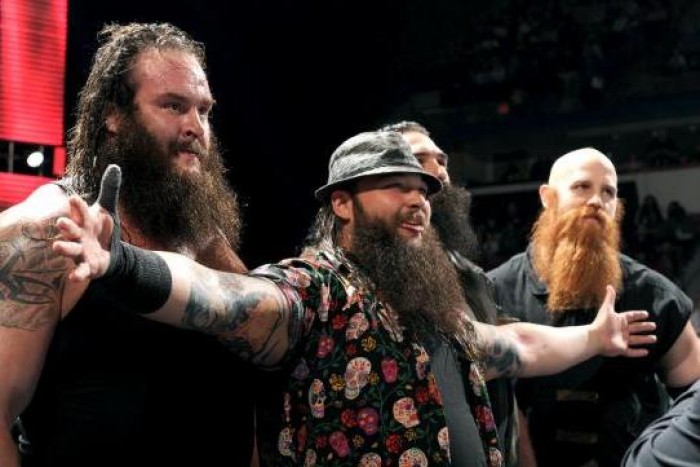 The Wyatt Family is a force to be reckoned with in the WWE or at least they used to be. From starting out in WWE's developmental system, which is known as NXT, the Wyatt's have grown weekly improving as not only as a very unique stable but also as singles competitors.
Many fans from all over the world embraced the night the Eater of Worlds and his family made their main roster debut July of 2013. Now these guys were unstoppable and they were always unpredictable and challenged anybody and everybody who stood in their path of destruction. It is now 2016 and, although the Wyatt's have a new member Braun Strowman, it seems as though their lengthy push is nonexistent. Allow this writer to explain. Bray Wyatt is the son of Irwin R Schyster, better known as I.R.S. the Tax Man. He was part of the infamous stable known as Money Inc with Ted Dibiase and Bam Bam Bigelow.
With the talented father must come the talented son or sons as we also have Bo Dallas, who is the other son, but he is not part of the Wyatt family. This writers feels that Bray has a ton of potential, but maybe he had done something backstage that might have upset a higher up employee or perhaps it might be the creative team that have run out of ideas for him. Why would a man who speaks his own mind weekly on "Monday Night Raw" not have anything planned for him.
Wyatt Family Feuds
The Wyatt's have faced off agianst The Shield and lost. They also have feuded with Big Show, Kane and Ryback, losing that one as well. Bray has also had his fair share of singles matches and lost against the likes of Roman Reigns, Chris Jericho, Daniel Bryan, Kane, Undertaker and many more. He hasn't won a match in a long time and it is puzzling why. The Wyatt family's promos are good and are more intimidating than the next and they all have a meaning. A little unknown fact that, Bray stated in an interview that his promos are his real thoughts and he does not have anybody writing his promos for him.
The future of the Wyatt family
Currently, the Wyatt family has no opponents planned out for WrestleMania 32 which might worry some fans. Originally the group or a member would have gone solo against the Beast that is Brock Lesner. Those planned have since changed and now Lesnar will be going one on one with Dean Ambrose in a street fight. The once planned Wyatt's - Lesner feud has been forgotten about without any reason why and many are speculating that either the creative team has bigger things planned or Bray has dug himself into a hole. On Friday a poster has been revealed for a WWE network special that features Brock, Triple H and Bray. Can this mean that Bray gets a title shot against Triple H and Brock in a triple threat? That remains to be seen but it would make many fans happy. Keep in mind that this special is before WrestleMania and you can rest assure that the championship will not be changing hands at all.
Wyatt's Need to Rise Up
The time is now to give this very talented team a huge push. WWE needs to elevate this group to being how they once were feared. Look at how The New Day really doesn't have anybody to feud with currently in the tag team division. You had seen them feud with the likes of The Dudley Boyz, The Usos, The Ascension, The New Age Outlaws, The Lucha Dragons, and Goldust and Stardust. Each time those feud ended, it seemed like the WWE creative team is in a rough spot not knowing what to do next with the tag team division. It's time to add the team everybody loves into the mix and create something awesome. Honestly, once WWE gains new star power they sometimes forget about teams or singles competitors that were once the cream of the crop. The Wyatt Family have the star power, minus Braun, to take over the WWE as they see fit with an unlimited amount of storylines.