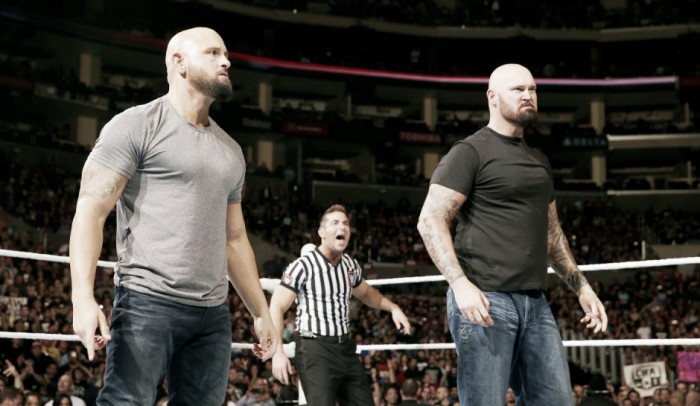 Ever since the news broke that the WWE had signed four of New Japan Pro Wrestling's top stars the WWE Universe has been rampant with rumors and speculation about when and how they will debut. Since then fans have been treated to amazing debuts of both AJ Styles and Shinsuke Nakamura but were left waiting for Doc Gallows and Karl Anderson.
However, on this weeks Monday Night Raw the former Bullet Club members finally arrived to a thunderous reaction. Both men had been spotted behind the scenes at Raw last week and had been seen throughout WrestleMania weekend so it was a matter of a time before the debut took place, but it still took the fans by surprise.
Usos Are Victim #1
The debut came following the Usos victory over the Social Outcasts as a part of the New Day Tag Team Tournament. With the former champions celebrating their win, Gallows and Anderson came from the crowd to attack both men, leaving them lying in the ring.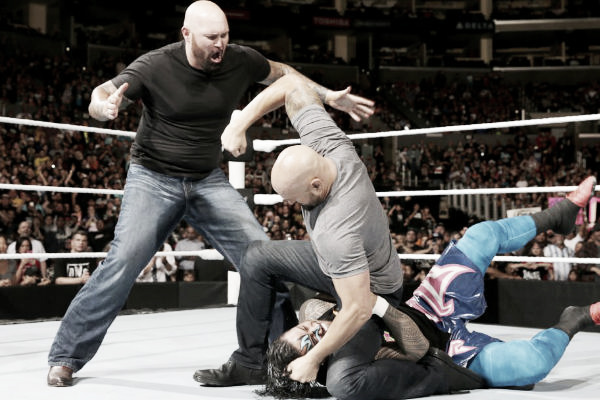 The tag team made the Bullet Club sign and soaked in the atmosphere before WWE officials came to ringisde, forcing the duo to jump the barrier and leave again without saying a word. Why they attacked the Usos is unknown at this stage, but the speculation for that has begun too.
Bullet Club reunion?
Most fans had expected the debut of Gallows and Anderson to be in the form of a Bullet Club reunion and with two former leaders in Styles and Finn Balor there certainly were plenty of options to do such a thing. The fact that they announced their arrival by attacking the Usos has put fans off track on that discussion, at least as far as the NXT Champion is concerned.
However for those still clamoring for a new form of Bullet Club in WWE, there is hope yet. With Styles set to take on Roman Reigns for the WWE Heavyweight Championship at Payback there is a possibility that this was a tease as to something fans might see at the next special, as the Usos are cousins of Reigns.
Yet the reality is that the team could easily be coming in and having no affiliation with either Balor or Styles for the meantime, and this could be a way of them simply announcing themselves in the tag team division and perhaps starting a feud with the Usos.
Either way it is fantastic to see both men in the WWE and with Enzo Amore and Colin Cassady now on the main roster it seems like the company might be paying some more attention to the tag team division that desperately needed it. Of course, there is still time for the Club to reunite, WWE has a huge opportunity lets see how it plays out.