 The NBA season is tip-toeing towards it's crescendo. Contenders are eagerly stretching for their springtime zenith, pretenders and tankers are starting to show their true colors, and the league's storylines are becoming juicier by the day as the trade deadline nears. So, with two months left in the regular season, let's ask --and answer-- the NBA's more burning mid-season questions.
Can the Dubs go 74-8?
Rightfully so, the Golden State Warriors have been the NBA's apex story this season. The defending champs are on a whirlwind pace to shatter multiple regular season records, even the most cherished one --the 1995-96 Chicago Bulls' 72-10 record. At 48-4, the Dubs are amazingly close, and while their schedule might seem daunting to the naked eye (they play the Spurs three more times), basketball fans know that at their best, the Warriors are a centimeter away from unstoppable. Right after the All-Star Break, Golden State embarks on a six-game road trip which includes stops in Atlanta, Miami, Oklahoma City, and L.A. (to play the Clippers). But, judgments shan't be made by schedule alone. While every Warrior plays 34 minutes or less per game (and only three average 30+), Steve Kerr might yet feel inclined to rest some guys in advance of the playoffs. The Warriors are younger than the Spurs, yes, but the worries of Stephen Curry's ankles, Andrew Bogut's overall health, and Draymond Green's energy may result in some extra days off for them -- as well as others. In three games without Green or Curry, the Dubs are 1-2, with a slim 4-point win over the Houston Rockets. But, if Kerr keeps his foot on the accelerator, plays his guys, and the Warriors are truly licking their lips in craving of toppling the previously titanic 95-96 Bulls, there's no reason to say they can't finish with 73 wins or more. If the Dubs want it, they can certainly go get it.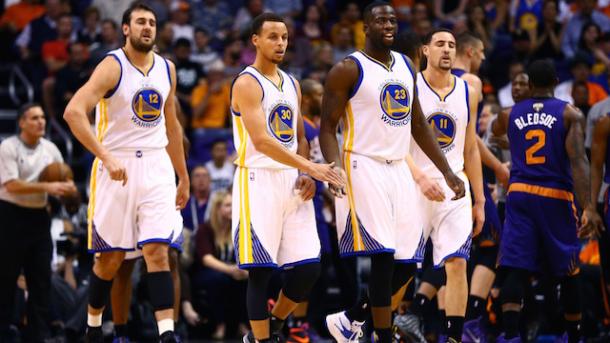 Who are the best coaches besides Pop and Kerr?
Being an NBA coach is hard, and keeping the job is even harder. Just ask David Blatt. But, in a time of ample parity in the league, identifying the NBA's top coaches is getting progressively harder. While it's clear that Steve Kerr and Gregg Popovich -- the head honchos of the league's two best teams -- are at the top of the line, the question remains: who's hovering right beneath them? If you can't have Pop or Kerr, what Head Coach would you want running the show?
Rick Carlisle
He's been around almost as long as Popovich, and in his 8th year with the Dallas Mavericks, Carlisle continues to verify his place amongst the NBA's top coaches. Like Pop and Kerr, Carlisle has repeatedly blended pick n' rolls, ball movement, and smartly sharp defensive rotations into a strong playoff team; he's only missed the postseason once in Dallas. Carlisle is a phenomenal mentor, and is leading a Mavericks team that looks depleted on paper into the All-Star Break locked in 6th place in the West.
Mike Budenholzer
Bud exploded onto the scene last season, leading the Atlanta Hawks to a surprising 60-win season. An assistant in San Antonio for 17 years, Atlanta scooped out Budenholzer from the burrow of assistant coaching two years ago, and has since proven his worth as a sparkling Head Coach in the NBA. Distinctly influenced by Popovich's tutelage, Bud has turned the Hawks -- a roster with no clear-cut star -- into a ball-sharing, rotating machine that can compete with the league's best. Without Demarre Carroll, Atlanta aren't quite the same as last year, but they've consistently hovered in the East's top half thanks to the organizational ingenuity of Bud and co.
Brad Stevens
When pondering what coaches are close to the likes of Gregg Popovich, it might be a good idea to see what coaches Pop himself gushes over. Check out what Pop said about Brad Stevens on Friday. Pop rhapsodized Stevens' attention to detail, hip-hoppingly calling him a "clinician" and a "technician." And it's true. Since Stevens' days at Butler, he's paid intricate details the utmost attention, always trying to carve his teams into an even better version of themselves. That's what he's doing in Boston, where Stevens has tossed out multiple tiny lineups with Isaiah Thomas at the helm. But the Celtics currently sit in 3rd place in the East, one game ahead of Bud and the Hawks. And even though Stevens is yet to hit 40 years old, it's clear he's hit a top coaching level in the NBA.
Brett Brown
No, that's not a typo. It's not a joke either. While record-wise, the Philadelphia 76ers continue to struggle, they've grown significantly in terms of knowledge and understanding of the game. They're incredibly young, but Brett Brown has managed to mentor his talent into a progressively smarter, sharper, and more competitive basketball team. He's consistently held great relationships with his players, and has turned them from an 0-18 team into one of the NBA's most functional and competitive teams of the future. Thanks to Brown, there's nowhere to look but up in Philly.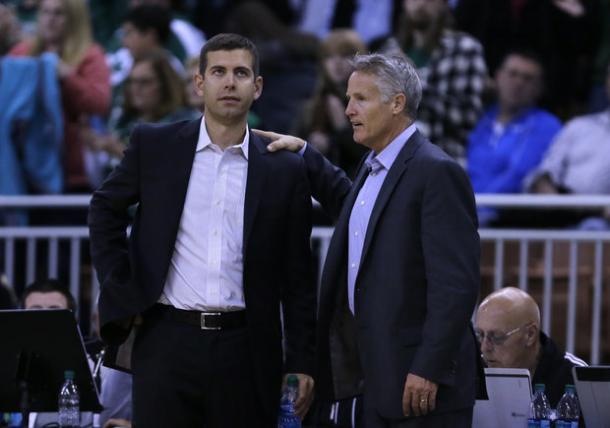 Can the Thunder contend?
The Spurs and Warriors are the cream of the crop, but the Oklahoma City Thunder firmly sit behind them in third place, eagerly awaiting a chance to topple one of the West's juggernauts. OKC beat the Spurs on opening night, and they clashed with the Dubs for four whole quarters last week; even with Enes Kanter as the primary rim protector, the Thunder's electric talent and scoring was able to keep up in Oracle Arena (they lost 116-108). But could OKC beat the Spurs in the second round? And if they pulled that off, could they beat Warriors and go to the Finals? The Thunder's lineup remains quick and offensive, and it's become more innovative under rookie coach Billy Donovan, but on some nights they simply can't defend. The thing is, they play so similarly to the Spurs and Warriors that a 7-game series with either squad might turn into a trap. Golden State and San Antonio have the perimeter endurance necessary lock down on Kevin Durant on Russell Westbrook, and both teams can score at will. So, when the Thunder play the Spurs and Warriors a few key problems rise out of the shadows. One is 3-pointers--OKC hits just 8 threes per game and they rank 11th in the league in opponent 3-pt %. San Antonio and Golden State are by far the best 3-point defenses around, allowing marks of 31.4% (SA) and 31.7% (GSW) respectively. This results in issues against both the Spurs and the Dubs; can the Thunder hit more threes and defend them better against Golden State to keep up? Could they win without them in San Antonio? If OKC play the Spurs in the second round, they're going to need more inside, namely dominating performances by Westbrook and Durant. But even so, Billy Donovan will need to polish the rest of his team evermore, so that they're structurally capable of spreading the floor not just with athletes, but also with shooters. But, it seems that the Thunder don't have that ability yet. Serge Ibaka (36.6% from three) and Andre Roberson (27.4%) are too inconsistent, and those are Oklahoma City's best defenders too. So, if the Thunder pull a rabbit out of their hat before the trade deadline, or if Donovan finds the perfect blend of defensive and offensive lineups that doesn't put a target on Enes Kanter's back, maybe --just maybe-- the Thunder can contend in the West.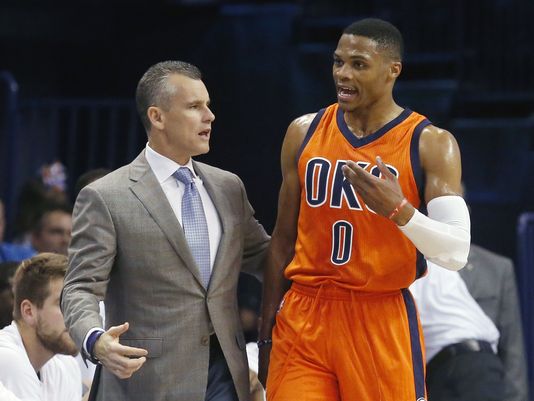 Will Blake Griffin get traded?
Common sense might have you say no, but the NBA's recent swirl of chaos suggests otherwise. Three weeks after breaking his hand in an altercation with a Los Angeles Clippers equipment manager, Griffin is still a month away from returning to action. And with that, the Clippers continue their season of seemingly ceaseless conundrums. The Clips are getting older, and their faded Championship window appears to be closing, but the youth and still explosive talent of Blake Griffin opens up a wide variety of doors. Recently, rumors have fluttered around the basketballsphere of trades involving Blake, such as a swap with the Denver Nuggets of Blake and Lance Stephenson for Danilo Gallinari, Kenneth Faried, Will Barton and Nikola Jokic, as reported by ESPN's Chris Broussard. Additionally, Frank Isola of the NY Daily News has suggested the possibility of a more massive trade involving Carmelo Anthony heading to L.A. While these sometimes irritating rumors spark fun daydreams about new possibilities for the league, it seems that trading Blake could actually make the Clippers better. They're 17-5 without him this season, and if they find a trade that sends back a group of talented wings, big men, or even a draft pick or two, the Clippers could suddenly whip their team into a more elegant--and more competitive--shape, especially for the future. A team less congested in the middle, built around Chris Paul, pick n' rolls, threes from JJ Redick and co, and the interior presence of DeAndre Jordan might be able to seriously contend with the likes of Golden State and San Antonio. Now, Los Angeles may never be offered that type of deal. But if they are, then they should be eager to pull the trigger.
Are the Raptors for real?
This might be the most important question of the season. Coming off a spectacular All-Star Weekend, Toronto has been firmly thumbed back onto the NBA map. A team seething with talent and an eager fan base for a few years now, the Raptors have secretly clawed (get it?) their way into the race for the East, hoping to get a shot at the Cleveland Cavaliers in the Conference Finals. But before that, Toronto may need to prove themselves more. The franchise hasn't won a playoff series since 2001, and their fans still have nightmares of Paul Pierce's series-winning block in 2014. Yet, the North appears invigorated by the new attention being paid to their team. At the break, they're 35-17, and just three games back of the Cavs for 1st place in the East. Additionally, they still aren't healthy --DeMarre Carroll and his surgically repaired right knee still haven't returned. Without him, Toronto have been a bit of an anomaly. The Raps play slow, with the 7th lowest pace in the game, and they don't whip up a lot of ball movement into Golden State-esque pace and space--they're third to last in assists per game and they only make 8.5 threes per game. Yet, Toronto play slow with impressive efficiency. They're 3rd in 3-PT FG%, and they don't commit many turnovers. This allows Toronto to control games better, and with the bruisingly smart defensive tactics of Head Coach Dwane Casey, the Raptors have been rather successful when doing so--they've performed admirably against the NBA's best, including two losses to the Warriors by just five and three points apiece. So, if Carroll returns healthy, and the Raps add a hint of power forward depth before the deadline, they might actually be headed towards a higher goal than a playoff series win. They have the talent, length, and interior presence to defend Cleveland. And they have the playing style that could spark a lot of trouble in Ohio during a 7-game series. If Derozan and Lowry bring their A-game, if Carroll affects the Raps like he did last year with the Atlanta Hawks, and if Dwane Casey can coach better than during last year's abominable playoff performance, the Raptors are in for one wild ride.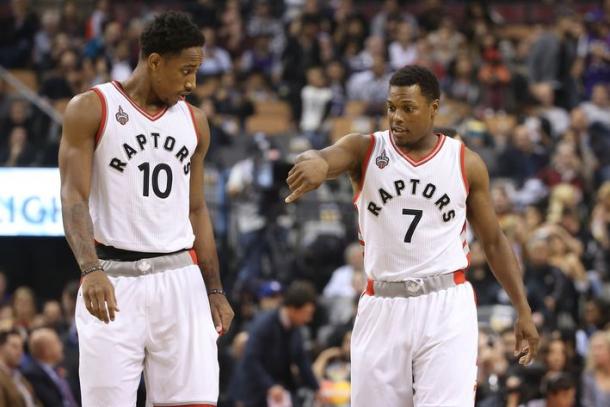 What the heck is happening in Sacramento and Phoenix?
Rebuilding is hard, and it's especially harder with teams that have been disarrayed into chaos, like the Phoenix Suns and Sacramento Kings. Both West teams have been subject to plenty of controversy and havoc lately. Sac-Town has been battered by rumors of an imminent coaching change and a frustrated DeMarcus Cousins. Yet, while Cousins has reached out to the media to say he's happy with the Kings, he's also been continuously rumored to be on the trading block. The Kings have been attempting to rebrand and re-stock for a while now, and though they've shown flashes with their Cousins-Rudy Gay-Rajon Rondo trifecta, they still sit 4 games out of the playoffs in an unusually weak Western Conference. It's clear that to keep Cousins happy--and in Sacramento--the Kings' front office must improve their situation somehow. Could they send Gay to the Detroit Pistons for draft picks and expiring contracts? Could they somehow fix their coaching drama with a hiring that keeps everyone happy? These are enormous questions, and tasks that have historically been out of Owner Vivek Ranadivé's creative spectrum and general abilities. Vivek has always wanted to aim high, but in order to bring Sacramento back to contention, he has to make the above types of moves that might make him uncomfortable. And even then, it may be too late to save Cousins from bolting...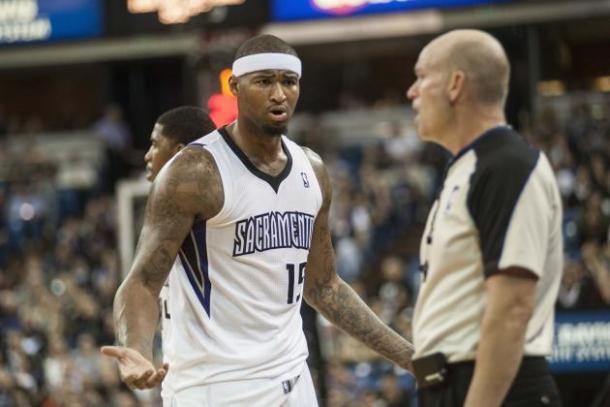 Meanwhile, in Phoenix, the Suns are an absolute mess. After barely missing the playoffs in 2014 and finishing 6 games back of 8th in the West, the Suns continued their attempt to jump into the postseason by drafting Devin Booker and signing Tyson Chandler. It didn't work too well. The Suns have become more similar to a group of 7th grade girls than a basketball team--they fired Jeff Hornacek and their players are fighting each other on the bench. Three Suns seem to be on the way out this coming week: PJ Tucker, Mirza Teletovic, and, without a doubt, Markieff Morris. Morris has been frustrated all year, and the Suns will hope to trade more guys to sweeten their melting pot of draft picks and youth. Meanwhile, they're stuck with Chandler's contract, unless a team is willing to eat up some of it for his dwindling services. Yeah, the Suns are a mess. After figuring out how to smartly run their 2 Point Guard system, last season the Suns pulled what might now seem like premature triggers. They sent away Goran Dragic (who wanted to leave), but they also sent their 6th man Isaiah Thomas to Boston, where he's budded into an All-Star. And since then, the Suns' front office has continued to mess things up drastically. Now, they have an enormous chemistry problem, and two talented guards in Eric Bledsoe and Brandon Knight who are stuck in the mud of the desert. With a coaching change, perhaps Phoenix will abandon Hornacek's 2 Point Guard structure and rid themselves of Bledsoe and/or Knight. But Phoenix doesn't have to start from a blank slate; if they hire a Head Coach with experience who can use their speed, running ability, and youth, they could start competing again. But if the Suns blow the trade deadline, they won't be doing that for a long time.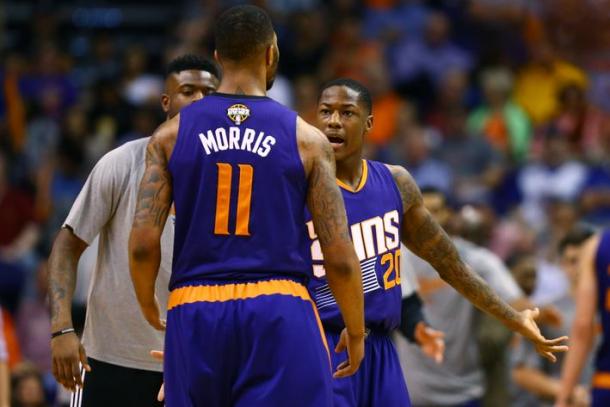 Are the Warriors too good? And is the parity they've created good or bad for the league?
Our final question is really two, but they seem to go hand in hand. Golden State's dominance has created one of the strongest senses of NBA parity in recent memory. The Dubs' and Spurs' dominance this season has resulted in what seems like a two-horse race for the Larry O'Brien Trophy, even though the two horses race in the same Conference. The Cavaliers and Raptors seem like valid contenders, but the rest of the East--as well as the rest of the West--seem like their goals are tied to just winning a playoff series or two. So let's just answer the first question outright; the Warriors aren't too good. Yes, they're 48-4, and yes, they seem unbeatable much of the time. But with the trade deadline looming, contenders like the Clippers, Thunder, Cavs, and Raptors are buzzing to make a deal in order to better compete with Golden State. Now, a new NBA champion doesn't merely depend on a blockbuster trade--the Spurs could surely still beat them in the Conference Finals--but teams at the top of the NBA will be itching for a season-changing swap. Maybe a team like the Pistons swoops out of nowhere and turns into a contender. Or maybe the Cavs get even better and pull off that Melo trade everyone's been talking about. Either way, the Warriors can actually be beat. Just ask the Bucks, Mavs, Nuggets, and Pistons. Is it easy to beat them? Certainly not, but calling them "too good" would mean we want to lose something so great about the NBA--the ability to watch historically great teams do historically great things. That's what the Warriors (and the Spurs, for that matter) are doing right now, and it's a ton of fun.
In the meantime, the current parity in the NBA seems more tied to this individual season than a general trend. When the salary cap skyrockets in two years, even the small market teams will have chances to reel in superstars, but it's more likely that the big guns like the Los Angeles Lakers and the New York Knicks aim to pool together talent and create contenders. Combine that with more talented, youthful, and up and coming teams like the Nuggets, the Minnesota Timberwolves, and the Boston Celtics, and we may soon see a time where the NBA has double digit contenders, not just two or three.
While all these questions will continue to burn in our minds throughout the rest of the season, it's clear that the NBA is chugging towards exciting times. The Warriors could break the league's most significant team record, the Spurs are attempting to solidify their dynasty, and the upcoming trade deadline could see multiple stars swap spots in the league. The next two months are going to be a blast, and the playoffs should follow it with a dazzling display. In the meantime, let's sit back, hope the All-Star break goes by quickly, and enjoy the show that is the NBA.