 The Toronto Raptors are currently in the midst of creating history by making their first ever Eastern Conference Finals since being formed. One of the key cogs in this team's success is DeMar DeRozan.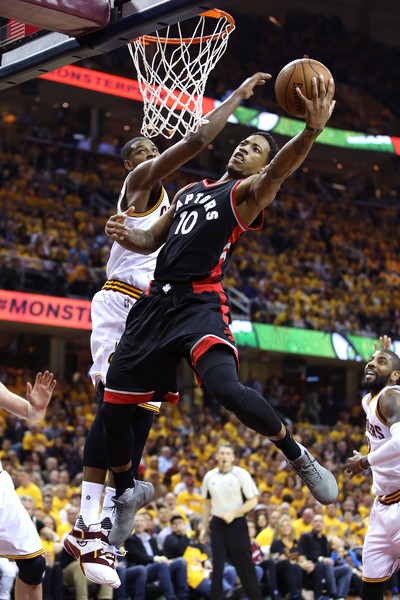 Raptors are a better fit for the time being
He's had a career year for Toronto this season, with averages of 23.5 points, 4.5 rebounds and four assists per game. He has also managed to shoot a career best 33.8 percent from beyond the arc. He's part of a system that has found a lot of success this year, and his contract expires this season. Stephen A. Smith reported that DeRozan has his heart set on wearing a purple and gold jersey next season, but that just doesn't seem to be the case.
DeRozan is one of the primary options on the Raptors' roster, and he is arguably the best Raptor since Vince Carter and Chris Bosh. This season alone, he's reached new heights in both his offensive and defensive ratings per 100 possessions (113 and 108 respectively).
To see this much growth in a very young career and for his team to have become this successful should be inspiring DeRozan to stick with what he's got. The Los Angeles Lakers have missed the playoffs for three straight years, and are now only filled with young prospects. They just earned the second pick in the NBA Draft, which could prove fruitful depending on who they decide to go with, of course. DeRozan would bring star potential to the roster without a doubt, especially since Kobe Bryant has retired and left this team to shit.
The roster has potential; can't lie about that. But there are too many inexperienced players on the Lakers for DeRozan to try and help by himself. There are potential changes that could make the Lakers a more reasonable choice for DeRozan, though.
Whiteside/DeRozan pairing?
Hassan Whiteside is a standout center in this upcoming free agent class. He's still young and he's an animal when it comes to swatting shots. Offensively, he's craftier and tough than any center the Lakers have on payroll at the moment. Whether he joins the Lakers or not is the question here. He made his first playoff appearance this season, so his decision to leave Miami might be tough one.
One thing's for sure, he's a potential max contract player. The Lakers can certainly afford his salary since Bryant's salary is now off the books. If Whiteside were to join L.A. and DeRozan also jumped ship, then we're talking inevitable success for the Lakers.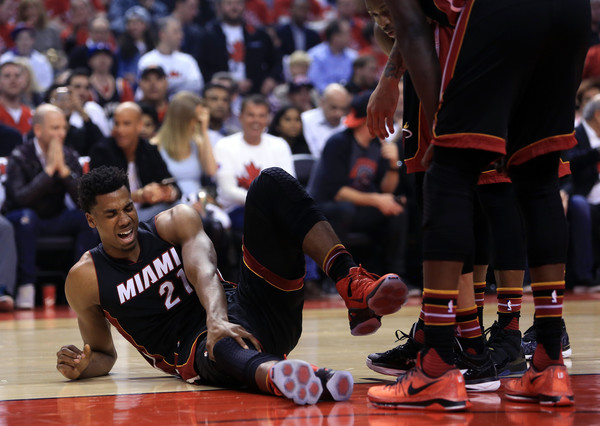 His defensive rating per 100 possessions is 95, a value that is eye popping when it comes to comparing him to other defensive stallions in the league. If Whiteside were to leave Miami and join the Lakers, that team instantly becomes a better defensive mechanism. Whiteside has star quality, which is something the Lakers need. A pairing with DeRozan, if he is truly considering joining them, would only amplify the team's success.
Both guys are capable of offensive production and defensive pressure. Whiteside's got a decent little mid-range jumper that can clear the paint a bit for slashing guards and forwards, something L.A. has a lot of. Additionally, he's such a force down low that if he is fouled, he can make his free throws, albeit 65 percent of the time. Nonetheless, he still has a better shooting stroke than most centers. Even though he's not adapted enough to stretch his range to the three-point line, he still has a lot of upside that could push the Lakers in the right direction for a change.
DeRozan, as well, would help the Lakers fire on all cylinders from three all the way down to the restricted area. He's one of the more aggressive swingmen in the league, and can truly fill the void left behind by Bryant.
It can be done
Roy Hibbert is a free agent this summer which could make all this speculation possible. He made $15 million this past season, and as an unrestricted free agent, the Lakers have the ability to let him leave with no issue.
If the Lakers do want to hang on to Hibbert, though, he could become a good bench big. Hibbert simply does not have a good chance against any of the starting centers in this league, but he could provide a defensive presence off the bench for L.A., something they lacked all season. Of course, the biggest issue with holding on to Hibbert could be the money he's going to demand, given his salary from the past few years.
It'd likely be a better move to just ditch Hibbert altogether. The Lakers have the chance to resign restricted free agent Tarik Black, who as proven to have a defensive upside. If the Lakers can workout talks with Black, then their rotation of centers is pretty solid.
This is all a big heap of speculation, but it'd be a big change. We can only wait and see!