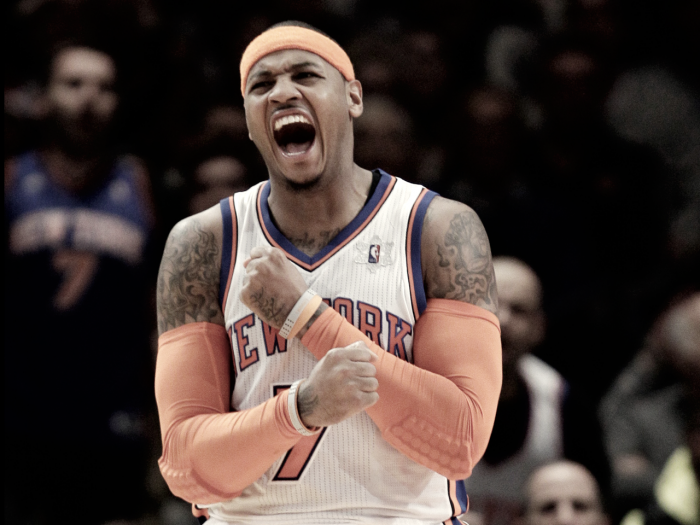 Well, it seems like the Houston Rockets will finally have their Big Three: James Harden, Chris Paul, and Carmelo Anthony. Many hope they turn out like the Golden State Warriors, Cleveland Cavaliers, or Miami Heat stars. However, a lot of people see a situation more like the Los Angeles Lakers team that had Kobe Bryant, Steve Nash, and Dwight Howard.
Sources: Knicks, Rockets working on Carmelo Anthony trade scenarios that include four-team deals. Sides motivated but no agreement imminent.

— Adrian Wojnarowski (@wojespn) July 12, 2017
It's obviously risky trading for Anthony, but you have to give the Rockets props for wanting to dethrone the Warriors now instead of waiting it out. Because of this mentality that the Rockets and other teams have had this offseason, the NBA looks to be a lot more entertaining than people assumed it would be after Kevin Durant joined the Warriors.
So, a few days after writing this article, here's a more in-depth into everyone's analysis.
At Least Two Stars with Zero Defense
First of all, let's set the record straight with Paul. Everyone thought that trading Patrick Beverley meant that the team's defense fell through the floor. However, Paul has been on the NBA All-Defensive First Team each year since 2012. Any more questions about his defensive ability? Sweet, now to move on.
So now, that leaves Harden and Melo to check. Let's start with the latter. Defensive Real Plus/Minus (DRPM) is probably the best statistic to determine defensive ability, so we'll stick with that. Anthony's last year was a horrible -1.75. Never, said he was a good defender.
If he comes to Houston, he will take Ryan Anderson's spot at Power Forward. Anderson's DRPM last season was -0.12. Some will say that the much lower number is because Anthony was with the pretty miserable New York Knicks. However, the Rockets were 26th in opponents PPG compared to the Knicks' 23rd.
So yes, Melo is a horrible defender; this must be a fact, right? Just look at Harden's defensive lowlights.
Well, what if I say that Harden won't be a bad defender. Blasphemous right? Not really, to be honest.
Harden's best DRPM was -0.16 during the 2014-15 season. That's not the best, but it did rank 23rd among shooting guards. That was higher than Klay Thompson's -0.72.
The following season, his DRPM fell to -0.98, then -1.57 this past year. The reason why it fell in 2016 was because of the many locker room problems; he just wasn't happy and he's the type of player to not give 100% when he isn't. Not an excuse, but a fact.
In 2017, he simply relied too much on the offensive end. Out of all players with at least 2000 minutes throughout the year, he ranked fourth in usage rate(34.2 percent) behind Russell Westbrook, DeMarcus Cousins, and DeMar Derozan. Out of the four of them, he had the most minutes at 2947, a whole 145 minutes more than Westbrook.
Comparatively, his usage in 2015 was the lowest (31.3 percent) it has been in the past three years. He also only played 34 more minutes. With Paul helping him run the offense, Harden's usage will definitely decrease. That means he can be more energetic on defense and not save up stamina to create on the other end.
Will Harden be a lockdown defender at his position a la Avery Bradley? Of course not. But he won't be bad, and adding Anthony will only alleviate the scoring load on his shoulders, meaning he can pick up Melo's slack on the defensive side of the ball.
Half a Myth
No Depth
The Rockets traded Beverley, Lou Williams, Sam Dekker, Montrezl Harrell, and Kyle Wiltjer to get Paul. Their bench was second in scoring per 100 possessions behind the Lakers last season, a big reason they performed so well.
That trade did hurt them, but they kept Eric Gordon, their main bench scorer, and Nene, one of the best sub-centers in the league. If they do trade for Carmelo, they will have to trade Anderson and more than likely either Gordon or Clint Capela, if not both.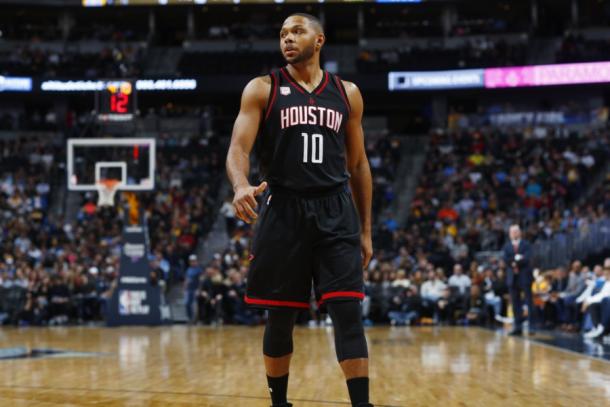 Quick sidenote: between Gordon and Capela, it'd be better to trade Gordon. Capela is an improving center that fits well in the team's offensive system. His field goal percentage, points, and rebounds per game, respectively, the past three seasons: 48.3 percent, 58.3 percent, 64.3 percent; 2.7, 7.0, 12.6; 3.0, 6.4, 8.1. That just shows how much he's improved in just three years. Plus, now he's got the King of Lobs passing to him as well as Harden. The Rockets have to keep him.
Back to the subject, say Gordon gets traded. That leaves Nene, P.J. Tucker, and a lot of inexperienced players on the bench. This would be a great situation for Troy Williams, who averaged 9.7 points per game in six games. He's also averaging 25.7 points per game so far in the Summer League and looks like he can be a solid 3-D player off the bench.
Outside of him, the G-League team doesn't look too promising. Maybe Isaiah Taylor can fill out the sub point guard role? He's averaging 14.3 points and 8.0 assists per game in the Summer League so far. His G-League numbers last year were more impressive: 21 points and six assists per game while shooting 45.7 percent from deep. The key is that last statistic, as either Harden or Paul will be playing point at all times. Whoever ends up being the secondary point guard will be playing an Ian Clark-like role.
Even if they sign any of these players, the Rockets will not be able to make up for Gordon's bench scoring. However, that might not be that much of an issue. Out of the six worst teams last season in terms of bench scoring per 100 possessions, five of them were among the beast teams in the league: the Warriors, the Cavaliers, the Washington Wizards, the Boston Celtics, and the Toronto Raptors.
Therefore, while this is a fact, it may not impact the team as much as people believe.
Fact
He Won't Be Happy
Anthony was never the third option. He hated playing under Mike D'Antoni. He will clash with Harden. It seems like Melo coming to Houston would be a mess for both parties involved.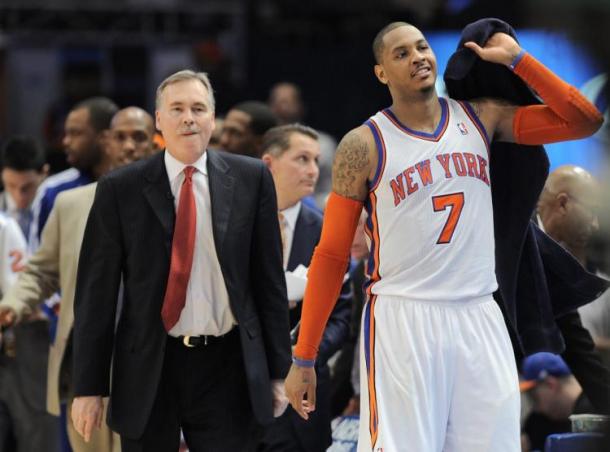 However, don't be so sure. Yes, Anthony has been the first option for his whole career, even back when he was with the Denver Nuggets. So was Chris Bosh before he joined the Heat, and he never complained about it. Melo could turn out to be more like Kevin Love, who doesn't seem too happy in Cleveland, but here's why he probably won't be.
Anthony will be playing with his buddy CP3. They've been dreaming about being teammates for the longest time now, and it's finally coming to reality. He also won't be an afterthought like Love is. With playmakers like Paul and Harden, he will be allowed to create instead of just chill behind the three point line and let it fly whenever he gets the ball. Ball stopping would be frowned upon, but he can use his offensive talent to get good shots.
It is true that he hated playing for D'Antoni when they were on the Knicks together, but you don't think he thought about that when he announced that he would waive his no-trade clause to go to the Rockets? That was five years ago, Anthony has matured since then and he's looking to win a ring. They also have a solid relationship and have mutual respect for one another, it just didn't work out.
The real worry is Harden, but then again, they shouldn't. Many will cite Howard and Harden's issues as reason to worry, but Howard came in thinking he was going to be the star of the franchise. The Beard wasn't even in MVP talks at the time, while he was the runner-up last season. If Anthony has any common sense, he knows that he is going to take a backseat and is fine with it.
Myth
So you see? Trading for Anthony might be the Rockets' only choice to compete with the Warriors. They could wait until next year's offseason, which I originally thought was the right way to go. However, players will want huge paydays, and that is something Houston won't be able to offer. It may also be too risky to just wait another season.
To be completely honest, writing this article changed my mind on Melo. I was adamant that he wouldn't work, but now Daryl Morey's madness seems to make more sense. Hopefully, it's true because the worst case scenario if this trade happens is utter disaster.