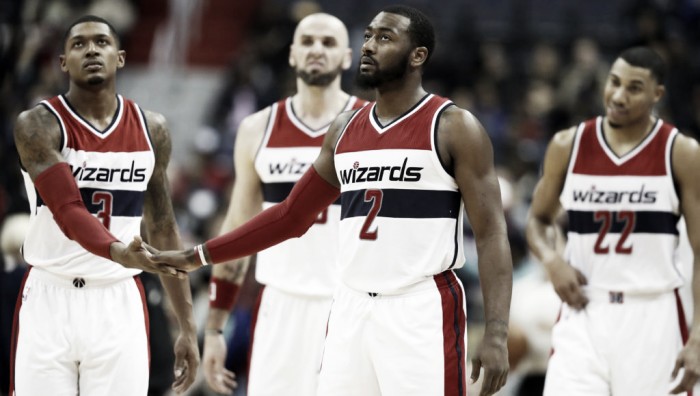 Over the past four seasons, the Washington Wizards have enjoyed their most consistent period of success since the Eddie Jordan/Gilbert Arenas era. Unfortunately, those two teams share the same lack of postseason success as well. Thanks to their lack of depth, the Wizards are still seeking their first Eastern Conference Finals appearance since 1979. If Washington plans to get there, they will need their retooled bench to show improvements and take the load off of the starting lineup, particularly the backcourt duo of John Wall and Bradley Beal.
NBA Draft
In an effort to fortify their bench, the Wizards traded away their first-round pick to the Brooklyn Nets last season. They also dealt away their second-round pick to the New Orleans Pelicans over the summer. As a result, Washington did not add any rookies to their roster via the draft. I'll discuss what they got in return for those picks later in the preview.
Free Agent/Trade Acquisitions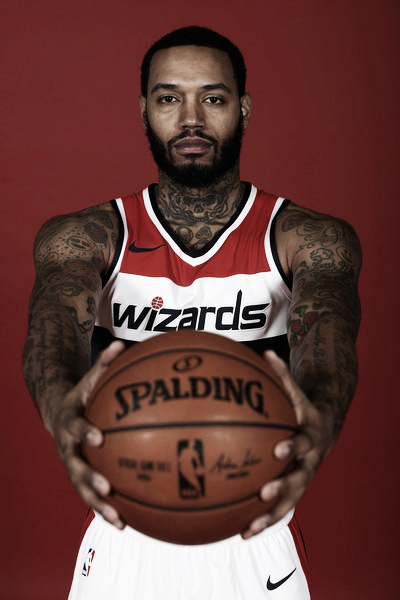 The Wizards chief priorities during the offseason were to keep the starting lineup in place and redress the bench. General manager Ernie Grunfeld accomplished the first task, re-signing Wall, Beal, and Otto Porter to long-term extensions. They will join center Marcin Gortat and Markieff Morris (when he recovers from his sports hernia surgery) as one of the better starting lineups in the league.
With his starting five in place for the foreseeable future, Grunfeld went to the free agent market to improve a reserve unit that ranked second-to-last in scoring a season ago. His first move was to send his second-round pick to the Pelicans for backup point guard Tim Frazier. The former Penn State Nittany Lion averaged 7.1 points and 5.2 assists in 65 games for New Orleans last year, so he can provide quality minutes when Wall needs a breather. However, Frazier's .313 three-point field goal percentage won't help the Wizards space the floor.
Grunfeld's other signings might though, as he agreed to terms with former Atlanta Hawks forward Mike Scott and former Orlando Magic guard Jodie Meeks. Scott is looking for a revival of sorts after finishing with career-lows in scoring (2.5), true shooting percentage (.360), player efficiency rating (5.9), and win shares (-0.1) in 2016-17. However, he is a couple of years removed from shooting nearly 40 percent from long distance, so he can be a capable stretch four if he finds his stroke again.
Meeks regained his shooting form in 2016-17 after playing in just three games the season before. He made over 40 percent of his three-point shots for the Detroit Pistons and now he gives the Wizards another spot-up shooter when Beal has to sit on the bench.
Washington filled out the rest of their roster with depth signings, starting with point guard Donald Sloan. The 29-year-old last played on an NBA court in the 2015-16 season (he played in China last year), and serves as a security blanket in case Wall or Frazier succumbs to injury.
The Wizards also brought in guard Carrick Felix from the Utah Jazz along with undrafted rookie free agents Devin Robinson and Michael Young.
Free Agent/Trade Departures
The Wizards said goodbye to several bench players this offseason. They elected not to give a qualifying offer to backup point guard Trey Burke, and he remains unsigned. The former Michigan Wolverine averaged five points in 12.3 minutes per game but was not much of a facilitator (1.8 APG). The trade for Frazier ultimately made Burke expendable.
Shoot-first point guard Brandon Jennings also elected to leave the team. In fact, Jennings decided to leave the NBA altogether, as he signed a one-year deal to play for the Shanxi Brave Dragons in China. He started last season with the New York Knicks but joined the Wizards in March. He didn't do much during his stay in the nation's capital, averaging just 3.5 points with a .357 true shooting percentage in 23 games.
Washington also said farewell to sharpshooting guard Bojan Bogdanovic, who signed with the Indiana Pacers. The Wizards spent their 2017 first-round pick on Bogdanovic's services and he did not disappoint; he scored 12.7 points per game and shot 39 percent from deep in 26 outings for Washington last year. His departure seemed inevitable when the team signed Meeks, as both players share the same strengths (shooting) and weaknesses (playmaking, defense).
Depth Chart
PG: John Wall / Tim Frazier / Donald Sloan
SG: Bradley Beal / Jodie Meeks / Tomas Satoransky
SF: Otto Porter / Kelly Oubre
PF: Markieff Morris (when healthy) / Jason Smith / Mike Scott
C: Marcin Gortat / Ian Mahinmi
2018 Draft Status
The Wizards have both of their original draft picks for the 2018 NBA Draft. Since they expect to finish with one of the best records in the East, the selections likely won't be any higher than 15. The team could trade these picks away to rebuilding teams like they did last year if they believe that there are pieces out there that can help them finally reach the Eastern Conference Finals.
2017-18 Season Predictions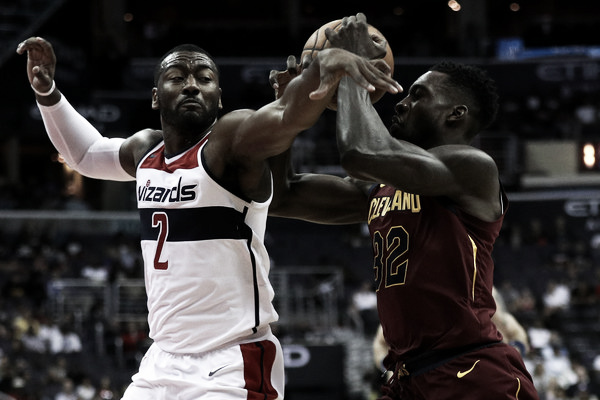 Wall might fall short of he and head coach Scott Brooks' MVP aspirations, but the former number one overall pick remains one of the premier floor generals in the NBA. With Beal and Porter deciding to stay in D.C., the starting lineup is still one of the most opulent in the association financially and athletically. However, the bench must substantially improve for this team to take the next step. If Frazier and Meeks perform up to expectations and Scott regains his form, that could be enough to push the Wizards past the second round.
If the reserves are just as anemic as they were last year, Washington will meet the same face that they did against the Boston Celtics in the 2017 Eastern Conference semifinals. I predict a 49-33 record a third-place finish in the Eastern Conference and a second-round playoff exit for the Wizards.