 The Golden State Warriors showed their best performance in the season over Los Angeles Clippers on Monday Night at Staples Center.
The Warriors are 5-3 on the season and are now tied with the Houston Rockets for third place in the Western Conference. Stephen Curry led Golden State and had 31 points after three quarters, with five rebounds and six assists.
Clippers small forward Danilo Gallinari, scored 19 points, two rebounds and four assists. Whilst, Blake Griffin scored 16 points, to go along with three rebounds and four assists.
Warriors took an advantage to the half
Golden State began the game astonishing with a desire to take a victory away, during the time that the Clippers seemed to attack as well. However, the Warriors were under pressure, especially after the 115-107 loss to Detroit Pistons. Thus, the visitors' side pouring in 34 points in the first quarter, whilst the Clippers scored 28.
In the second period, the Warriors topped 40 points, with Curry leading all scorers with 16 points.
The Clippers were struggling to reduce the deficit, something they did weren't familiar with this season. The second half finished with 74 to 57 for Golden State.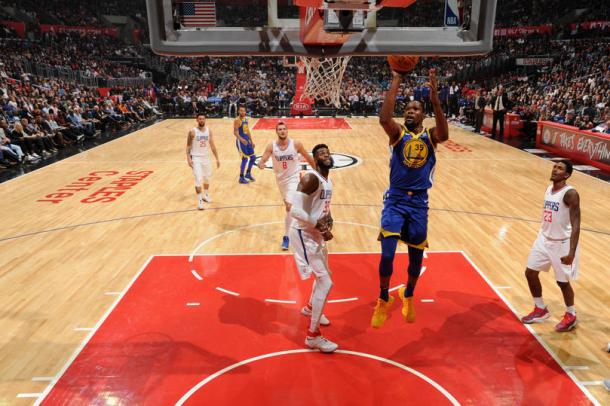 Curry led the Warriors to increase their advantage over the Clippers
The third period started with another show from the Warriors. Curry led the side with 14 points to help the Warriors score 33 points in quarter. Besides him, Kevin Durant and Klay Thompson helped the Warriors to expand their lead.
JaVale McGee played well, scoring 10 points in the third quarter.
Whilst the Warriors were having fun on the court, the Clippers were lacking their defensive intensity every time that Curry or Durant touched the ball. They fought to decrease the deficit to 21 points, scoring 29 points in the period. Nevertheless, this would not help their situation.
The last period became an easy task for the Warriors because they controlled the game wire-to-wire. The Clippers tried to threaten them, but they hadn't fought to shorten the deficit by 28 points.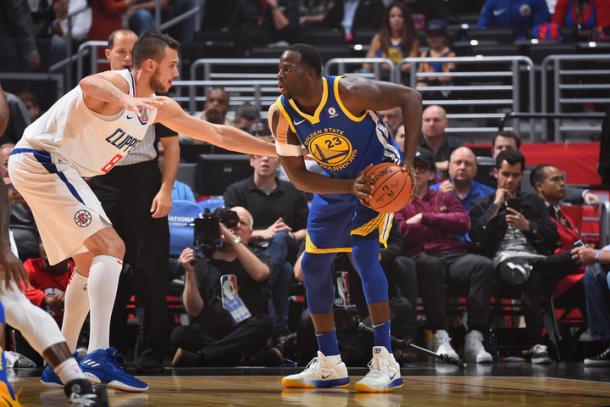 Up next
The Clippers will play the Dallas Mavericks once more at Staples Center on Tuesday night. On the other hand, the Warriors will have two days to recover when they take on the San Antonio Spurs in their next game on Thursday, Nov. 2 at the AT&T Center.