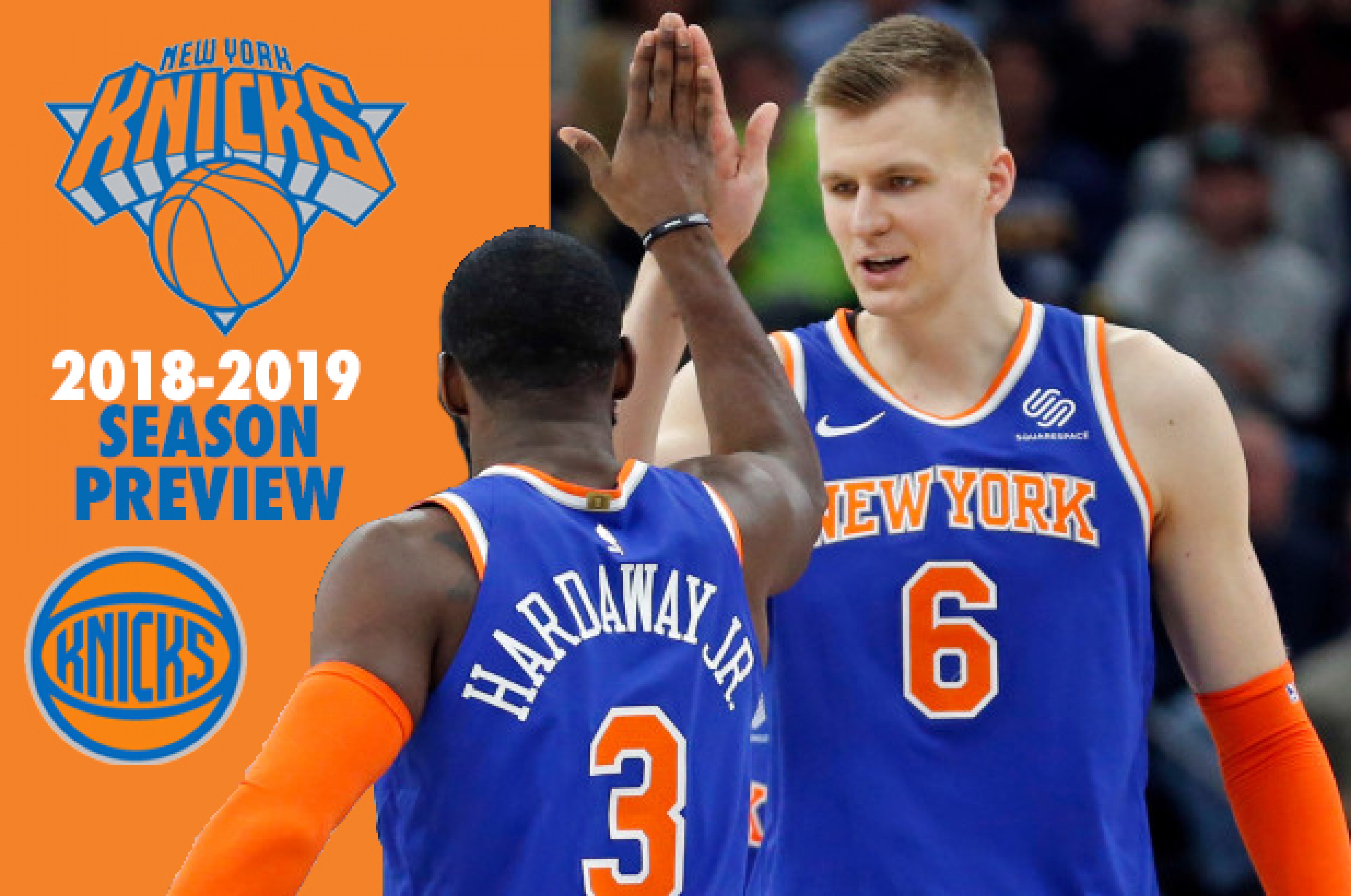 If you are a fan of the New York Knicks, there hasn't been much to cheer about for the last couple of years. The Knicks haven't made the playoffs since 2013 and in 2015 posted their worst record in franchise history.
Last season was no exception. Injuries limited the Knicks while the young, up-and-coming talent were able to grow. The 2017-2018 season saw the end of an era, as Carmelo Anthony was traded prior to the season tipping off.
Now in the third year of general manager Scott Perry running the team, the organization is trending upward. It won't be long until the Knicks regain their playoff form. But for now, the upcoming season will be about growth. Over the course of the last three years, the Knicks have averaged 30.7 wins. Is that achievable this year?
Here is a preview of the 2018-2019 New York Knicks.
New head coach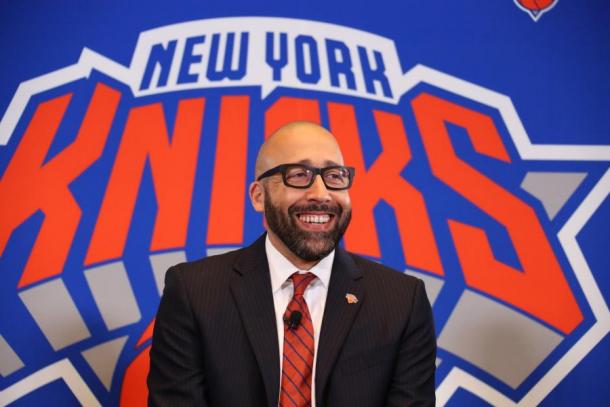 The Derek Fisher, Kurt Rambis and Jeff Hornacek head coach experiment did not go very well. Under Fisher, the Knicks won just 40 games and finished at the bottom of the Eastern Conference in his first season. Rambis did not win very much in the interim head coach role and the Knicks took a step back under Hornacek.
During the offseason, general manager Scott Perry signed David Fizdale to a four-year deal. Fizdale's recent success came in the 2016-2017 season, leading the Memphis Grizzlies to a 43-39 record and a trip to the Western Conference Playoffs as the seventh seed. After a 7–12 start to the 2017–18 season, including eight consecutive losses, and a publicized fourth-quarter benching of Marc Gasol, Fizdale was fired from the team on November 27, 2017.
Fizdale's experience coaching top names will help him in New York. He got the best guys such as Gasol, Mike Conley, JaMychal Green and Andrew Harrison.
He will attempt to coach up young guys like Kevin Knox, Mitchell Robinson, Kristaps Porzingis, Tim Hardaway Jr., Emmanuel Mudiay, Frank Ntilikina and Mario Hezonja.
Draft
When it comes to the draft, history has a chance to repeat itself. When the Knicks selected Kristaps Porzingis in the 2015 NBA Draft, it was not a popular selection with the Knicks fans. Since then, he has been one of the best forwards/centers in the league.
Fast forward to the 2018 NBA Draft, the decision to draft Kevin Knox was met with a chorus of boos from the Knicks fanbase. He did not let any of that get to him as Knox saw this as motivation.
"I like that. That is motivation. A lot [of people] in the city want Porter, but I'm ready to work. I'm ready get to the organization and try to win some games." Knox told ESPN reporter Maria Taylor on draft night.
In one season at Kentucky, Knox averaged 15.6 points, 5.4 rebounds, 1.4 assists and .8 steals per game. Listed at 6-foot-9 and weighing in at 215 pounds, Knox has the size to play both the small and power forward position.
Since the draft, Knox has been busy making a name for himself. In his NBA debut, Knox scored 22 points, gathered eight rebounds and had two assists in 30 minutesof Summer League action against the Atlanta Hawks.
The 19-year-old averaged 21.3 points, 6.5 rebounds, 2.3 assists and one block per game over the course of the Summer League and was named to the 2018 First Team All-NBA Summer League team.
With the 36th pick, it appears the Knicks it another home run drafting center Mitchell Robinson from Chalmette High School. He too is out to prove that everyone made a mistake in passing on him.
At 7-foot-1, with a 7'4" wingspan and weighing at 225 pounds, Robinson has great combination of height, length, reach and athleticism for a center prospect. He is quick on his feet and moves extremely well all over the floor. He can score by the rim and has the talent of blocking shots. What is not to love about the newest Knicks prospect?
In five games at the Las Vegas Summer League, Robinson averaged 13 points, 10.2 rebounds and 4 rebounds per game.
Free Agency
The Knicks had a relatively quite free agency. Their biggest signing of the offseason was the signing of Mario Hezonja. Hezonja signed a one-year, $6.5 million contract on July 6. In addition to singing Hezonja, the Knicks signed power forward Noah Vonleh to a one-year, $1.62 million contract on July 24.
Luke Kornet and Isaiah Hicks resigned with New York, with Hicks signing a two-way contract. ​Allonzo Trier also signed a two-way contract on July 3. Kadeem Allen was the last player the Knicks signed, signing on July 25.
The biggest losses of the offseason were forward Michael Beasley and Kyle O'Quinn. Beasley would go on to sign with the Los Angeles Lakers and O'Quinn signed with the Indiana Pacers. Troy Williams and Johnny O'Bryant III would be waived during the offseason.
Potential Lineup
PG: Trey Burke
SG: Tim Hardaway Jr.
SF: Kevin Knox
PF: Kristaps Porzingis (upon return to injury)
C: Enes Kanter
---
Guards: Emmanuel Mudiay, Ron Baker, Kadeem Allen, Frank Ntilikina, Damyean Dotson
Forwards/Centers: Courtney Lee, Lance Thomas, Mario Hezonja, Noah Vonleh, Isaiah Hicks, Mitchell Robinson, Luke Kornet, Joakim Noah
Season Outlook
This season will be all about getting players to create familiarity with one another. Once everything comes together it will be exciting to see Hardaway Jr., Knox, Porzingis and Kanter come together. Speaking of Porzingis, what kind of player will he be after his tearing an ACL.
A major question the Knicks will have to answer is who is going to be the starting point guard? Burke has the most experience of the point guards on the roster, averaging 12.8 points and 4.7 rebounds in 36 games with the Knicks. Emmanuel Mudiay has been in the league for four years while Frank Ntilikina is entering his second.
Just how big of a season can Kevin Knox have? After giving fans a preview during the summer league, Knox is a favorite candidate for Rookie of the Year and could have a spot on the All-Rookie team.
What do the Knicks do with Enes Kanter? He will be a free agent at seasons end and could bring in trade value if he is playing at a high level. At some point throughout the season New York will attempt to move Joakim Noah. Whatever they decide to do, Mitchell Robinson will likely get a bigger role.
With LeBron James out of the Eastern Conference, the Knicks could be a surprise contender for a seventh or eighth seed. As it stands, the Westgate Las Vegas SuperBook has the Knicks' over-and-under of wins at 29.5.
It will be exciting to see what first year head coach brings to the David Fizdale table.