With the completion of the NBA Draft and the Las Vegas Summer League, we now have an idea of what the rookie scale in the NBA will be for the upcoming season.
With many rookies having plenty to prove, only 10 will be selected to the either the first or second team. A prime example of this from last year was the rise of Donovan Mitchell. The 13th selection from the 2017 NBA Draft averaged 20.5 points, 3.7 assists and 3.7 rebounds per game and finished as the runner-up for the Rookie of the Year.
With that being said, here are the early predictions for the 2018-2019 All-Rookie Teams.
First Team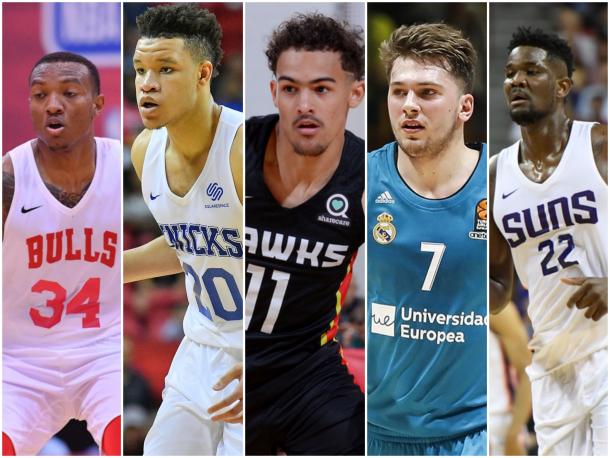 Atlanta Hawks guard Trae Young and Phoenix Suns center Deandre Ayton will headline the 2019 First Team All-Rookie team. Each had a great showing during the summer with Ayton averaging 14.5 points and 10.5 rebounds in four appearances in the Las Vegas while Young averaged 17 points, 6.8 assists and 1.5 steals per game.
Kevin Knox really turned heads all summer long. He really made a name for himself during his four game stint in Las Vegas. Knicks fans have to be real excited for Knox's potential. He finished the Las Vegas Summer League as the fourth best scorer, averaging 21.3 points per game. Even though it is early, Knox looks like he is ahead of the counterparts in the this year's rookie class.
Another riser from the Las Vegas Summer League was Chicago Bulls big man Wendell Carter. The 19-year-old averaged 14.6 points and 9.4 rebounds on 55 percent shooting during the Summer League, outplaying some of the bigs taken before him. He will likely carry the tools that made him successful in June/July and play hard all season. It will be tough with the likes of Jaren Jackson Jr., Marvin Bagley III, Mohamed Bamba and Mitchell Robinson jockeying for position.
The last member of the squad will be Dallas Mavericks guard Luka Doncic. During his time in the EuroLeague, Doncic averaged 9.2 points, 4.2 rebounds, 3.5 assists and .8 steals per game. Mavericks elected not to play Doncic during the Summer League in order to give him rest. But once he touched the floor with Dennis Smith Jr., Harrison Barnes, and DeAndre Jordan, the Mavericks could be one of the most exciting teams to watch around the league.
Second Team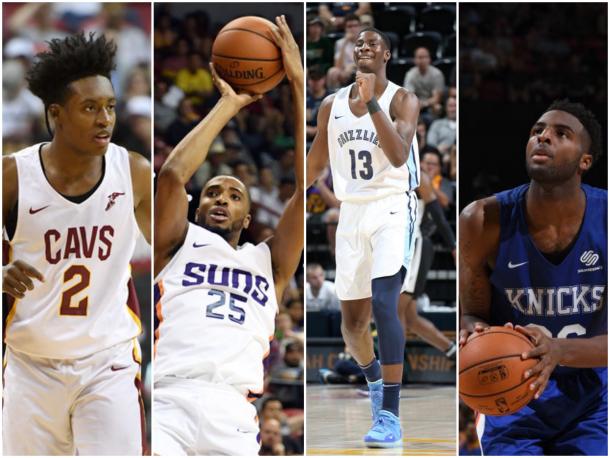 Representing the 2019 Second Team All-Rookie team will be Cleveland Cavaliers point guard Collin Sexton, Charlotte Hornets forward Miles Bridges, Phoenix Suns small forward Mikal Bridges, Memphis Grizzlies forward/center Jaren Jackson Jr. and New York Knicks center Mitchell Robinson.
It will be up to Sexton to facilitate the offense in Cleveland this upcoming season. He likely has talent around him with the likes of Kevin Love, Tristan Thompson and J.R. Smith in place. In seven games, Sexton averaged 19.6 points, 3.6 rebounds and 3.4 assists per game. With the Eastern Conference wide open, Sexton could help lead the the Cavs to a playoff appearance in the seventh or eighth seed.
When the Hornets traded for Miles Bridges, they got a swiss army knife in return that could play three different positions. Bridges played and started all five games for the Hornets, and it is clear there is a lot to work with. Bridges averaged 15 points, 8.2 rebounds, 1.8 assists, 1.4 steals and 1.2 blocks per game while shooting 34 percent from the field. Bridges used his muscular physique to get easy opportunities on the offensive glass and get to the free throw line, shooting 83 percent from the free throw line. Like many rookies, he will need to correct some things and adjust his game. When he does, the Hornets may have found a guy that could be apart of the change that is coming to the Hornets.
Mikal Bridges was also traded on draft night. He was originally going to be apart of the Philadelphia 76ers until an agreement was made with the Phoenix Suns. Bridges brings defensive stability to a team that was the worst statistically in the NBA. He will be given the task of shutting down the other teams best scoring option, which he is capable of. Offensively, Bridges will immediately step into a catch-and-shoot weapon role along the wing. During the course of the season, he could be the Kawhi Leonard, Paul George player the Suns have been looking for.
Jaren Jackson Jr. exploded onto the seen early in the summer league, putting the rookie class and entire NBA on notice by making eight three-pointers and scoring 29 points during his debut. The Grizzlies should feel inclined to give Jackson all that he can handle as a rookie. If that means starting him at power forward or giving him quality minutes at center, so be it. Jackson possesses excellent size for a power forward measured at 6'11.25 in shoes with a 7'5.25 wingspan and a developing 236-pound frame at the 2018 NBA Draft Combine. With time, he could be the Grizzlies version of Giannis Antetokounmpo.
With Kristaps Porzingis injured and given Joakim Noah's injury history, Mitchell Robinson could see plenty of playing time this season. Of course, he will be playing behind Enes Kanter, that comes with it's advantages. Through the ups-and-downs, Robinson could have himself a fine rookie campaign. He is a shot blocking threat that could give the Knicks double-double numbers. He and Kevin Knox will be one of the best young duos to watch this season. At just 18-years-old, there is still room for him to grow in his frame.
Rookies to watch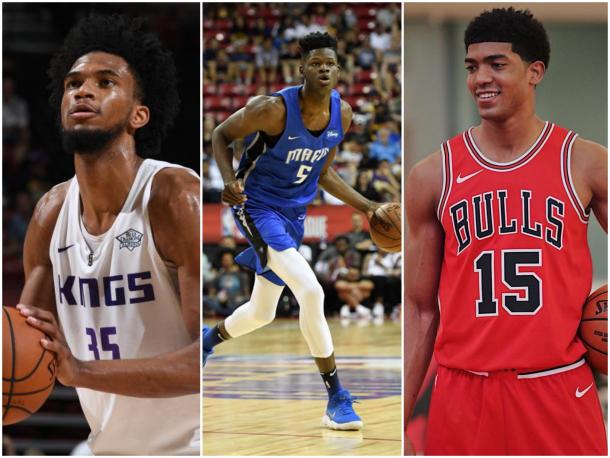 Marvin Bagley III will be one of the names that will remain in contention for a spot on either All-Rookie team. Early on in the summer league he started to prove why he was selected No. 2 overall behind Deandre Ayton. Towards the end of the summer league, Bagley started to struggle. With talent around him, he should adjust to the NBA just fine.
With guys like Ayton, Bagley, Carter Jr. and Jackson Jr. infant of him, it is easy for a guy like Mo Bamba to get lost in the shuffle. During the course of the season, Bamba will be out to prove that he deserves to be in the conversation for the All-Rookie team. Bamba brings double-double possibilities for the Orlando Magic. Nikola Vucevic and Timofey Mozgov will be around to mentor Bamba and help make the proper adjustments he needs to succeed in the NBA.
The Chicago Bulls could have another player appear on the All-Rookie team via Chandler Hutchison. Hutchison plays with a very big chip on his shoulder, out to prove people that say that he can't. Hutchinson has been a 20-point scorer since high school and averaged 20 points, 7.7 rebounds, 3.5 assists and 39 percent on threes at Boise State. His showing during the summer league was just a small sample size of what he could offer. Once he adjusts to the NBA, he could be something special for the Bulls.