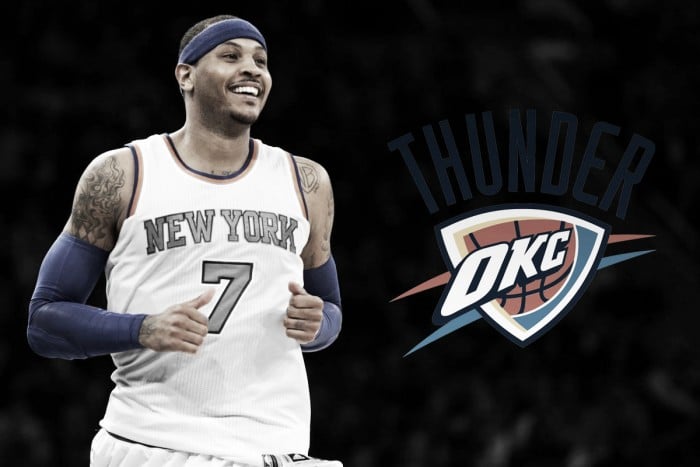 Mere days before their training camp began, the Oklahoma City Thunder completed a seismic trade with the New York Knicks; attaining the services of All-Star forward Carmelo Anthony in exchange for forward Doug McDermott and center Enes Kanter, according to Adrian Wojnarowski of ESPN. The Vertical's Shams Charania adds that the Thunder will also send a 2018 second round pick acquired from the Chicago Bulls as a part of the deal. The trade will take effect on Monday and Anthony is expected to report to Oklahoma City's training camp on Tuesday.
Several factors needed to come into play for this deal to take place. On Friday, Melo went to Knicks management and presented them with a list of teams that he would like to be traded to. According to Wojnarowski, OKC stars Russell Westbrook and Paul George played a vital role in Anthony waiving his no-trade clause for the Thunder, a clause he gets to keep as a condition of the trade. Anthony also needed to give up his $8.1 million trade kicker to help facilitate the move. The Thunder will take on Anthony's $26.2 million salary, putting them further into the luxury tax.
What does this mean for both teams?
Picking up Anthony obviously further bolsters an Oklahoma City team that struggled spent the offseason building their roster around Westbrook. The Thunder rode their star point guard's historic MVP season to a 47-35 record and an unexpected playoff berth. Unfortunately for Oklahoma City, Westbrook ran out of gas in the first round against the Houston Rockets and the rest of the team faltered when Westbrook rested on the bench. Thunder GM Sam Presti responded by giving his cornerstone guard some help, swindling the Indiana Pacers for Paul George, and signing Patrick Patterson to a modest deal. Trading for Anthony should help the Thunder with their long distance shooting; they finished dead last in three-point percentage a season ago.
While Anthony is not the superstar he once was, he still has plenty of ability left to contribute to a playoff team. In 74 games with the Knicks last year, Anthony averaged 22.4 points and 5.9 rebounds per game and a .433/.359/.833 shooting line.
There were some signs of decline; his .089 win shares per 48 minutes was his lowest average since 2004-05 (.100 is league average). He also finished with a Player Efficiency Rating under 20 (the general threshold for All-Stars) for the first time since 2008-09. Anthony's trips to the free throw line were very sporadic last year; his 4.9 attempts per game were easily the lowest of his career. Plus he was still a net negative on defense; the Knicks allowed 5.8 fewer points per 100 possessions when Anthony was off the floor.
With Westbrook, George and Andre Roberson in the fold, Anthony won't get asked to defend the opponent's best player, and he is a massive offense upgrade over Roberson and the departed Victor Oladipo.
As for the Knicks, nothing much changes for them; they were going to be bad whether Anthony left or stayed. For Anthony, they get back a skilled post player and a one-dimensional sharpshooter. In 66 games with the Thunder and the Bulls, McDermott averaged nine points per game and shot 37 percent from downtown with a 10.7 PER.
Kanter averaged 14.2 points per game off the bench for Oklahoma City while shooting 54 percent from the field. However, the former Kentucky Wildcat was a black hole on defense; the Thunder allowed 4.2 fewer points per 100 possessions when Kanter sat. Neither player will turn the Knicks into a playoff contender anytime soon. New York will likely join the Bulls, Pacers and several other teams in the tank race for the number one overall pick this year while building around budding star Kristaps Porzingis and seeing what they have in first-round pick Frank Ntilikina
Season Opener
Stay tuned on Oct. 19 when both teams play their first game of the 2017-18 season with the Thunder hosting the Knicks.