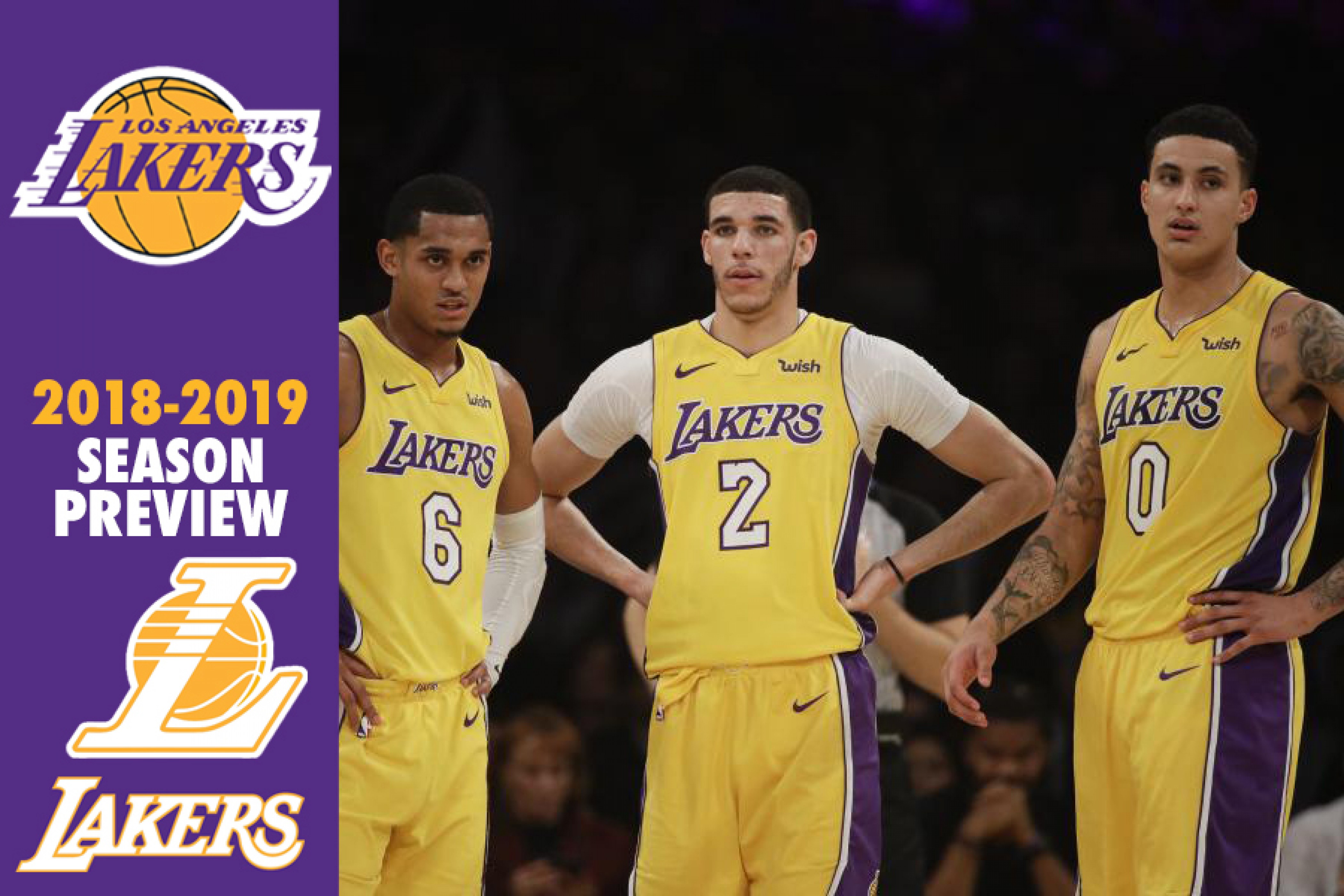 Even with the distraction that was LaVar Ball, the Los Angeles Lakers made a statement in the 2017-18 season.
The Lake Show won 35 games and finished 11th in the Western Conference. The organization had two ways it could go, younger or add veterans. If December 14, 2017, was any indication of the future, the LA has plenty to be excited about:
On that fateful night, LeBron James gave some advice to point guard of the future Lonzo Ball. Little did they know they would be teammates for the foreseeable future.
Magic Johnson and company were hard at work putting together a team that can possibly deliver a playoff run for the 2018-2019 season. The organization even put together a new set of jerseys with a familiar feel to them:
The question still remains as to just how far can the Lakers go this upcoming season?
Here is a preview of the 2018-2019 Los Angeles Lakers.
Draft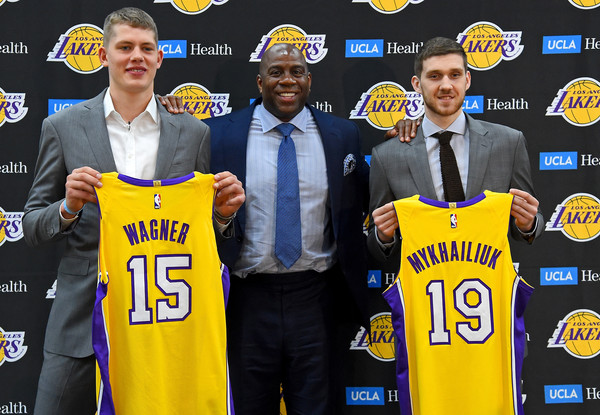 With the 25th pick, the Lakers used their first pick to select power forward Moritz Wagner. The Michigan product averaged 14.6 points and 7.1 rebounds per game during his junior season. He talents continued to flourish during the NCAA Tournament, averaging 15.0 points and 7.3 rebounds per game.
In three games in the Summer League, Wagner averaged 10.3 points, 8 rebounds and 1.3 blocks per game in Las Vegas. In Sacramento, he averaged 14.7 points and 8.3 rebounds per game.
"We'd been tracking him for a couple years now at the University of Michigan, and some of the tournaments he's played in overseas with his (German) national team commitments. He's a player that has good size and a very high skill level." Lakers assistant general manager Jesse Buss told NBA.com reporter Mike Trudell.
"His has the ability to shoot, pass and handle the ball at that size (6'9''), which is solid. He's a high basketball IQ player with a great motor that really runs the floor well. That's one thing that was definitely attractive. He had this personality when he came in and worked out for us where he showed a lot of toughness and charisma. That's something that we definitely value as an organization as a whole." Buss continued.
JaVale McGee and Ivica Zubac are the only other true centers on the team, but neither have Wagner's perimeter shooting ability. It will be interesting to see how many minutes Wagner could get in the rotation for his rookie season. The German center stands at 7-foot-tall, 241 pounds.
With the 39th pick in the draft, the Philadelphia 76ers drafted German small forward Isaac Bonga, but was immediately traded to the Lakers. In June 2016, Bonga signed a four-year contract with the Skyliners Frankfurt of the Basketball Bundesliga, Germany's top-flight level league. He made his professional debut at 16-years-old and began to develop his game. After having a shaky start to his professional career, the Lakers are taking a wait-and-see approach to the now 18-year-old forward.
When asked about his appearances in Las Vegas, Buss said, "I thought he made some nice passes. There was one in particular where he drove baseline and threw a left-handed pass out to the perimeter. That was something very few guys in the NBA can do, especially a guy that size. He has natural things that will develop. The question is, can he develop the rest of his game? That comes with the time that he's going to spend in South Bay, and all that."
Buss would later explain why the organization took on a project like Bonga versus an NBA-ready talent,"It's very difficult to have three picks, and draft players that you expect to contribute right away. Sometimes you have to diversify a little, and knowing that we drafted Moe and really liked Svi, we couldn't bring multiple players in that needed minutes right away. We wanted to take a player that we felt has a good long-term upside for the team. You have to look at the rest of your roster, and see if you have a spot where you can develop someone over the next few years. The job that coach Walton and his staff have done with our young players gives me a lot of confidence that they can really help Bonga develop into a player."
With the 47th pick, Los Angeles selected Kansas shooting guard Sviatoslav Mykhailiuk. In his senior year at Kansas, the 6'8" Ukrainian averaged 14.6 points, 3.9 rebounds and 2.7 assists per game. He shot nearly 43 percent from the field for his career at Kansas and was nearly a 41 percent shooter from three point territory.
When Mykhailiuk got to Las Vegas, he turned a lot of heads and brought even more excitement to the Lakers fan base. Sviatoslav Mykhailiuk averaged 16.6 points, 4 rebounds and 2.1 assists per game, shooting 48 percent from the field. He even earned a spot on the 2018 Second team All-NBA Summer League team.
Free agency
The biggest offseason signing that the Lakers made came in the form of forward LeBron James. On the first day of free agency, James signed a four-year, $154 million contract with Los Angeles. The Lakers would also resign Kentavious Caldwell-Pope to a 1-year, $12 million contract during the opening of free agency.
With the singing of James, many thought that LA would bring in a second superstar to run right beside him. At one point, LA had off-and-on discussions with San Antonio over forward Kawhi Leonard. Ultimately, the Spurs would trade Leonard to the Toronto Raptors.
Rajon Rondo would sign a one-year, $9 million contract while Lance Stephenson would sign a one-year, $4.5 million contract. JaVale McGee would sign his one-year, $2.4 million contract on July 10. On July 21, the Lakers would bring in Michael Beasley on a one-year, $3.5 million contract. Joel Berry II, Jeffrey Carroll and Johnathan Williams were brought in and sign contracts as well.
Julius Randle and Brook Lopez highlight the key losses for the Lakers. Isaiah Thomas signed with the Denver Nuggets after the Lakers elected not to bring him back. Tyler Ennis, Thomas Bryant and Malik Newman would be waived by Los Angeles while Channing Frye signed with the Cleveland Cavaliers.
Potential lineup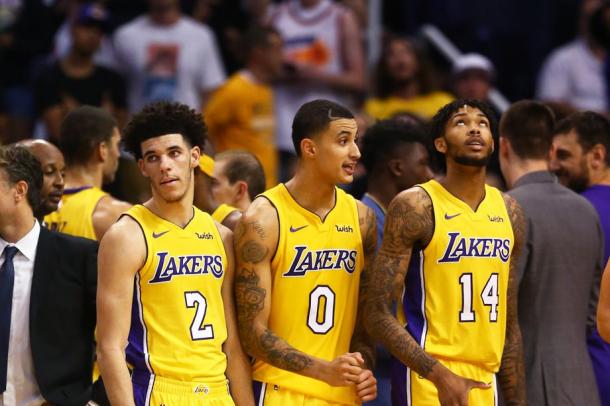 PG: Lonzo Ball
SG: Josh Hart
SF: Brandon Ingram
PF: LeBron James
C: JaVale McGee
---
Guards: Rajon Rondo, Joel Berry II, Isaac Bonga, Kentavious Caldwell-Pope, Clex Caruso, Jeffrey Carroll
Forwards/Centers: Lance Stephenson, Loul Deng, Sviatoslav Mykhailiuk, Kyle Kuzma, Michael Beasley, Travis Wear, Johnathan Williams, Moritz Wagner, Ivica Zubac
Season Outlook
There is no doubt that the spotlight will be lit brightly on the Lakers this season. When you have the best player in the world on your team combined with some of the best young talent in the league, there is a reason to be optimistic.
Currently, the Westgate Las Vegas SuperBook has the Lakers' over-and-under of wins at 48.5. LeBron, Lonzo, Ingram and Kuzma will do their best to hit that goal but there are a couple of factors that might get in their way.
The signing of Rajon Rondo was a big question mark back when it became official. With Rondo coming off the bench, he will definitely be more of a facilitator for sure, creating scoring opportunities for his teammates. How well do either Stephenson and Beasley fit in as well?
With the veteran talent around, it will be crucial for the Lakers to let their main core of young guys continue their development. Ball, Ingram and Kuzma cannot take a step back if they plan to bring the 17th championship in franchise history back to the City of Angels.
As far as individual goals go, LeBron will attempt to make it 13 consecutive seasons on the 2018-2019 All-NBA First Team. James could be up for another appearance on the All-Star team.
In a crowded Western Conference, the Lakers will be in the mix all season long. There is no doubt they can reemerge as a powerful force in the Western Conference. Let's not forget, there will be a learning curve as some of these guys have never played together. That could prove to be the achilles heel of the season.