Kevin Knox and Wendell Carter Jr. headline the 2018 All-NBA Las Vegas Summer League first team.
Knox's play for the New York Knicks is one of the biggest storylines to emerge from Las Vegas Summer League. the 18-year-old finished the summer league averaging 21.3 points, 6.5 rebounds, 2.3 assists and one block per game. Knox finished fourth in the Summer League in points scored per game.
Carter Jr. averaged 14.6 points and 9.4 rebounds on 55 percent shooting for the Chicago Bulls. He even outplayed at least three of the four bigs taken in the top six. He showed encouraging signs that point to an eventual shooter who can space the floor.
Rounding out the rest of the first team is Josh Hart of the Los Angeles Lakers, point guard Collin Sexton of the Cleveland Cavaliers and center Christian Wood of the Milwaukee Bucks. Hart was also named the 2018 Las Vegas NBA Summer League MVP.
Second team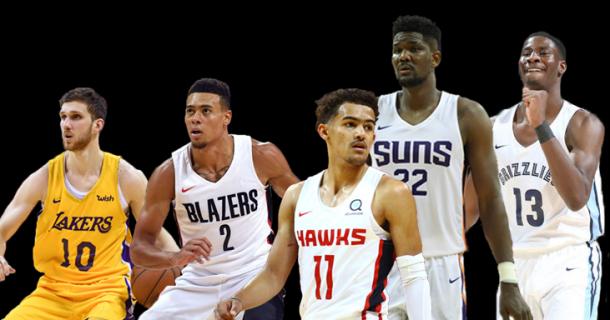 Headlining the second team are No. 1 pick and Phoenix Suns center Deandre Ayton, No. 3 pick and Atlanta Hawks guard Trae Young along No. 4 overall pick, Memphis Grizzlies forward/center Jaren Jackson Jr.
Ayton averaged 14.5 points and 10.5 rebounds in four appearances in the Las Vegas Summer League, out dueling Marvin Bagley III and Mohamed Bamba in their head-to-head matches.
Trae Young had a rough start when the Summer League started. In his last four games of the summer league he averaged 17 points, 6.8 assists and 1.5 steals per game, reminiscent of his hot streak he had while at Oklahoma.
Jackson immediately put the rookie class and entire NBA on notice by making eight three-pointers and scoring 29 points during his debut. He's blocking 2.5 shots in 25.7 minutes during summer league, also looking competent when forced to switch and guard the perimeter. Jackson Jr. averaged 15.7 points, five rebounds and 2.3 blocks per game during the three game stint in Utah. Once he got to Vegas, he averaged 10.5 points, 8.3 rebounds and 3.8 blocks per game.
Portland Trail Blazers guard Wade Baldwin IV and Los Angeles Lakers sharpshooter Svi Mykhailiuk round out the second team.