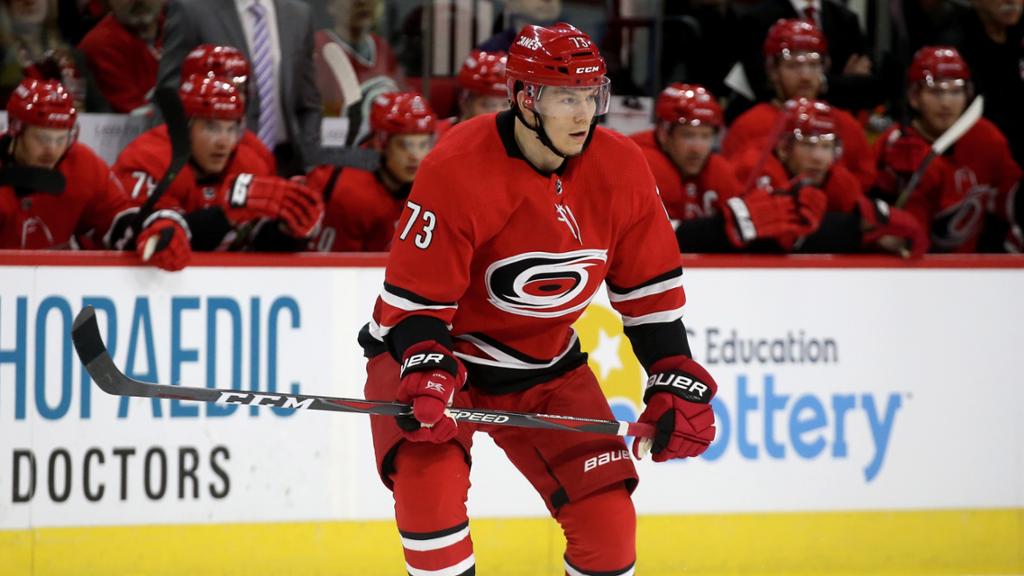 Valentin Zykov has had a rough start to his rookie season, being in and out of the lineup and getting just three points in 13 games. The young Russian winger was the leading goalscorer in the AHL last season with 33 goals in 63 games, as well as adding seven points in 10 games on the NHL level.
This season has been a struggle for Zykov, and after he was traded away by the Los Angeles Kings after being their second-round pick for 2013, the Carolina Hurricanes have given up on him as well.
Edmonton Oilers have done well to pick up Zykov, as the 23-year-old still has a lot of potential, and outside of scoring, he is also a physical presence at 6'1" and 225 pounds. At just $675K, Zykov is a bargain of a player, especially if he can start scoring again, as he might be motivated by a legendary coach like Ken Hitchcock.
Where will he fit in?
Zykov would slot in well on the third line, maybe taking the spot of Zack Kassian. Hitchcock might also want to try to give the Russian a mental boost by giving him top-six minutes, maybe dropping down Jesse Puljujarvi to the third line, who has been struggling this season as well. This would give Zykov time with Ryan Nugent-Hopkins and Drake Caggiula, who have had decent production this season so far.
If things go well for Zykov in Edmonton, he could stick around for a few years, providing supplemental scoring to the main stars like Connor McDavid and Leon Draisaitl. He could also leave for a big contract in 2020 free agency after his current contract expires, depending on how well he does. However, if Zykov finds stability with the Oilers, he might want to stay to keep his spot on the roster as a relatively cheap scoring option.
If Zykov continues to struggle, he might get put on waivers again. It is tough seeing another team claiming him, so he might spend the rest of the season in the AHL. Last time he was in the minors, he was the top scorer, but was shooting an insane 29.5%. After that, Zykov would probably follow the likes of Nail Yakupov to the KHL. In the KHL though, we might see Zykov flourish and become an integral part of the Russian national team at IIHF World Championships.
How do you think Valentin Zykov's career will go? Did the Oilers make the right move in claiming him from waivers? Let us know in the comments and on Twitter @VAVEL_USA!