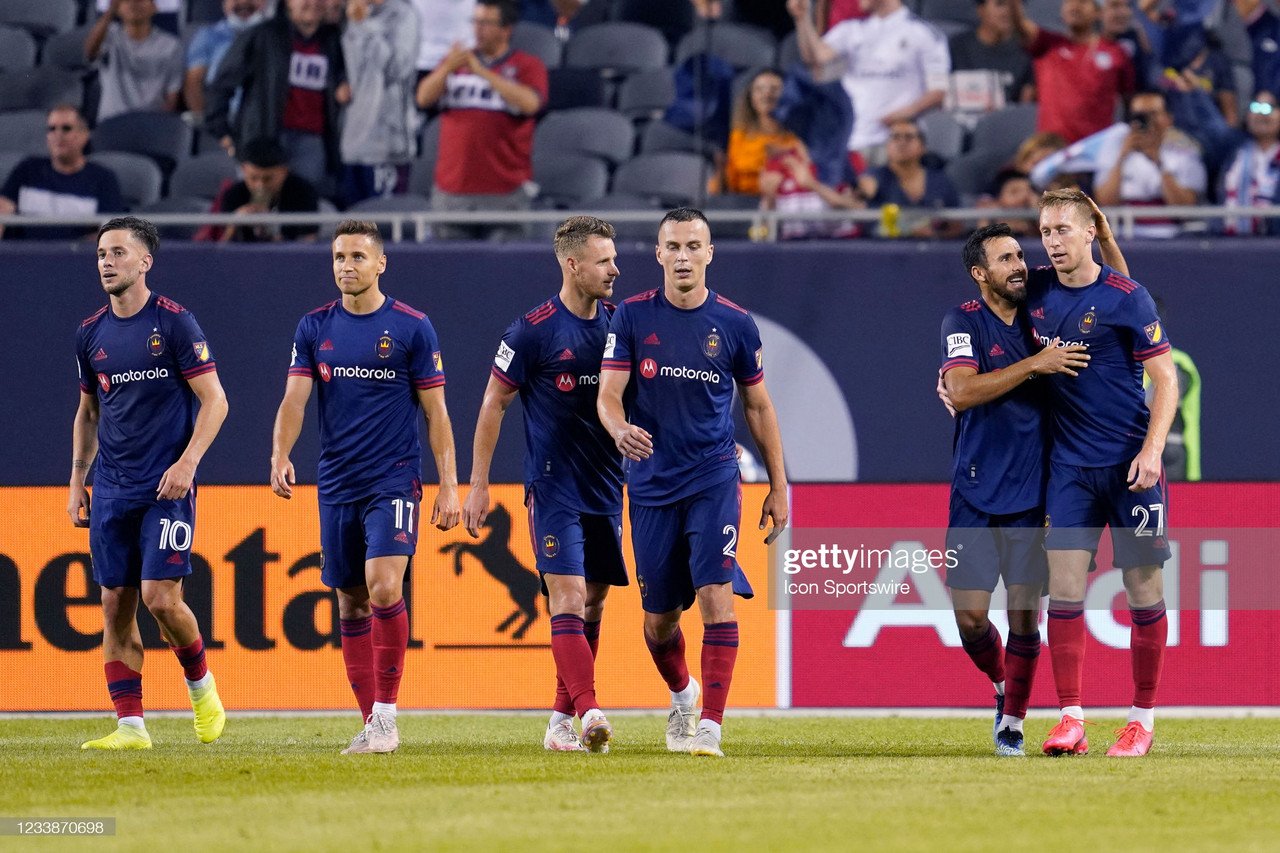 Things seem to be on the up for the Chicago Fire.
They had a horrific start to the 2021 MLS season, and a loss at home to FC Cincinnati in mid-June put them in last place. Chicago had hit rock bottom, and plenty were expecting changes to come, whether it be at head coach or at the front office level.
The Fire stuck to what they had, though, and so far, the decision looks like it's paid off. They're unbeaten since that aforementioned defeat, and they've won their last two, scoring three times in each of those contests.
However, there's still a chance that this recent run of form is an anomaly, and that fans will be back to seeing the same old Chicago side any day now.
The good
Plenty deserve credit for Chicago's turnaround.
The man who arguably deserves the most is manager Raphaël Wicky. That didn't seem like that would be the case a few weeks ago, as many were expecting his departure earlier in the campaign. He's repaid the faith put in him by the club, though, and it's all because of a relatively simple shift.
Wicky ditched the 4-2-3-1 formation that he had been utilizing following the loss to Cincinnati, and turned to a 3-5-2 / 5-3-2. That decision has worked wonders, as it's gotten the most out of the Fire's personnel.
The backline already looks better, and that's even without the presence of club captain Francisco Calvo for the last few weeks. The extra body in defense has provided safety and a bit of additional cover, masking the negatives of those who are playing there. As a result, the trio of Johan Kappelhof, Mauricio Pineda, and Jonathan Bornstein have done much better, and goalkeeper Bobby Shuttleworth has had a lot less to do.
That has also given Boris Sekulić and Miguel Navarro the freedom to venture forward, which is what they prefer to do. When used as fullbacks, the pair were a liability defensively, and Chicago were sometimes exposed out wide. That's not the case anymore, though. As they are now wingbacks, they know that they can take more risks when it comes to joining the attack since they'll have protection behind them. An excellent example of this came against Atlanta United when Navarro intercepted a pass in the opposition third, getting the ball to Ignacio Aliseda, who eventually scored.
Things aren't too different when it comes to the midfield, to be fair. It's all very fluid there, as the Fire kind of have three center mids, with none of them being too attacking or too defensive. When one pushes forward, the others drop in to cover the space, and vice versa. It keeps the team dynamic, and that's a good thing.
Even though this new system seems more defensive on the surface, it's really helped those up top. Robert Berić finally has some proper support, and he was able to end his long scoring drought versus Orlando City as a result.
His strike partner Ignacio Aliseda has also benefited. He's now playing centrally, which allows him to drop into dangerous spaces and create chances for himself and teammates. He was the star of the show against Atlanta, and there's hope that he's starting to live up to his potential.
The change in system has helped massively, but it wouldn't have mattered if the players out on the field didn't step up.
Álvaro Medrán has been the pick of a superb bunch. Playing like he's back at Real Madrid, the midfield maestro is beginning to justify his hefty salary. He has dished out five assists in his last three games, and his presence makes Chicago a threat on set pieces.
Two of those assists have been to Boris Sekulić, who is making the most of his aforementioned attacking freedom. He knows how to get into good positions, and his heading ability means that he can finish off any crosses that come his way.
Ignacio Aliseda has been much improved, while goalkeeper Bobby Shuttleworth has made a few key saves.
Then there's Johan Kappelhof, who was practically written off at the start of the campaign. A cursed 2020 kept him on the sidelines for most of the year, and things somehow got worse as he dropped disasterclasses earlier this season when played out of position as a central defensive midfielder. He's now back at centerback, though, and he's thriving once again, just like the good old days.
A shoutout also needs to go to Jonathan Bornstein. The 36-year-old is currently filling in at centerback even though he's used to being a fullback, but that's not affected his performances at all. In fact, he's been so good that Calvo might not have a place in the team when he returns from international duty.
Everyone's come together to help the Fire get out of the hole they dug for themselves earlier in the season, and the club are now only six points off of a playoff spot in the Eastern Conference.
The bad
However, all of those positives aside, there's reason to believe that Chicago's recent success is mainly down to a bit of good fortune. That may seem harsh at first, but it's a claim that makes more sense when you look at their recent games on an individual level.
The run began against the Philadelphia Union. First things first, the field conditions were an absolute mess on the night. It had been raining for most of the day before kick off, and the Soldier Field grass isn't great to begin with, so the playing surface was soaked. That made the contest an ugly one, which was good news for the hosts since they came into the match as underdogs.
Their luck continued after the opening whistle, as the Fire took the lead in the opening few minutes thanks to a spectacular own goal. They did score two themselves in the second half after going down, to be fair, with both coming via set-pieces. There's nothing wrong with that, of course, but it's much easier to steal a goal from a dead ball than it is to create one from open play. Despite a lot going their way, they still couldn't win, ultimately tying 3-3.
Chicago then took on an Atlanta team that were just down bad. Without talisman Josef Martínez in the squad, the away side looked completely lost going forward. Defensive mistakes then cost them on the occasion, as woeful marking and sloppy turnovers led to them conceding three. The Fire did well to take their chances, even if their opener came thanks to a deflection, but they certainly weren't up against the toughest of opposition.
Up next was Orlando City, who should've served as a true benchmark for Chicago. Sat in 2nd place in the Eastern Conference, they had made a scorching start to the campaign, and it seemed like they were going to continue their solid run of form in this match. However, manager Óscar Pareja decided to drop his star players, with Chris Mueller, Mauricio Pereyra, and Nani all starting the contest on the bench.
By the time those players came on, it was too late. The Fire had responded well to going down, scoring twice to put themselves in front. They held on to survive a late surge, grabbing one last goal on the counter in stoppage time to seal the result in style. It was a good win on the surface, as they had beaten a decent side, but they were up against a much weaker team than they should have been.
The biggest thing is that Chicago has been at home for all of these games. They've been inconsistent at Soldier Field ever since returning to the stadium, so it is nice to see them finally start making the most of their home field advantage. However, everyone knows just how dreadful the team is whenever they go on the road. Their next match is away, and it's away to a solid outfit in Nashville SC. That will be a true test for the Fire, but it's a test that they'll likely fail if history is any indication.
And the unknown
At the end of the day, we still don't know what to expect from Chicago when it comes to the rest of the year.
Maybe this purple patch will continue as they head into the summer months. Teams tend to be kind of streaky in MLS, so why can't the Fire turn this recent run of success into a lengthy one? They've already got momentum behind them, and something just seems to happen to players when they are feeling confident and in form. They've got plenty of talent on the roster as well, so the good times should keep on rolling if all is going well.
On the other hand, there's a chance that everything will fall apart once Chicago takes on tougher opposition. They are still a flawed side in key areas, and they could be exposed by those who are just better and more complete. Even though they have gotten the job done against weaker teams, they have been far from dominant, so who knows what'll happen when they are truly challenged.
Ultimately, it seems like the Fire will continue to consistently be inconsistent. For fans of the club, that's exactly what they've come to expect.