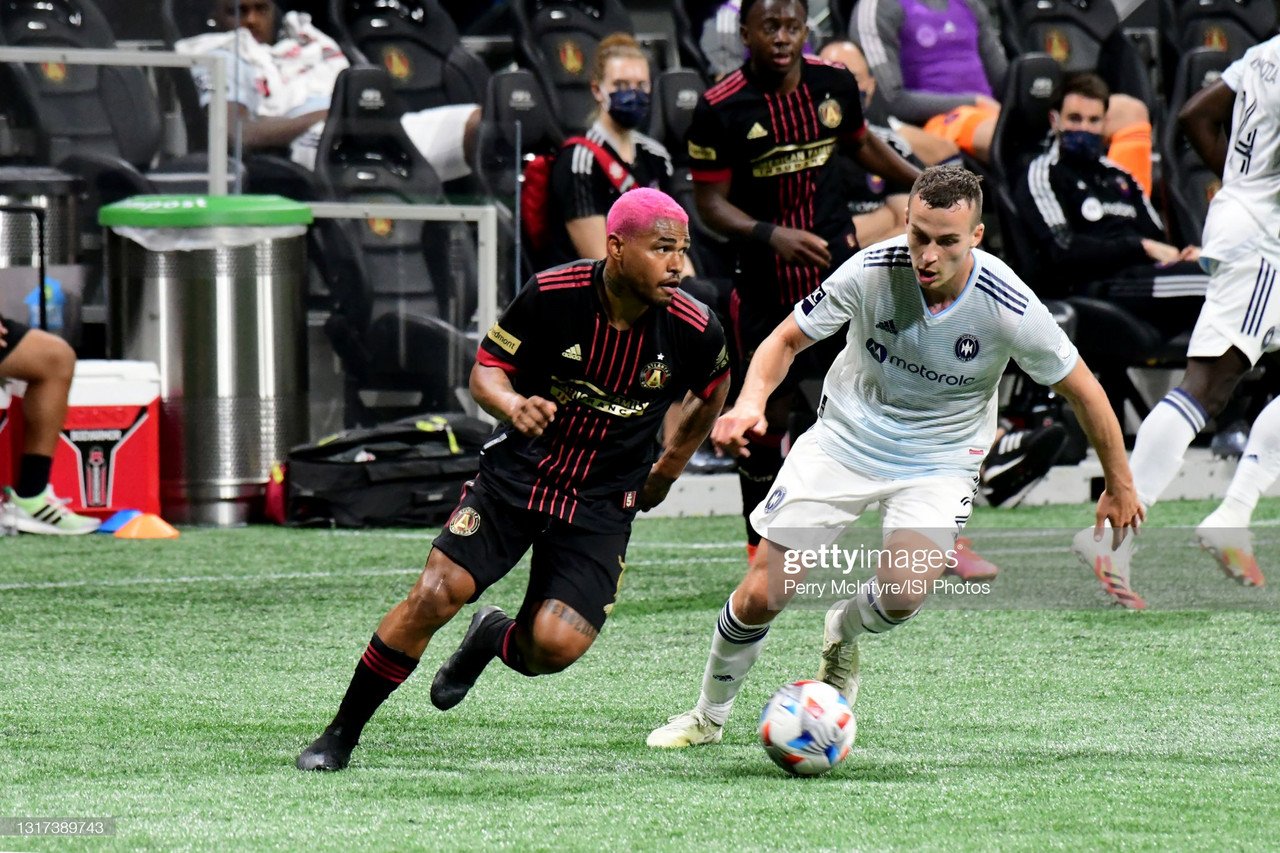 Two struggling Eastern Conference teams face off on Saturday night as the Chicago Fire hosts Atlanta United at Soldier Field.
Chicago were able to end their long losing streak last weekend, drawing 3-3 to the Philadelphia Union in a barnstormer of a match. However, despite the result and the number of goals scored on the day, it was far from a stellar performance from the Fire. Their goals came via a lucky own-goal and two set-pieces, while the poor field conditions at Soldier Field made it tough for the visitors to play their game. It was enough to save the job of head coach Raphaël Wicky, though, and the team will now look to build upon that point and get themselves out of the bottom of the league standings.
Things haven't been much better for Atlanta. They've only won two games all season, and one of those came at home to Chicago. The Five Stripes aren't particularly bad, as they've tied six of their 10 MLS contests, but they just lack that edge in the final third. They'll have to turn things around soon if they want to be seen as contenders once again, and this matchup could be the perfect opportunity to do so.
Team news
Chicago have a fresh injury concern to worry about, as Carlos Terán hurt his leg in the last game, which will almost certainly rule him out for this one. He joins Kenneth Kronholm and Stanislav Ivanov on the treatment table, while Gastón Giménez and Francisco Calvo are both out on international duty. There is some good news, at least, as Wyatt Omsberg should be able to return to the team.
It's a bit more unclear for Atlanta. Ronald Hernández and Josef Martínez were both with Venezuela at the Copa América, but they were eliminated from the tournament on Sunday, so there's a chance the pair could feature this weekend. What is known is that Matheus Rossetto, Franco Ibarra, Emerson Hyndman, and Jürgen Damm will miss out through injury.
Predicted lineups
Chicago Fire: Shuttleworth, Sekulić, Kappelhof, Pineda, Omsberg, Navarro, Stojanović, Medrán, Herbers, Offor, Aliseda
Atlanta United: Guzan, Lennon, Robinson, Walkes, Bello, Ibarra, Sosa, Barco, López, Torres, Moreno
Ones to watch
Chinonso Offor
There's a good chance that Chinoso Offor will lead the line on Saturday, and if he does, then Fire fans will be hoping that he can be the man to turn things around for the team going forward.
Usual starter Robert Berić has had a woeful campaign. He hasn't scored since the opening game of the year, and he only has one assist to his name as well. The Designated Player has dropped disasterclass after disasterclass, missing big chances and refusing to stay onside. He's not even working that hard either, so he really should be dropped.
The only other proper striker at the club is Offor, who has had an interesting time in Chicago. He began the season as a winger due to the Fire's injury issues at the time, but he soon lost his spot in the starting eleven when others returned. He did get the nod up top in a match against the Columbus Crew, but he didn't have much help on the day, which rendered him relatively ineffective.
The Nigerian seems ready for another chance in the lineup, though. His cameos as of late have been promising, as he's gotten involved in the final third while helping provide a new dynamic to the attack. At the very least, he's been staying onside. The team just seems more threatening when he's on the field, which is a good sign for the future.
Only time will tell how Offor handles the responsibilities that come with starting at striker, but if he does well, then he could make that spot his own for the rest of the campaign.
Josef Martínez
It's unclear how much Josef Martínez will be able to play this weekend, but he certainly doesn't need a lot of time to make an impact.
His campaign hasn't really kicked off just yet. The star striker was forced to settle for short appearances off the bench at the beginning of the year since he was still recovering from an ACL injury. He started to perform when he was fully fit, though, scoring twice in the span of four games. However, those would be the last matches he played for Atlanta, as he was then called up to the Venezuelan national team for the Copa América.
They've since been eliminated from the tournament, which might allow Martínez to return to the Five Stripes in time for this contest. His status is still complicated, of course, but him playing in any capacity would be good news for them and bad news for the Fire.
One of the best players in all of MLS at the moment, the #7 might go down as one of the league's greatest when it's all said and done. Almost the perfect striker, he can use his speed to get in behind defenses and hit on the counter or rely on his attacking intelligence to create space and chances for himself in the opposition's area. He's an absolutely lethal finisher as well, which means that he'll likely convert any opportunity that falls his way. Chicago definitely knows this, as he's scored five goals in only six games against them.
Atlanta just isn't the same team without Martínez. Luckily for them, if he can finally return to full fitness and rediscover his previous form, then they'll potentially be contenders once again. That could all start with a goal (or more) this weekend.
Last time out
These two sides have already faced off once this season, with that contest taking place at the Mercedes-Benz Stadium.
After an even start, Atlanta would take the lead in spectacular fashion. A free-kick from Ezequiel Barco was hit right at the wall, but he made the most of the second opportunity when the ball came back to him, as he smashed a volley off the underside of the crossbar and into the net from outside the area.
Chicago responded well, and they eventually equalized less than a minute into the start of the second half. A lovely first-time cross from Boris Sekulić wasn't dealt with properly by the defense, which allowed the ball to roll to Luka Stojanović at the back post. He then made no mistake with the finish, confidently slotting home past the goalkeeper from close range.
A moment of madness from Bobby Shuttleworth would cost them past the hour mark, though. Coming out to clear a cross, he missed the ball completely, and it ended up hitting off of Johan Kappelhof before rolling across the line to give the hosts the lead.
Atlanta then put the game to bed with about five minutes to go. Some lovely play from Jürgen Damm and Jake Mulraney led to a big chance for the latter, but his shot was saved by Shuttleworth. However, Emerson Hyndman was on hand to pounce on the rebound, slamming the ball into the back of net from a few yards out to secure the win and all three points for his side.
How to watch
The match will kick off at 7:00 p.m. CST, and it will air on WGN TV and chicagofirefc.com for fans in Chicago and on Bally Sports South and Bally Sports Southeast for fans in Atlanta. Anyone else in the United States will be able to watch the action unfold on ESPN+.