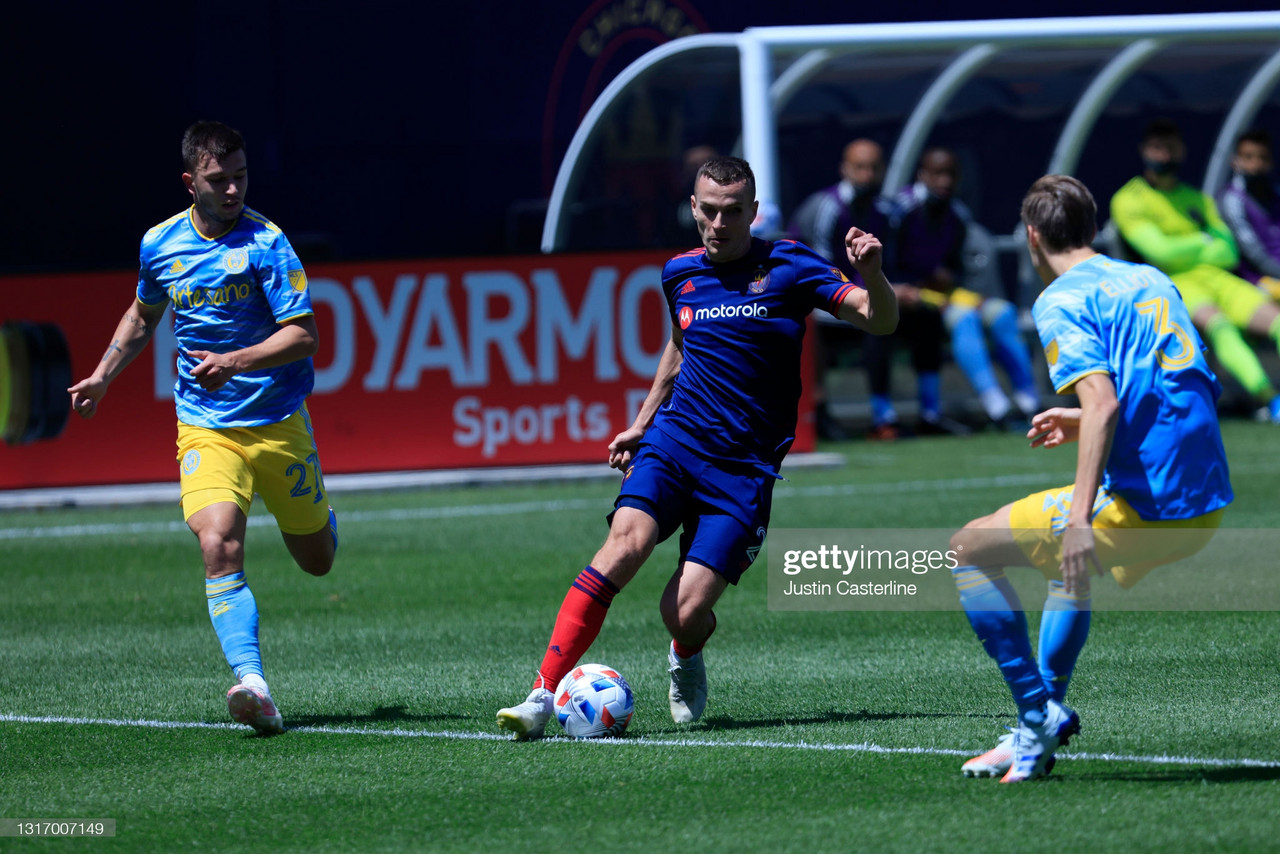 Two MLS teams in vastly different form face off on Saturday night as the Chicago Fire hosts the Philadelphia Union at Soldier Field.
Chicago hit rock bottom during the week, losing to FC Cincinnati at home to move into last place in the league. Second-best for most of the contest, a late rally would not be enough for them to at least secure a point and save themselves from total embarrassment. The game showcased just how bad things are for the Fire at the moment, and it's quite surprising to see that they haven't made a coaching change following the defeat.
Life is a lot better for Philadelphia, especially as of late. They've rebounded well to a poor start to the campaign, and they're now in the midst of a seven game unbeaten run. The Union have climbed up to 3rd place in the Eastern Conference standings as a result, and although they might not be as good as they were last year, they'll still likely be contenders come the end of the season.
All that considered, the away side will come into this matchup as favorites. However, you never quite know in MLS, which is what makes things fun.
Team news
Chicago has a new injury to worry about, as it was recently announced that defender Wyatt Omsberg will be out for a few weeks with a hip issue. He joins Kenneth Kronholm and Stanislav Ivanov on the treatment table, while Przemysław Frankowski and Gastón Giménez are both probably unavailable for selection due to international duty.
It's a similar story for Philadelphia. José Martínez is still with Venezuela at the Copa América, so he won't feature in this contest. On the injury front, Jack de Vries and Ilsinho will likely miss out, while it's unclear how much the likes of Dániel Gazdag, Alejandro Bedoya, Sérgio Santos, and Anthony Fontana will be able to play.
Predicted lineups
Chicago Fire: Shuttleworth, Sekulić, Terán, Calvo, Bornstein, Pineda, Medrán, Herbers, Stojanović, Aliseda, Offor
Philadelphia Union: Blake, Mbaizo, Glesnes, Elliott, Wagner, Bedoya, Flach, McGlynn, Monteiro, Przybyłko, Burke
Ones to watch
Bobby Shuttleworth
One of the few Chicago players who hasn't been absolutely useless this season, there's a good chance that Bobby Shuttleworth will need to play the role of hero on Saturday if his team is to have any hope of picking up a result.
He was put to the test time and time again versus Cincinnati, facing a barrage of shots throughout. The goalkeeper just kept answering the call, though, and he would've actually kept a clean sheet if not for a superb free-kick from Álvaro Barreal.
That effort was almost stopped as well, and Shuttleworth's effort was clear to see as he crashed into the post after diving for the ball. By the end of the night, he had made 11 saves, which is a remarkable number. It was the story of his season summed up in one game.
There's no rest for the weary, though, as the Fire's #1 will likely face as many shots, if not more, against Philadelphia. Chicago's defense has been leaky all year, and their sloppy play leads to plenty of chances for the opposition. Pair that with a Union team that knows what they are doing going forward, and you have a recipe for disaster.
The only man who might be able to save the Fire is Shuttleworth. Luckily for them, he seems to be ready for the occasion.
Cory Burke
Cory Burke loves playing against the Fire.
The 6'4" striker hasn't had the best career, but something just seems to happen whenever he comes up against Chicago. In only five appearances against them, he has seven goals and an assist. That's a phenomenal return, and the goals often come at important times as well.
That's why it wasn't too surprising to see Burke get on the scoresheet once again when these two sides met earlier in the campaign. His strike was what broke the deadlock on the day, which allowed Philadelphia to eventually pull away and secure the win.
His aforementioned height is what makes him so dangerous. The very definition of an aerial threat, the American uses his frame to devastating effect at times. He can either drop a bit deeper and hold the ball up for his teammates, or he can keep it simple and just wait in the penalty area for a cross to head home.
Burke should be a factor either way, and it's unclear if the Fire know how to stop him. If they can't contain him this weekend, then he'll probably add to his ever-increasing goalscoring tally against them.
Last time out
These two sides have already faced off once this season, with that contest also taking place at Soldier Field.
Philadelphia were the better team on the day, and they eventually made the most of their advantage, opening the scoring in the 51st minute. A clever one-two of sorts between Cory Burke and Jamiro Monteiro set up the former in the area, and he slammed a volley into the back of the net to give his side the lead.
The Union would put the game to bed about 10 minutes later. A corner made its way to the top of the area, where Kai Wagner was on hand to hit a first-time volley. His attempt wasn't the cleanest, but luckily for him it flew right to Jakob Glesnes, who instinctively headed home from close range.
Chicago tried to get something from the game, but their late efforts were for naught as Philadelphia managed to secure the clean sheet and all three points.
How to watch
The match will kick off at 7:00 p.m. CST, and it will air on WGN TV and chicagofirefc.com for fans in Chicago and on WPHL-TV PHL17 and philadelphiaunion.com for fans in Philadelphia. Anyone else in the United States will be able to watch the action unfold on ESPN+.