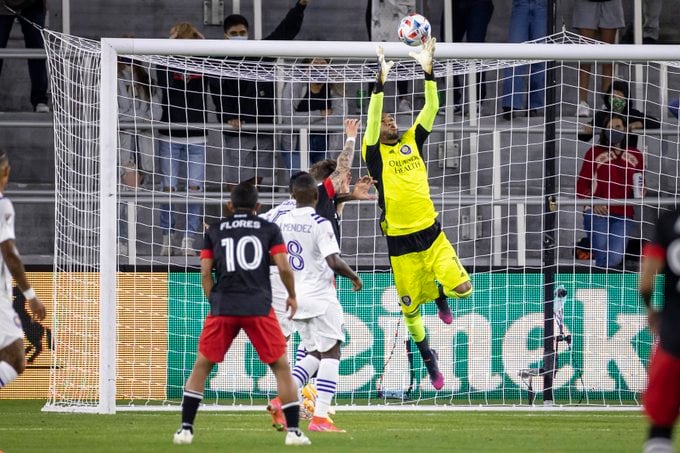 Kick-off:
Right at the kickoff DC looked to play aggressive early which was called into question twice in the first 8 minutes. A quick cross from the right attacking flank gave the Orlando team captain and Portuguese international Nani a header that went just wide of the post. However, just 6 minutes later Orlando would find the back of the net. Kyle Smith delivered a perfectly weighted ball over the top of the DC defenders and completely by passing their midfield as the ball fell at the feet of Orlando's number 10 Mauricio Pereyra inside the box. Pereyra then plays a one-touch pass to Tesho Akindele who immediately touches it back to Mauricio who after fighting off the DC defenders draped all over him and calmly passed the ball into the bottom right of the goal.
After giving up the early goal, DC seemed to finally settle into this game, in their own frantic way. Playing a high-pressure, counter-attacking style of soccer. Which almost paid off in the 35th minute for them. Orlando had a set-piece opportunity that DC turned into a jailbreak counter that forced the Orlando defense of Sebastian Mendez, Rodrigo Schlegal, and Joao Moutinho in a full-on sprint back. Mendez with the initial pressure forced the pass back allowing Moutinho to throw his body in front and block the shot that was headed for the back of the Orlando goal. DC continued to press and were able to create three or four strong counter-attacking chances that they simply could not convert to the disappointment of the home fans at Audi Field.
Orlando also had their fair share of chances created on the counter, one that was stopped in by a sliding intervention that prevented a Tesho pass to an open Junior Urso who had sprinted from the midfield and was all alone behind the DC defense. Orlando went into the locker room lucky to not have given up a goal, and DC went in behind on the score sheet as they gave up that early goal and couldn't convert on one of their chances.
Second Half:
DC United started the second half right where they left off, after making a sub at the half bringing Julian Gressel in to replace the 17 year Moses Nyeman. Gressel brought danger to the DC set pieces, of which they earned plenty in the attacking half. As they continued in search of the tying goal, USMNT international Paul Arriola had a beautiful individual play that led to a low driven shot across the box that missed just wide to the left of the goal. Orlando City countered with a sub over their own in the 50th minute bringing in a third center back to try and sure up the back line and protect against the DC set pieces and counter attacks.
The game continued with this constant pressure from DC, who created chance after chance including a game-high 10 corners and multiple free kicks in dangerous areas but couldn't find a way past this league-leading defense of Orlando City. Orlando has only given up two goals all year and only one from open play, the other from a penalty in their last game vs NYCFC. The last 5 minutes plus extra time was a flurry of sloppy play, fouls, time-wasting and tempers. Yellow cards were issued to both Nani and Chris Muller of Orlando, and the home crowd showed their displeasure with the officiating crew and distaste for the Orlando players, by throwing debris onto the field in the direction of the Orlando players and the ref in the 90+3 minute after a foul was called on DC defender Brendan Hines-Ike, who was already on a yellow and thought he was going to get his second as he started removing the tape from his arm after the whistle was blown.
Post Match Recap:
Ultimately Orlando held onto the win in a hard-fought match that tested their defense abilities for the full 90+ minutes. In seasons past this is a game that Orlando would have found a way to drop points, all Orlando fans remember the 2-1 loss to DC when Wayne Rooney's heroics in the 90+6 minute won the game for DC. For DC this game showed there is still work to be done, as they were able to create chances, but unable to truly test the keeper as they registered a game high 13 shot attempts but only one on target.
DC's next game will be at home to their nearest MLS competitors in the Philadelphia Union, who currently sit 6th in the east with eight (8) points for their first six (6) games. DC fell to tenth after this weekend managing only six (6) points from their first six (6) games. Orlando will return home to take on Toronto FC who recently signed former City striker Dom Dwyer on a two-year deal. Orlando are currently second in the eastern conference with nine (9) points and just two behind the New England Revolution, but they have a game in hand. Orlando will look to snuff out Toronto's momentum as they have earned four (4) points from their past two matches after only earning a single point from their first three (3). Game time for this one will be 7pm EST on May 22nd and should be a tightly contested matchup with Orlando looking to use their world-renowned home stadium and fans to help provide the extra energy they will need vs a battle-tested team like Toronto.