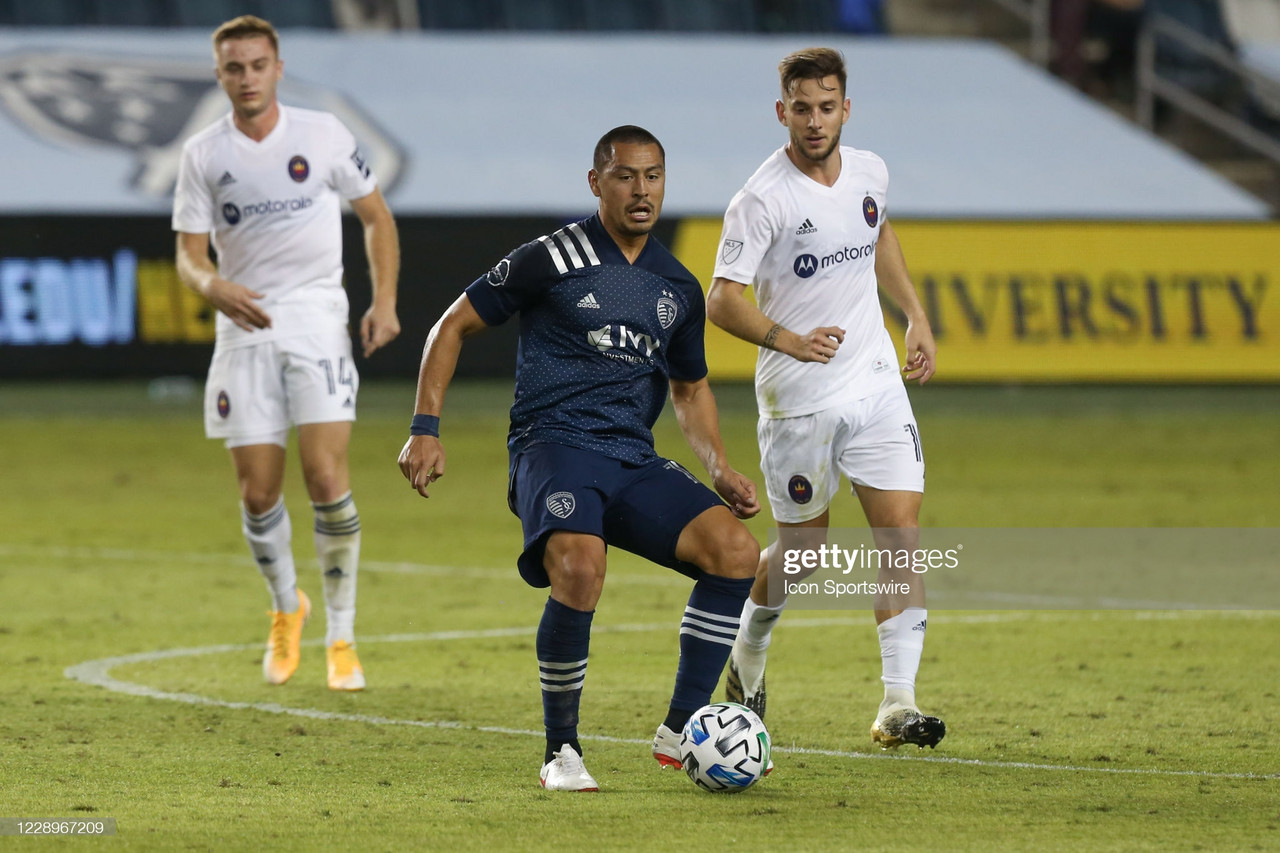 A rare interconference MLS matchup takes place this weekend as Sporting Kansas City hosts the Chicago Fire on Saturday night at Children's Mercy Park.
Kansas City were absolutely battered in their last game, losing 4-0 to LAFC. They went down a goal early on, and they then went down a man near the hour mark. That seemed to open the floodgates, as Sporting went on to concede three more before the night was over. All in all, it was a woeful day at the office that they would like to put behind them, and there's no better way to do so than with a victory in this contest.
Chicago, meanwhile, shocked the MLS world last weekend. In a remarkable turn of events, they actually won a game on the road, beating the New York Red Bulls 1-0 at Red Bull Arena. Far from the greatest contest, the only goal of the afternoon came in fortuitous fashion as some woeful defending allowed Robert Berić to convert from close range. The Fire did not care, though, and that result has kept their slim playoff chances alive, if only for another few weeks.
Team news
The good news is that neither team is dealing with too many injuries.
Kansas City will be without Jaylin Lindsey and Felipe Hernández for the contest, while Roger Espionza is suspended.
Chicago's only certain absentee is Kenneth Kronholm, although the likes of Francisco Calvo, Ignacio Aliseda, and Brian Gutiérrez are all seen as doubts.
Predicted lineups
Sporting Kansas City: Melia, Zusi, Isimat-Mirin, Fontàs, Martins, Duke, Walter, Kinda, Russell, Pulido, Sallói
Chicago Fire: Shuttleworth, Sekulić, Terán, Pineda, Bornstein, M. Navarro, F. Navarro, Medrán, Giménez, Berić, Stojanović
Ones to watch
Dániel Sallói
Kansas City has a few quality attacking talents, but Dániel Sallói is arguably the best of a superb bunch.
His story is an interesting one. Signed as a homegrown in 2016, the Hungarian spent a bit of time on loan at Swope Park Rangers while also featuring for Gyirmót FC in his homeland. He started properly playing for Kansas City the following year, but 2018 saw him break into the spotlight. He scored 11 goals and dished out 8 assists in the regular season, and he then grabbed an impressive three goals during the team's postseason run.
Instead of building upon that strong campaign, though, Sallói fell off. He only scored once during the entirety of his next season, assisting just once as well. Things were even worse the year after, as he only made five appearances, with just one of them being as a starter. Out of seemingly nowhere, Sporting's supposed player of the future was suddenly a bit of a failure.
Incredibly enough, he's bounced back, returning to his best once again. The attacker has been a top-tier player this year, with 12 goals and 6 assists after just 21 MLS games. What's been especially special about these performances is how consistent they are, as he's only scored twice in one game, with the rest of his goals being spread out across 10 separate matches.
With this, and Chicago's leaky defense, in mind, there's plenty of reason to believe that Sallói will make an impact this weekend. Kansas City needs him to stay at this level if they want to have any chance of winning MLS Cup, but luckily for them, it doesn't seem like he'll be slipping up anytime soon.
Robert Berić
The fact that Robert Berić scoring last week was a marquee moment just goes to show how bad he has been this season.
His goal against New York was his third of the campaign, and that only came because of a few lucky bounces and some terrible defending. The forward just happened to be at the right place at the right time, and he was effectively too close to miss.
However, none of that may even matter.
Berić is an incredibly streaky player. When he's good, he's very good. When he's bad, however, he's almost useless. It's been much more of the latter this year, but that could all change thanks to his aforementioned strike.
That goal could give him the confidence boost he's so desperately needed to finally kick on. The Slovenian has proven that he can be a consistent goalscorer in MLS, as he once scored 10 goals in the span of 13 games at the end of 2019. He just needs to find that sort of form again.
If he's able to get onto the scoresheet this weekend, that would be great news for Chicago, and potentially bad news for the rest of the league.
Last time out
It's been nearly a year since these two sides last faced off in a hectic contest.
Despite playing on the road, it was Kansas City who opened the scoring. Mauricio Pineda was robbed of the ball near midfield, which led to a counter attack for the opposition. Gadi Kinda slipped Erik Hurtado through on goal, and he did the rest, slotting past the goalkeeper from close range.
Chicago responded well, to their credit, equalizing right before the half. A corner wasn't dealt with properly by Sporting, which allowed the ball to bounce right to Robert Berić. His shot was seemingly cleared off of the line, but a VAR review eventually gave the goal after seeing that the ball had actually crossed the line after all.
The away side would restore their lead late on. Coming courtesy of another corner, Johnny Russell's delivery was flicked-on towards the back post by Ilie Sánchez right to Kinda, who then headed home from just a few yards out.
That wasn't the end of the scoring, though. In the final few moments of the match, Pineda launched a long ball towards the KC defense. They let it bounce past them, and an onrushing Tim Melia couldn't corral the ball, which allowed Djordje Mihailovic to latch onto it. After dribbling past a last-ditch challenge, he finished with ease, kicking the ball into the back of an empty net.
It was a fitting end to a thrilling content, even if it wasn't a great result for the hosts.
How to watch
The match kicks off at 7:30 p.m. CST, and it will air on Bally Sports Midwest+, Bally Sports Kansas City+, and BallySports.com for fans in Kansas City, and on WGN and chicagofirefc.com for fans in Chicago. Anyone else in the United States will be able to watch the action unfold on ESPN+.