 Daria "Dasha" Gavrilova was tipped to be Russia's next big tennis star. Having won the 2010 Youth Olympic Games gold medal in Singapore and the 2010 Junior US Open, she reached a career-high junior ranking of world number one in August 2010. At the age of 15, Dasha decided to move to Australia to train in Melbourne where she would continue to develop her game. Here, she met her Aussie boyfriend Luke Saville who is a former junior world number one and two-time junior Grand Slam champion.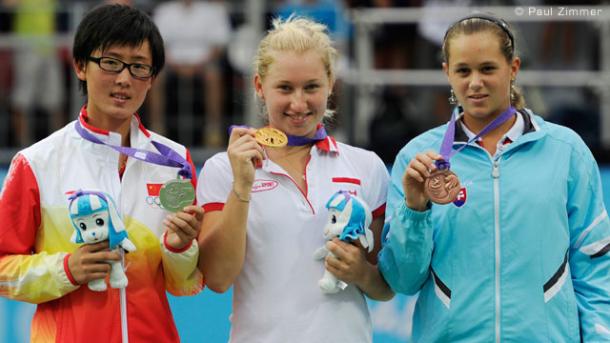 Daria's Breakout Season
In 2015, while she was still representing Russia, Dasha caused some major upsets on the WTA tour. The first of these came when she defeated her countrywomen and five time grand slam champion Maria Sharapova at the Miami Open. A couple of weeks later at the Italian Open Gavrilova defeated former world number one Ana Ivanovic on route to the semifinals where she eventually lost to Maria Sharapova in a tight encounter. Despite this, Dasha struggled to produce at all four grand slams in 2015, only notching up one win at Roland Garros. However, this would soon change.
New year, New country, New Daria
After living in the country permanently for three years, last month, Gavrilova finally gained her Australian citizenship just in time for the Australian summer of tennis. The 21-year-old had a extremely impressive debut for her newly adopted country at the Hopman Cup in Perth when she teamed up with rising star Nick Kyrgios.
On the opening day she defeated former Wimbledon finalist Sabine Lisicki in two easy sets, and despite losing the rest of her singles matches during the round robin stage her crafty skills at the net helped Australia win all of their mixed doubles matches and ensured their progression onto the final. In the opening match of final she defeated world number 18 Elina Svitolina from Ukraine in straight sets after saving five straight set points in the second set tiebreaker. Nick Kyrgios then went on to defeat Alexander Dolgopolov and win the final for Australia.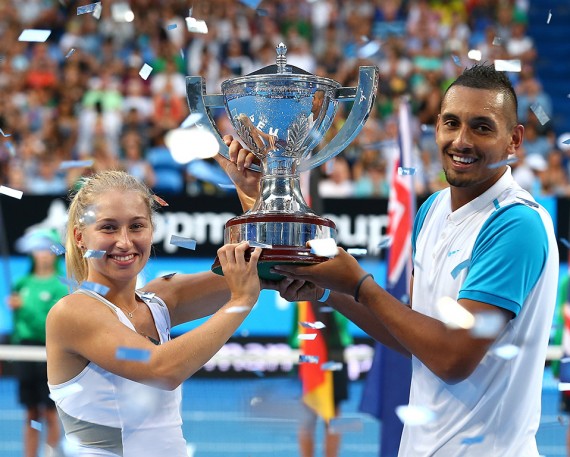 Daria's Dream Run At The Australian Open.
Daria would continue to ride a wave of confidence into the Australian Open where she would produce her best grand slam result to date, by making the round of 16. In the process, she upset two-time Wimbledon champion and world number six Petra Kvitova in the second round before winning an absolute battle against the 28th seed Kristina Mladenovic of France, 11-9 in the third.
However, her inexperience got the better of her in her fourth round clash with world number 10 Carla Suarez Navarro. After comfortably taking the first set 6-0 she struggled with her emotions, hitting a lot of unforced errors and ended up losing the second and third sets 6-3, 6-2.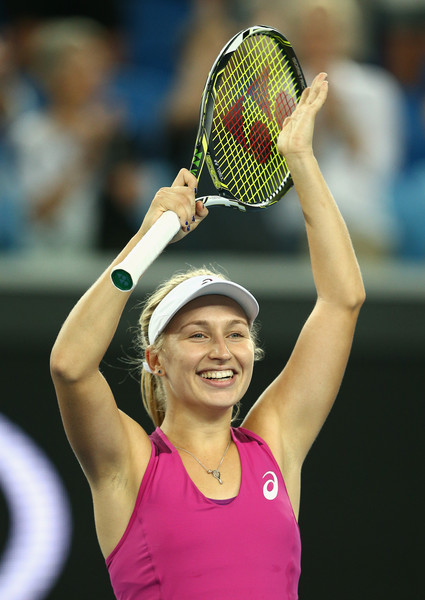 Daria's Prospects For 2016
It looks as though Gavrilova is set for another breakout season. If she can keep her emotions in check, Dasha has the fire power to beat the world's best players. Representing a new country and hiring a new coach Nicole Pratt has only seemed to lift her determination to get better. After her win over Mladenovic she boasted about how much she loves being on the court and she certainly looks as though she is enjoying the highs and lows of the pro tennis circuit.
However, for most of the summer, Dasha has been lifted by the support of the Australian crowds she's played in front of, the real test will now come when she plays abroad. However, if her 2015 results in Miami and Rome are anything to go by, she shouldn't struggle too much in this area. However, her loss to Suarez Navarro at the Australian Open shows that she will need to work on keeping her emotions in check.
Daria leaves Melbourne with a ranking of around 32 in the world and solid US hard court swing and clay court season could see her seeded for Roland Garros and Wimbledon. Daria is also expected to be picked for the Australian tennis team at this years Rio Olympic Games and looks as though she could play both doubles and singles. She will also play alongside Sam Stosur in this years Fed Cup.