 The 13th seed Victoria Azarenka will play Zarina Diyas in the second round of the Premier Mandatory level BNP Paribas Open, held on the hard courts of Indian Wells, California.
Recent Results
Azarenka had a brilliant start to the year, winning her first nine matches in straight sets. After beating Angelique Kerber for her 18th career title in Brisbane, the Belarusian found herself on the receiving end of a revenge mission in the quarterfinals of the Australian Open, losing to the eventual champion for the first time in seven career meetings. Since then, Azarenka has struggled with injury; a sad regularity that has plagued her career in the past three years. After winning her first round match in Acapulco, the 26-year-old was forced to withdraw from the event due to a wrist injury and will hope to benefit from a first round bye here.
Diyas has struggled at the beginning of this year, losing seven of the 10 matches she's played thus far. Having beaten Jamie Loeb 6-1, 6-4 in the first round here, the Kazakh will be looking to advance beyond the second round of a tournament for the first time this year.
Past Experience
A two-time Australian Open champion, Azarenka has also won this event in the past, beating Maria Sharapova for the title in 2012. Incidentally, she lost to the Russian in the third round of this event last year considering that Azarenka's ranking had fallen substantially due to an injury interrupted 2014.
For some reason, Diyas has seen her game fall apart in the last nine months. Including her loss to Maria Sharapova in the fourth round of Wimbledon last year, the 22-year-old lost 10 of her last 11 matches in 2015, her ranking plummeting from as high as 31 at the beginning of 2015 to its current low of 89. Given her recent form, it seems unlikely that Diyas will defend her third round points from this event last year, where she was beaten handily by Serena Williams.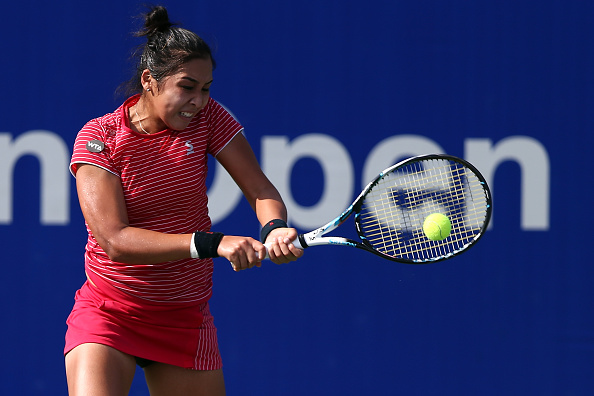 Head-to-Head
Azarenka and Diyas have never played each other before. Though ranked down at 15 at present, the Belarusian looks every bit a former world number one when she's at her best, smothering her opponent from the baseline with well placed groundstrokes. With all but one of her career titles coming on hard courts, Azarenka will be extremely tough to stop on this high bouncing surface, providing that she's fully fit.
Diyas has a bold game that has seen her get the better of the likes of former top tenners Jelena Jankovic and Andrea Petkovic. Though not overwhelmingly powerful, the Kazakh number three hits flat and direct, compensating for her lack of quick movement by taking the ball early. Due to this, her unforced error count can be quite high and her lack of a powerful serve could well put her under pressure against arguably the game's best returner.
If she is fully recovered and motivated, there is no reason why Azarenka shouldn't go on to reach the third round.
Prediction: Victoria Azarenka in straight sets