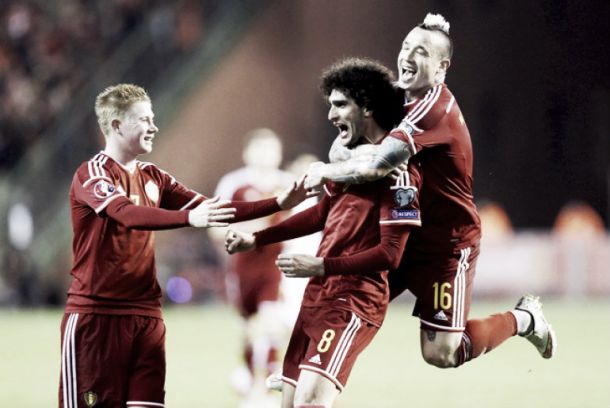 Manchester United midfielder Marouane Fellaini has been ruled out of Belgium's international matches - Italy and Spain due to an injury picked up in club training on Friday morning.
Fellaini missed his side close the gap at the top of the league as United were 2-0 winners over West Bromwich Albion on Saturday afternoon, but manager Louis van Gaal is not rushing the player back quickly as the Reds don't play again till November 21.
However, the midfielder has fallen down in the United pecking order since the summer signings in Morgan Schneiderlin and Bastian Schweinsteiger and as a result, Fellaini has started from the bench 80% of the season.
Fellaini missed international friendlies with injury
The United number 27 has only played in six league games, but five of them have come from the bench due to the form and consistency of the midfield this season and has played Fellaini in more of a central role when entering the field - a role normally taken up by captain Wayne Rooney. The injury comes at a huge cost for his national side as the Belgian's face strong competition over the next week.
Belgium are going into the two friendlies ranked the best team in the world for the first time in their history after results in the last set of fixtures but face a strong challenge in their next two friendlies.
Belgium manager Marc Wilmots has wished the former-Everton player all the best in recovery, with replacement Kevin Mirallas coming into the squad. Fellaini has played 12 times in all competitions this season and has also featured three times for Belgium - which included a goal against Bosnia in September.
Fellaini has scored six times in Belgium's previous 10 games so will be a huge miss in the games, a test for the whole squad ahead of the European Championships in June.