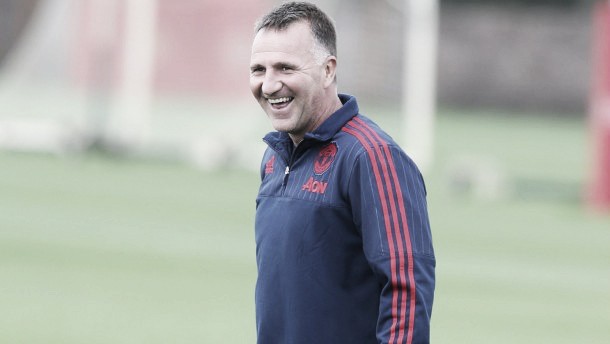 Manchester United's Under 21 manager Warren Joyce has suggested that young players around the world will be attracted to join United as Louis Van Gaal continues to give chance to youth players in first team.
Van Gaal is known for bringing young players from academy as he has handed debut to superstars like Xavi, Andreas Iniesta, Victor Valdes, Carles Puyol, Thomas Muller and David Alaba. The Dutchman is following the same policy at Manchester United as he has handed number of young players a chance to train with the first team and play for the senior team in his short tenure.
Young players will get chance at United if they work hard
Joyce admitted that injuries and small senior squad has played the part in the process for various young players getting a chance in the first team but Van Gaal has great belief in young players. He further added that "all boys around Manchester must be looking and thinking if they do any good at Manchester United they will get a chance. We haven't got a lot of numbers so they do get a chance."
Joyce insisted that if they continue to do well as Jesse Lingard has done this term, they will always have a place in the first team. He believes "Young players get worked, they get opportunities to train with the first team regularly and it's the same old adage: if you do well enough, you'll get a chance and if you do well enough when you're in, you'll keep there."
Senior players help youth players while playing U21 games
Van Gaal has often ordered his senior players to play for the U21s to gain match fitness and get into the match rhythm. Joyce believes that the involvement of senior players is a "good experience for the boys because they see proper pros, how they are, how they react, how they conduct themselves in the dressing room and on the pitch so I think that is a good education."
Joyce also admitted that "To develop young players they've got to have a mix. They've got to play with men and they've got to play against men. Sometimes in this league we don't play against enough men." Marouane Fellaini and Sergio Romero were involved in the U21 match against Liverpool this week and Joyce hailed them for being top professionals.