 As the final whistle blew at Old Trafford, you could be forgiven for thinking it was 'Groundhog Day', as Manchester United drew 0-0 with West Ham United. Another 0-0.
Louis van Gaal's press conferences, both before and after games are becoming as repetitive as the scoreline. Equally as repetitive is the fans disgruntled grumbling about a lack of attacking emphasis and a lack of entertainment. As a United fan, there is no way you should be happy. However, the West Ham game was one of those games where you said "Not bad for a 0-0" and a combination of profligacy in front of goal and some smart goalkeeping kept the game goal less.
Van Gaal is not losing his cool, but he was right when he said that he was not supportive of the latest round of "Attack, attack, attack" chants and it is hard to disagree. When the crowd let rip, United were in the ascendency and when Juan Mata and Jesse Lingard are not hitting the target from only a few yards out, it is the players that need to look at themselves. It is not a case of redirecting the frustration to the players, that won't help, but it is not Van Gaal that can change the situation right now. Players need to start taking responsibility and make things happen. Still, any unhappy fans that tuned into MUTV later in the evening would have seen goals and lots of them, as the clubs' TV station showed all 168 that Ryan Giggs scored for the club. Ah, those were the days.
Giggs was a superstar
Indeed they were. It was fascinating viewing, and no doubt a pick-me-up seeing the flying young winger scoring all manner of goals. There were the fantastic individual efforts against Tottenham Hotspur and QPR, and of course Arsenal in the FA Cup semi final in 1999. There were the blistering counter attacks, and quite a number of long range strikes that you would not normally associate Giggs with. There were also an incredible number of 'strikers' goals and headers. United are missing a superstar of Giggs' class right now, but the amount of headers and goals in and around the six yard box show that United are also missing a bit of desire from the current crop. Like a great defender who sniffs danger, Giggs could smell an opportunity and when the ball went out wide, he was always prepared to get into the box and try and get on the end of things.
The other thing that the montage showed was the amount of other players that were 'breaking their necks' to support attacks. Today's group of players are not doing enough of that. It must be remembered though that in the clips you do see David Beckham putting a cross on Giggs' head, Eric Cantona slipping a through ball and Paul Scholes chipping a cross for Giggs to volley home. There are no players of that class in the current United squad. So the problem is two fold. Not enough star quality, but not enough risk taking. It is obvious that the way Van Gaal sets United up is restrictive and defensive. That should not prevent players taking responsibility for creating space or occupying defenders. There are not enough runners to give options for the wide men and forwards.
Players not showing attacking intent
United can't really claim to have one superstar. Bastian Schweinsteiger and Wayne Rooney have been, but you cannot put them in that bracket any more. There is more than enough talent and potential in the players to be doing a lot better offensively though. Lingard and Memphis Depay are players that have potential and can elevate themselves to the highest level, but they need help and support. Too often, they need to show some brilliance because they are in good situations one on one, but there are no decoy runs and is little help around. They generally have to produce a trick and beat more than one player. Lingard has been getting himself into positions to score, but apart from his brilliant finish against West Brom, he has been one of the main culprits when it comes to wayward finishing. If you are only getting one chance a game, then you have to make it count.
Under Sir Alex Ferguson, United never entertained in every game of every season, so dewy eyed fans may want to take note. This includes title winning seasons, not just the early years. In 2004 and 2005, United were quite poor but the ethos drilled into those teams was that they take risks, and another aspect was a high tempo. The word tempo was consistently used, and when United played with intensity, they generally came out on top. United didn't win the League in those years, but Sir Alex managed to eke out the best of what was a work in progress. Van Gaal needs to be given some credit for doing the same. He is not doing it in the same way, he is being pragmatic, but he is working with what he has and keeping United in the hunt. Before a ball was kicked, United were said to have one of the worst defences. Now, a few months on, Chris Smalling is one of the best in the world and the pedestrian Daley Blind is a rock alongside him. Not quite. Smalling is playing incredible, but the fact that they have two players screening almost constantly, means they are rarely exposed.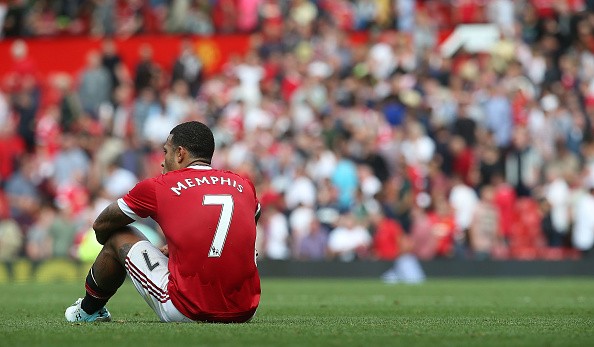 City and Chelsea deserve criticism
When van Gaal went 3-5-2 last year, it paid dividends early on in terms of attacking intent. The players never quite embraced it defensively, and United were repeatedly opened up like a tin of beans and eventually van Gaal disbanded the system in favour of something more solid. A system is a system, and players must adapt to try and ensure that they are fulfilling both aspects required to win football matches and that involves risk taking. As depressing the viewing is at times, in lieu of watching old DVD's of Ryan Giggs, United's fans may take a crumb of comfort looking across the city at their noisy neighbours, or down in West London, where they are not exactly pulling up trees. In Chelsea's case, they are as bad as United in attacking and entertainment terms, but defensively the pantomime season started for them in August.
Before United, City lost at Stoke City. They were battered, both by the wind and Stoke. They spent somewhere in the region of £100 million on Kevin De Bruyne and Raheem Sterling in the summer, to add to their already expensive squad, but they keep putting in woeful performances and their inconsistency may well cost them this year in the title race that nobody wants to win. Chelsea lost to Bournemouth at home after the United game and that was a real eye opener. Chelsea's problems continue on a huge scale, but the game was interesting as it almost reminded you of an old European Cup tie involving British and foreign teams. Chelsea had an array of technical and talented players, but Bournemouth had passion, grit, determination and desire and that won the day just as British teams used to in Europe. When they attacked, they attacked in numbers, but when they didn't have the ball they worked so hard to get back in position defensively.
New arrivals or lose the insurance policy?
United should take note from the Bournemouth display. Their players are better than Bournemouth's but Bournemouth's players are far from mugs and when you have talent and heart then you can win football matches. Or lose them. United are setting out to win matches, but with an insurance policy in place right now. They can change it in January or next summer. They can buy Gareth Bale, or Cristiano Ronaldo, or Neymar and purchase that expensive stardust that is so badly lacking. That pipe dream has been touted for some time, and is still as remote as it first was. So they can look at Riyad Mahrez, Dimtiri Payet, Said Mane or even Xherdan Shaqiri, as they have lit up the Premier League this season. They would all come in and make United stronger, but in all honesty even signing one of those may not be enough to spark a change. New arrivals must wait, so it is down to the players to change the status quo. It is time to gamble, time to score a goal, and time to put the groundhog back in it's box.