Jürgen Klopp is relishing his return to former club Borussia Dortmund after the UEFA Europa League quarter-finals draw pitted his Liverpool side against the German giants.
The two teams were the final two picked out of the draw in Nyon to set up two mouthwatering ties at the Westfalenstadion and Anfield on April 7 and April 14.
Though Klopp had previously spoken of his desire to avoid Dortmund, who he believes are "the strongest team in the tournament", after the Reds had knocked out fierce rivals Manchester United - he now says he's looking forward to seeing some familiar faces.
"I am really happy with the draw," he told Liverpoolfc.com just hours after the draw was made, explaining that "if you want to win the Europa League, then you have to beat the strongest teams."
Klopp believes it is "better" for his side to take on Dortmund "in two games [rather] than in only one game" and also said he is "really happy" looks forward to introducing his team to Dortmund and showing them "this wonderful stadium and a great city."
"It's a story only football can write," he added, saying the entire squad are "happy" with the draw before joking that his phone might be "full of messages" having had their "video analysis meeting for Southampton and after that immediately, training."
Playing away at Dortmund is one of the best things in football, says Klopp
Although his final season saw them linger around the bottom of the table before a revival in the final months saw them finish 7th and qualify for this season's Europa League, Klopp left Dortmund a hero after transforming the club's fortunes.
Having arrived at a time when Dortmund were struggling in mid-table, he helped them to two Bundesliga titles, a German Cup and the 2013 UEFA Champions League final throughout a fruitful seven-year spell.
His stature in North Rhine-Westphalia will "100%" make for a special occasion, according to the Reds boss, who said that the games will see "two of the biggest clubs in the world meet each other."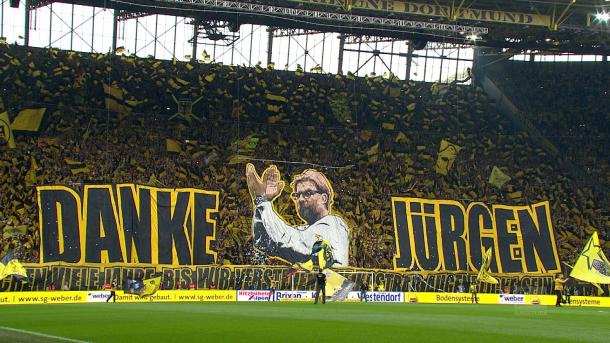 "Everybody who thought that a few months ago maybe it's not that interesting of a tournament, hopefully they've switched their minds in the last few weeks," said Klopp, who has been taking the competition seriously with the reward to the winners a place in next season's Champions League.
He insisted that the two fixtures against United were "two great, great games" and said that now, going to Dortmund is "one of the best things you can do in football" and they will be "all 100% looking forward to coming to Anfield" also.
"It's football at its best and how it should be," continued Klopp, before explaining that despite how tough the tie will be "everybody is looking forward" to "two really intensive games."
Klopp highly anticipating first return to Dortmund
Such is Klopp's close relationship with his former employers, he revealed that he still has three season tickets at Dortmund but admitted he doesn't use them often so as not to distract the new manager, Thomas Tuchel.
He explained that, having had an 18-year spell at FC Mainz both as a manager and a player earlier in his career, he decided to go there after taking a sabbatical at Dortmund but said it was "never easy to go back" because he thought: "'I don't want to disturb' and things like this."
He admitted that he has "a similar problem" with Dortmund because of his season tickets, but says he's "looking forward to going there" because he "loved this place" and "a few of the best things" in his life happened there.
"But on the other side, I hate the hype around my person in these matches," said Klopp, who added that Dortmund will be "a really strong opponent" for his side - who he says "are not bad too" - and therefore will make it an "open" affair which "the whole world will watch."