 After eight games without a win in any competition, Anthony Martial and Wayne Rooney struck home to give Manchester United a vital confidence-boosting win.
More uninspiring football came from Louis van Gaal's side in the first 45 minutes but United eventually overcame Swansea City to move them into fifth place in the Premier League.
The pressure and frustration has been exponentially building ever since United's exit in the UEFA Champions League to Wolfsburg in December. Very few positive signs have shown themselves but a win at Old Trafford in the Reds' first game of 2016 is a well-needed boost for the players and coaching staff.
Anthony Martial scores 8th goal of the season
Martial was a shining light once more, and has now scored three of United's last five goals. Ashley Young was thoroughly impressive and effective on the right flank, providing the assist for his French teammate. Drifting in from his position on the left-wing, Martial headed firmly down into the wet ground from Young's cross for his eighth goal of the season.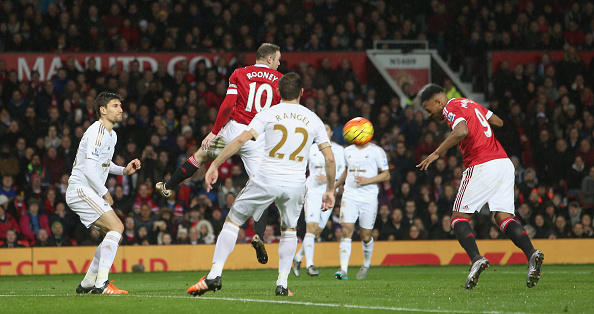 Having lost 2-1 from a goal up against Swansea in three consecutive matches, fears were ignited as Gylfi Sigurdsson looped a header over David de Gea, flapping in the air. After a good spell from United, Swansea had crushed hopes, yet again.
Wayne Rooney responded though, in stunning fashion. Anthony Martial's magic came again from the left side at Old Trafford, as against Liverpool, Taking on his man with a superb combination of pace and footwork, Martial pulled his cross back to Rooney. United fans drew their breath, expecting another wasted chance from their captain. Yet he produced a piece of magic, flicking it past Fabianski from behind him.
United held on to win, despite a few scares from Alan Curtis' welsh side. Michael Carrick replaced Ander Herrera late as van Gaal looked to ensure he finally picked up three points.
It was not the perfect performance, by no means. Despite an early chance from Herrera, United looked dull again. Old Trafford was quiet, the Welsh fans singing 'We're Swansea City, we'll sing on our own.'
Sighs could be heard around as the ball was played back to De Gea, who still had to be on good form to limit Swansea to only one.
United uninspiring but finally get three points
United had a few chances. Yet they were opportunities more so than chances. An opportunity to turn an attack into a chance. Out of 6 early shots, 5 were blocked. Rooney ran through the middle confidently and earned a free-kick before curling a shot past Fabianski's left post, that the goalkeeper had covered.
Wayne Routledge had Swansea's only chance in the first 45 minutes, striking on the volley to De Gea's left. The Spanish goalkeeper caught it as United dominated proceedings, but not chances.
Ashley Young was the most effective player for United, and appeased the fans who had been calling for more wing play. Supposedly at right-back, Young was constantly near Swansea's penalty area.
Mata had multiple chances to give United the lead but hit is softly into Fabianski's hands.
Rooney had a headed chance which was blocked by Jack Cork after a superb floated cross from Young. The camera cut to Sir Alex Ferguson and Nicky Butt both checking their phones as others read their programmes, little going on pitch wise.
United move up to fifth in Premier League with victory
Matteo Darmian replaced Phil Jones at half-time, having returned from injury against Chelsea. Rooney had an early shot blocked by captain Ashley Williams after turning well.
Martial's genuine intelligence and talent came to the forefront as he headed United into the lead.
De Gea was tested despite United dominating and looking close to a second. Darmian deflected a cross brilliant as Andre Ayew waited in the area, a free man.
Rooney hit a slow shot into Fabianski's hands as United couldn't get the end product once more. Herrera and Mata both hit shots over the crossbar.
Barrow's cross, an excellent one, saw Sigurdsson head over De Gea's head as the Spaniard stood off his line. Rooney's response was superb though, as the pressure continued to increase on him, questions over his inclusion in the England squad for this summer's European Championships arising recently.
Lukas Fabianski and Swansea almost netted an equaliser late on, the Polish goalkeeper coming up for a late corner and heading wide, with De Gea beaten.