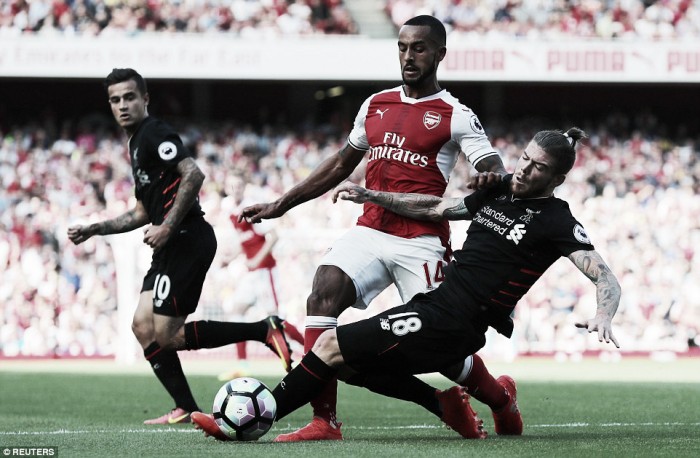 "And at left-back, it's Alberto Moreno, filling in for the injured James Milner."
It started straight away, on Sunday, the Alberto Moreno criticism. Whilst most of the attention on Liverpool's 4-3 win over Arsenal should deservedly go to the likes of Philippe Coutinho and Sadio Mane, men who won the game in a devastating spell, it may well be used as another stick to beat the Spaniard with.
A torrid day for Moreno started early, as did the bashing. Arsenal won possession in midfield, a ball was lofted over the top for Alexis Sanchez, who has escaped Ragnar Klavan. Moreno had to head it, and did, albeit into the path of Aaron Ramsey. However, when the Welshman gets the ball under control, he's at the byline and can only cross into an area where three Liverpool defenders wait, with just one Gunner in support. Better that than allow Sanchez a chance to swivel and shoot?
Moreno, quick as a flash, reacts faster than anyone else and bursts across to Ramsey, sliding in perfectly to usher the ball out for a corner. A fantastic tackle, met with the reaction of "as left-backs go, Moreno... he's erratic".
Moreno was poor, there's no question about that...
This isn't a piece in defence of Moreno, to the extent where I'm saying he had a good game against Arsenal. That defensive header could have been better, and then came the penalty incident.
It was a rash, leggy challenge, one that Moreno has become known for. He wasn't helped by Coutinho's inability to head the ball away in the first place, but he could certainly have done better against Theo Walcott. For what it's worth, Jürgen Klopp didn't think it was a penalty, but it was hard to deduce the views of the Sky commentary box...
"The Liverpool left-back, exposed again!" said Martin Tyler, before passing the baton to Gary Neville, whose statement of "it was a garbage tackle" coincided with replays actually showing Moreno getting the ball first. Not to say that such replays mean it wasn't a penalty, but still. Neville wasn't done yet, citing "you may as well start a goal down with Alberto Moreno".
Okay, a little over the top perhaps, but it was Moreno's fault, and he was lucky that Simon Mignolet saved Walcott's penalty. The duo had spent the moments to the penalty bigging up Walcott, saying that he'd been gaining in confidence by getting at Moreno in the last 10 minutes, so the winger's flimsy penalty didn't exactly suit the agenda.
Moreno handed far too much blame for Arsenal's first
Given this, you can imagine the relief in the commentary box a minute later when Walcott was slipped in to score, unchallenged down Moreno's side of the penalty area.
The replay bursts on, and we began with "It's a wonderful finish but I'm not quite sure where the left-back is."
Neville went on to say that Moreno was out of position. Now, it's not hard to see that Liverpool's full-backs getting forward to support counter-attack's is crucial. In the first half especially, Coutinho and Mane were coming very central to revolve around Firmino. It's the staple of a Klopp side, advancing full-back's. Given this, was he out of position? You can see here, in the below screenshot, that it's a natural position for Clyne and Moreno to be in, as Mane and Coutinho tuck in.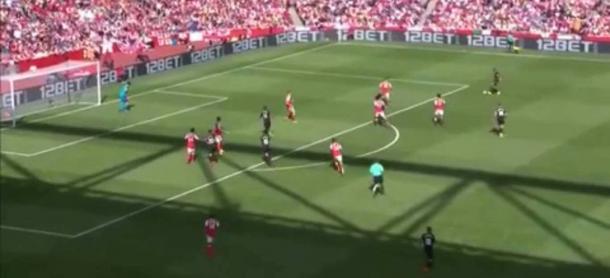 It's especially relevant to Moreno, as Coutinho - a natural right footer - is more likely to cut inside than Mane on the other wing, meaning Moreno is expected to get down the wing more than Clyne, in order to utilise the space afforded to Liverpool.
For this incident in particular, Moreno had won the ball back whilst being left outnumbered just 30 seconds earlier, helping Liverpool get up the pitch. Coutinho fed the ball to Adam Lallana, who had an age to find the right pass, only to be disposessed by Coquelin whilst attempting yet another Cruyff turn.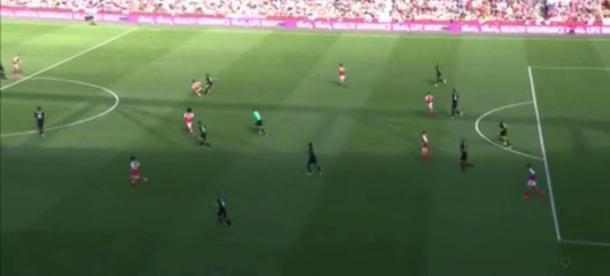 Finally, the replay slowed to show Lallana losing the ball, but was there criticism from Neville, for the man he's coached for England for over two years? No.
"It's a fantastic challenge by Coquelin," was all that was said. Granted, the Frenchman did well to get across, but Lallana shouldn't have given him any sort of chance to.
As for Walcott getting the ball and scoring himself, Ragnar Klavan is the only man playing him onside, fooled by a clear decoy run by Aaron Ramsey, but the Estonian's error didn't get a mention as the goal was again shown.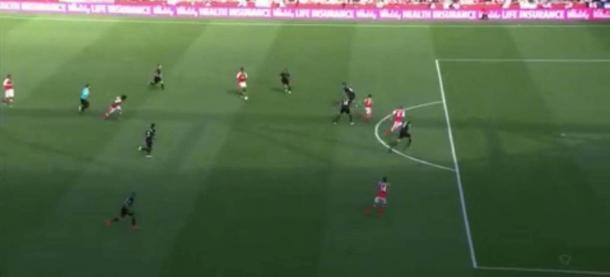 Second half improvement from Moreno
Into half-time we went and it didn't stop. Jamie Carragher, who - given what he's said in the past - would rather be playing left-back for Liverpool himself than see Moreno there, was in the mood to have a pop, whilst Graeme Souness slammed him for not sensing danger early enough.
There wasn't much more in the second half, as Moreno's performance improved. It didn't take much, as he admittedly didn't have a good first half.
However, the stick he was beaten with did seem a little unfair, given that by getting up the pitch so quickly - something which he is berated for - is simply the Spaniard listening to instruction.
Moreno contributed well going forward in the second half, and was solid at the back when needed as Arsenal pressed for an equaliser after coming back to 3-4. Both of those goals, earned from Nathaniel Clyne mistakes, it should be added.
Burnley next for the Reds and Moreno, and it's not out of the question that James Milner could come in, even if it's just to take Moreno out of the firing line a little.
However, the idea that Milner - who has never played a competitive 90 minutes at left-back in the top flight for Liverpool - has suddenly surpassed Moreno as first choice based on a couple of pre-season games designed to see if he's suitable backup, is nonsense.